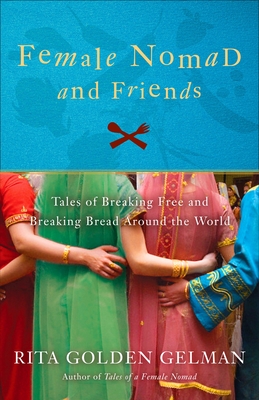 Female Nomad and Friends (Paperback)
Tales of Breaking Free and Breaking Bread Around the World
Three Rivers Press (CA), 9780307588012, 335pp.
Publication Date: June 1, 2010
Description
In 1987, Rita, newly divorced, set out to live her dream. She sold all her possessions and became a nomad. She wrote a book about her ongoing journey and, in 2001, insisted on putting her personal e-mail address in the last chapter--against all advice. It turned out to be a fortuitous decision. She has met thousands of readers, stayed in their homes, and sat around kitchen tables sharing stories and food and laughter. In this essay collection, Gelman includes her own further adventures, as well as those of writers and readers telling tales of the shared humanity they experienced in their travels. The stories are funny and sad, poignant and tender, familiar and bizarre. They will make you laugh and cry and maybe even send you off on your own adventure. Also included are fabulous international recipes such as vegetarian dolmades (stuffed grape leaves), chiles en nogada (stuffed poblano chiles topped with a white cream sauce with walnuts and a sprinkle of pomegranate seeds), and ho mok (an extraordinary fish-coconut custard from Thailand). Happy reading--and bon appetit, selamat makan, buen provecho.
About the Author
Rita Golden Gelman is the author of more than 70 children's books, including Inside Nicaragua, which was one of the ALA's Best Young Adult Books of 1988, and More Spaghetti, I Say!, a staple in every first-grade classroom. As a nomad, Gelman has no permanent address. Her most recent encampments have been in Mexico and New York City.
Praise For Female Nomad and Friends: Tales of Breaking Free and Breaking Bread Around the World…
"Rita serves up a tasty smorgasbord of stories—funny, heartwarming, and quirky. These tales remind us of what we seek in our own life's journey: a meaningful connection with people we meet and joy in finding new friends in unexpected places. Whether you choose to stay home or start packing, these stories will stir you."
—Maya Frost, author of The New Global Student
 
"Charming - a wonderful gift for your nomadic friends. The book will inspire you to travel, to cook, and, to get your own stories committed to the page!"
—Julie Conover, PassportToAdventure.com, Host & Producer
 
"Rita and friends take you on a virtual and culinary global adventure that is sure to evoke a range of emotions. A must-read for both the armchair and active traveler."—Beth Whitman, author of Wanderlust and Lipstick guides for women travelers.
 
"Rita Golden Gelman's book pulsates with life's flavors—both in the stories and the recipes that accompany them. Remarkably, all royalties will be donated through two Rotary clubs to provide scholarships for young adults in a Delhi slum.    As a Rotarian myself, I salute Rita and savor her book. So will you."
—Karin Treiber, PhD, Rotarian, Minneapolis, Minnesota.

"Thanks to Rita and her friends, the world just got a little smaller.  This inspirational book simultaneously illustrates how large and small our global community has become.  By sharing recipes, customs, and lives, we are ushered through an exotic world of experiences."
—John O. Hishmeh, Executive Director, Council on Standards for International Educational Travel

"These wonderfully poignant stories speak to the inner-nomad in all of us, reminding us of the joy and warmth we feel when sharing laughter, tears, and meals across cultures."
—Sara LaRosa, Returned Peace Corps Volunteer, Tonga 2006-2008
Advertisement