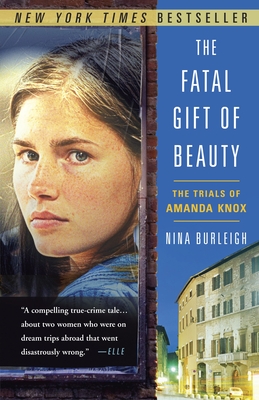 The Fatal Gift of Beauty
The Trials of Amanda Knox
Paperback

* Individual store prices may vary.
Description
Award-winning author and journalist Nina Burleigh's mesmerizing literary investigation of the murder of Meredith Kercher, the controversial prosecution, the conviction and twenty-six-year sentence of Amanda Knox, the machinations of Italian justice, and the underground depravity and clash of cultures in one of central Italy's most beloved cities.

The sexually violent murder of twenty-one-year-old British student Meredith Kercher in Perugia, Italy, on the night of November 1, 2007, became an international sensation when one of Kercher's housemates, twenty-year-old Seattle native Amanda Knox, as well as her Italian boyfriend and a troubled local man Knox said she "vaguely" knew, was arrested and charged with the murder. When Perugia authorities concluded that the murder was part of a dark, twisted rite—a "sex game"—led by the American with an uncanny resemblance to Perugia's Madonna, they unleashed a media frenzy from Rome to London to New York and Seattle. The story drew an international cult obsessed with "Foxy Knoxy," a pretty honor student on a junior year abroad, who either woke up one morning into a nightmare of superstition and misogyny—the dark side of Italy—or participated in something unspeakable.

The investigation begins in the old stone cottage overlooking bucolic olive groves where Kercher's body was found in her locked bedroom. It winds through the shadowy, arched alleys of Perugia, a city of art that is also a magnet for tens of thousands of students who frequent its bars, clubs, and drug bazaar on the steps of the Duomo. It climaxes in an up-close account of Italy's dysfunctional legal system, as the trial slowly unfolds at the town's Tribunale, and the prosecution's thunderous final appeal to God before the quivering girl defendant resembles a scene from the Inquisition. 

To reveal what actually happened on that terrible night after Halloween, Nina Burleigh lived in Perugia, attended the trial, and corresponded with the incarcerated defendants. She also delved deeply into the history, secrets, and customs of Perugia, renowned equally for its Etruscan tunnels, early Christian art, medieval sorcerers, and pagan roots.

A New York Times bestseller, The Fatal Gift of Beauty is the thoughtful, compelling examination of an enduring mystery, an ancient, storied place, and a disquieting facet of Italian culture: an obsession with female eroticism. By including the real story of Rudy Guede, it is also an acute window into the minds and personalities of the accused killers and of the conservative Italian magistrate striving to make sense of an inexplicable act of evil. But at its core is an indelible portrait of Amanda Knox, the strangely childlike, enigmatic beauty, whose photogenic face became the focal point of international speculation about the shadow side of youth and freedom.
Praise For The Fatal Gift of Beauty: The Trials of Amanda Knox…
"Clear-eyed, sweeping, honest and tough, Nina Burleigh's autopsy of one of the most compelling criminal dramas of our time sets a standard that any of the other other chroniclers of this tale have yet to meet. The story of Amanda Knox is part Salem witch trial, part cultural misunderstanding of an epic sort, and part vendetta. Burleigh found the universal elements of a junior year abroad that shook the world, and she brings them home without sentimentality nor an axe to grind. This is what long-form narrative journalism is all about." --Tim Egan, author of The Worst Hard Time


"THE FATAL GIFT OF BEAUTY is the real, the true, and the complete story of the Amanda Knox case. It will draw you into a nightmare world of murder, conspiracy, corruption, false accusations, police incompetence, abuse, lies, and manipulations. Nina Burleigh is a first-rate journalist who presents a meticulously researched and reported account, with every fact documented and sourced. It is an essential read for anyone interested in this case. More than a murder story, is a look into the dark and complex soul of Italy itself."--Douglas Preston, co-author of The Monster of Florence

"Finally, the twisted tale of Amanda Knox, the all-American college girl convicted of murder in Italy, gets the telling this extraordinary story deserves. Nina Burleigh's immersion in Italian cultural history provides a context that allows us--first the first time--to understand how this international miscarriage of justice could have occurred. Stirring, compelling, and in the end a tragic tale worthy of Italian opera." --Joe McGinniss, author of Fatal Vision, The Miracle of Castel Di Sangro and The Rogue

"The global media, in its frenzied coverage of the sensational Amanda Knox murder trial, overlooked what Nina Burleigh has skillfully unearthed and analyzed--a compelling chain of evidence, subtle levels of significance.  Her telling of the tale is clearly the only one that gets it right."--John Berendt, author of The City of Falling Angels and Midnight in the Garden of Good and Evil

"A fascinating book about a beautiful American girl in Italy and how she was prosecuted for a murder she may not have committed. It is also a study in sexism and criminal law--especially in Italy. Horrifyingly readable."-- Erica Jong

"Nina Burleigh has cut through the confusion of conflicting and often inaccurate news accounts of the Amanda Knox murder case and given us a lucid, fair-minded account of the case. She shows, quite convincingly, that Knox and her co-defendant have been victims of a serious miscarriage of justice. Perhaps more importantly, she explains why, showing the case to be the product of cultural misunderstanding between Italy and the U.S."--Alexander Stille, author of The Sack of Rome

"[In] this powerful example of narrative non-fiction...Burleigh, who parses how the Knox trial was perhaps tainted, still presents a fair and unbiased portrait of a girl adrift in a foreign legal system and a culture rife with preconceptions about young American women." —Publishers Weekly, Starred Review

"Burleigh's propulsive narrative and the many unsettling aspects of the case make this a standout among recent true-crime titles."—Kirkus Reviews

"Journalist/author Burleigh (e.g., Unholy Business) reconstructs a murder case that has proved to be about much more than murder."—Library Journal

"A fascinating book about a beautiful American girl in Italy and how she was prosecuted for a murder she may not have committed.  It is also a study in sexism and criminal law--especially in Italy. Horrifyingly readable." --Erica Jong, author of Fear of Flying

"Savvy true-crime reporting combined with a headline-hogging murder trial."—Booklist
Crown, 9780307588593, 368pp.
Publication Date: July 10, 2012
About the Author
Nina Burleigh is the author of Unholy Business: A True Tale of Faith, Greed, and Forgery in the Holy Land, A Very Private Woman: The Life and Unsolved Murder of Presidential Mistress Mary Meyer, and two other books. She has written for the New York Times, The New Yorker, and Time and is a contributing editor at Elle. She has resided in France, Italy, and the Middle East and now lives in New York.
or
Not Currently Available for Direct Purchase