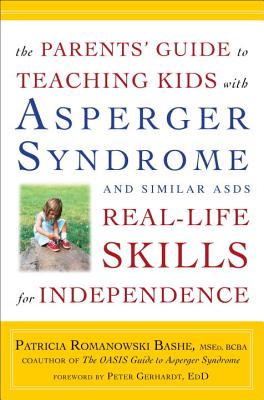 The Parents' Guide to Teaching Kids with Asperger Syndrome and Similar ASDs Real-Life Skills for Independence (Paperback)
Harmony, 9780307588951, 400pp.
Publication Date: October 25, 2011
* Individual store prices may vary.
Description
The definitive resource for teaching kids with Asperger syndrome the life skills that build independence, confidence, and self-esteem. 

Children with autism spectrum disorders learn differently. Our kids' choices are too often limited and their paths to success restricted, not by a lack of intellectual ability but by deficits in acquiring, applying, and generalizing basic life skills. Success in school, at home, on the playground, and beyond depends on mastering countless basic living skills that most other kids just "pick up" almost by osmosis. 

This book shows parents how to teach these so-called easy skills to complex learners. This is the first book for parents and caregivers of kids with Asperger syndrome and similar learning profiles that features strategies based on applied behavior analysis--the most widely accepted, evidence-based, and effective teaching method for learners with ASDs--including how to:

-Identify critical skills appropriate for your child's age--how to teach them and why
-Implement new techniques that can replace, mimic, prompt, override, or impose missing order on your child's learning style
-Design a curriculum for your child that reduces reliance on prompts (including parents) and promotes new learning, new behaviors, and independence
About the Author
Patricia Romanowski Bashe is the coauthor of the acclaimed OASIS Guide to Asperger Syndrome, a board-certified behavior analyst,and the mother of a son with Asperger syndrome.
Praise For The Parents' Guide to Teaching Kids with Asperger Syndrome and Similar ASDs Real-Life Skills for Independence…
"It is important that parents and professionals have up to date information on how to understand and help someone who has Asperger's syndrome. This book will provide an explanation of the latest theories and practical strategies. This book should be in every home library of every family that has a son or daughter with a diagnosis of Asperger's syndrome."  
--Dr. Tony Attwood, author of the The Complete Guide to Asperger Syndrome

"Bookstore shelves are lined with tomes on the history, symptomology and manifestations of this puzzling disorder. Concerned parents have appreciated and devoured these books. They now understand  the scope and complexity of the syndrome. And they collectively ask, 'Now what?' Enter Patricia Romanowski Bashe. Patty uses her decades of experience as a parent and professional to design a book that meets the needs of the 'second generation' of parents who understand the disorder....and are searching for solutions, ideas, techniques and strategies. She expands on her groundbreaking classic, The OASIS Guide, by providing parents and caregivers with practical, field-tested advice aimed at teaching kids the basic life skills that will enhance their independence and their ability to face and solve everyday social and interactional problems."
--Richard D. Lavoie, M.A., M.Ed.

"Patty Romanowski Bashe has written a superbly crafted and forward-looking book for anyone who lives or works with individuals with Asperger syndrome and related disorders. Her style is practical, chock full of helpful tools. She dispels the oft-held notion that ABA is just discrete trials training. The "Tools for teaching" chapter is one of the best I have ever read! If you are a parent, run right out and buy this book! It will help you through harrowing moments. And if you are a professional, place it in your collaboration toolkit."
  --Teresa Bolick, Ph.D., BCBA-D, Author of Asperger Syndrome and Adolescence; Getting Ready For the Real World and Asperger Syndrome and Young Children: Building Skills For the Real World

"This is a tool for families to help explain how they can build teaching systems within their home to foster their child's continued growth. The information is practical and down to earth. With both language based explanations and visuals to encourage systematic data collection and charting; parents will find this book very helpful." 
--Michelle Garcia Winner, Founder of Social Thinking®, Speech Language Pathologist, MA-CCC