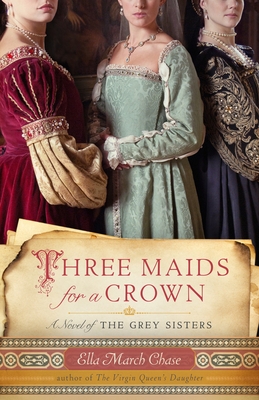 Three Maids for a Crown (Paperback)
A Novel of the Grey Sisters
Broadway Books, 9780307588982, 432pp.
Publication Date: August 2, 2011
* Individual store prices may vary.
Description
The Grey sisters experience love, triumph, and tragedy in Tudor England in the second novel from Ella March Chase.

Sixteen-year-old Jane Grey—the "Nine-Day Queen"—is a quiet and obedient young lady destined to become the shortest reigning English monarch. Her beautiful middle sister, Lady Katherine Grey charms all the right people, until a scandalous love affair causes loyalties to shift. And finally, Lady Mary Grey is a dwarf with a twisted spine whose goal is simply to protect the people she loves—but at a terrible cost.
 
In an age in which begetting sons was all that mattered and queens rose and fell on the sex of their child, these three girls with royal Tudor blood lived under the dangerous whims of parents with a passion for gambling. The stakes they would wager: their daughters' lives against rampant ambition.
About the Author
Elle March Chase is the author of The Virgin Queen's Daughter and Three Maids for a Crown. She lives in East Moline, IL.
Praise For Three Maids for a Crown: A Novel of the Grey Sisters…
"Chase's prose is engaging, and her rich, detailed portraits of Renaissance women,
particularly those of a kindly but haunted Mary I and a vicious, conceited Elizabeth, are unforgettable."--Booklist

"High praise to Ella March Chase, who knows her Tudor history, for putting the fascinating and doomed Grey sisters at the center of an ingenious work of fiction."--G. J. Meyer author, The Tudors
 
"Thanks to the skilled craftsmanship of Ella March Chase, the three Grey sisters come vividly to life in Three Maids for a Crown, an intimate portrait of their struggle to survive in the hostile environment of the Tudor court--a world brilliantly recreated in this thoroughly engrossing novel."--Kate Emerson, author of the Secrets of the Tudor Court Series
 
"With lyrical prose, Ella March Chase tells the riveting story of the Grey sisters, from Lady Jane Grey's nine day reign to all that came after. Three Maids for a Crown is a beautiful tale that gives Jane, Katherine, and Mary Grey what they never had in life: a voice."--Christy English, author of To Be Queen: A Novel of the Early Life of Eleanor of Aquitaine
 
"In Three Maids for a Crown Ella March Chase powerfully evokes the courageous stories of the three truly unforgettable Grey sisters, saintly Jane, beautiful Kat and misshapen Mary.  Each maid triumphs, then falls prey to their cousins, first Queen Mary Tudor and then Elizabeth I, both queens terrified of the three maids' royal Tudor blood. The sisters find the triumphant love their queenly cousins are denied, but each is forced to pay a heavy price. At last, Chase writes their untold story, woven throughout with fascinating period detail.  Not to be missed if you love well-told Tudor stories, or if you have a sister."--Jeane Westin, author of His Last Letter: Elizabeth I and the Earl of Leicester
 
"Ella March Chase vividly portrays the paranoia of the Tudor court in Three Maids for a Crown. Lady Jane Grey and her sisters navigate their tragedy with compelling grace, ultimately powerless against the two queens who fear them. An absorbing and heartbreaking story."--Emma Campion, author of The King's Mistress
All three sisters were used as pawns by their parents. How would you have felt if you had been in their positions? What kind of effect does that have on a child? Do you feel that powerful parents today still use their children to promote their own status? Can you think of any examples?
Jane Grey and Mary Tudor are resolute in refusing to change their religion, even when their adherence might cost them their lives. In contrast, Elizabeth Tudor, Katherine and Mary Grey take a more pragmatic view, willing to accede to whoever is in power at the time. When King Henry VIII broke with the Catholic Church he set in motion a period of religious upheaval that would divide England long after the end of his daughter Elizabeth's reign. As monarchs shifted between varying degrees of Protestantism and Catholicism, lives of courtiers and simple people depended on taking an oath adhering to the religion of the party in power. How would you have navigated those treacherous waters if your family had been in danger?
Talk about the conflict Kat and Mary must have felt, serving the woman who had their sister executed. Is it possible to love someone yet hate the actions they take? How do you think little Mary survived the terrible time from Jane's arrest through the aftermath of Jane's execution? What do you think it cost Queen Mary when she realized she had killed her cousin for a man who could never love her? Can you think of examples in your own life where you've had hide your true feelings—of revenge, hatred, or contempt—in the interest of self-preservation?
Katherine goes from the cherished beauty of the family to an outcast, a self centered girl to a woman, wife and mother capable of great sacrifice. How are the hardships she suffers necessary for her transformation? How different would she have been if all had gone well with Henry Herbert?
Katherine and Mary Grey are not unique in daring Elizabeth Tudor's formidable temper by marrying in secret without the queen's permission. It is historical fact that many of Queen Elizabeth's ladies in waiting and favored gentlemen, including Robert Dudley and later, the Earl of Essex, faced the queen's wrath in just that way. Discuss the dangers and benefits of such unions first from the queen's point of view, then from the view of the Grey sisters. If you were faced with such a choice, how much would you risk for love?
What kind of a queen do you think Kat would have made if Mary Tudor had done as she threatened and named her as her successor instead of Elizabeth? How do you think Kat would have fared if she had faced the threat of the Spanish Armada?
During the Renaissance, a woman's main function was to produce heirs for her husband. This became even more important in families of royal blood. Pregnancy figures largely in Three Maids for a Crown. Twice Mary Tudor believed she was pregnant, even going into confinement and having to emerge without producing the desperately needed heir to the throne. How do you think the kingdom responded when the queen did not produce an heir? What would you have thought if you'd been a subject? Katherine cannot tell Ned whether or not she is pregnant until she can see the baby moving inside her. Imagine what it was like for women before they could confirm they were with child?
Mary's "Thief's Coffer" holds treasures that remind her of people she loves. If you had a Thief's Coffer what might you put inside it? What makes something worth saving? Is she wise at the end of the story to let some of her treasures go in order to make room for new things? Are their memories or old talismans you would be better off to release?
In the end, Three Maids for a Crown is the story of three very different sisters, how they grow and change, each one dealing with their heritage and the ambitions of those around them in different ways. Which sister do you identify with most? How do the struggles between the sisters relate to family bonds that exist today?
or
Not Currently Available for Direct Purchase