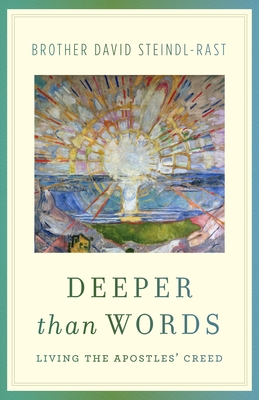 Deeper Than Words
Living the Apostles' Creed
Paperback

* Individual store prices may vary.
Description
Spiritual teacher and bridge-builder Brother David Steindl-Rast translates the Apostles' Creed for today, uncovering the deeper universal truths that can be an inspiration to all people.
 
In Deeper than Words: Living the Apostles' Creed, Brother David reexamines the words with which the early followers of Jesus summarized their faith. Reading line-by-line with an open perspective, he reveals the often overlooked message of trust, compassion, peace, love, and awareness contained in this widely known but rarely examined statement.  
     Deeper than Words moves beyond ritual and exclusivity and instead finds a deeper faith based in real human experience and the sense of limitless belonging that is shared by all people who seek to understand themselves and the world. The words of the Apostles' Creed are Christian, but its heart is a universal and timeless guide to fullness of life. From this transformation perspective, developed over a lifetime of contemplation, Brother David presents a powerful call to renewal through reconnection with the spiritual and a reawakening to shared sacred truths.
Praise For Deeper Than Words: Living the Apostles' Creed…
"I love Brother Steindl-Rast, and all of his work, especially this latest.  He is right up there for me with C.S. Lewis, Denise Levertov, and the great Frederick Buechner.  I am sure I'll read Deeper Than Words many times over the years."
– Anne Lamott, author of Traveling Mercies
 
"I have always felt that in endorsing a book I was honoring the book and its author. Brother David's Deeper Than Words, however, brought a new and startling sensation: I found myself sensing that the book was honoring me by allowing me to endorse it. Never before have I felt this way about a book… This book belongs on every pastor's desk, and on the nightstand beside the bed of every Christian who is trying to deepen his or her spiritual life." – Huston Smith, author of The World's Religions: Our Great Wisdom Traditions
 
"Beautiful and profound. With mystic vision and poetic clarity, Brother David opens us to the eternal vision behind the creed." – Jack Kornfield, author of The Wise Heart: A Guide to the Universal Teaching of Buddhist Psychology
 
"There is only one Brother David! To be in his presence is to know the possibility of walking faithfully on one chosen path, while not only respecting other faiths, but also studying them rigorously and experiencing them joyfully. In Deeper than Words, he distills a lifetime of insight into an inspiring book that can enlighten all of us to the universal similarities and the noble particularities of the world's wisdom traditions." – Elizabeth Lesser, cofounder Omega Institute and author of The Seekers Guide and Broken Open: How Difficult Times Can Help Us Grow
 
"A stunning analysis. It may not make a believer out of you but it will show you the depth meaning of the Apostles' Creed." – Sam Keen, author of In the Absence of God: Dwelling in the Presence of the Sacred
 
"A timely, profound, and important book. Highly recommended for individuals who want a spirituality that makes sense!" – Ken Wilber, Integral Spirituality
 
"Brother David has chosen as his text the Apostles' Creed, a fundamental expression of Christian faith.  He approaches it by asking point by point, What does this mean?  How do we know?  And why is it important? The open-hearted candor of his answers to these questions, reaching into his own living and contemporary experience, is what gives his words value and power… I am sure many readers will join me in feeling grateful to Brother David for his kindness in writing this book." – His Holiness the Dalai Lama
 
"When Brother David enters into the heart and mind of his listener something new happens to them and they know it." – Henri Nouwen, author of Return of the Prodigal Son
Image, 9780307589613, 176pp.
Publication Date: June 15, 2010
About the Author
BROTHER DAVID STEINDL-RAST (b. 1926) was born in Austria and came to the United States after receiving his Ph.D. in Psychology from the University of Vienna. As a member of the Benedictine Order of Catholic monks, he is known for pioneering work in interfaith dialog, especially between Christianity and Buddhism, for his promotion of the spiritual practice of gratefulness, and for his efforts to revitalize contemplative prayer life. For decades, Brother David has divided his time between periods of hermit's life and extensive lecture and retreat tours on five continents. He is author of numerous books, including the classics of spirituality Gratefulness, the Heart of Prayer and A Listening Heart, and he is the co-founder of A Network for Grateful Living, an organization dedicated to gratefulness as a transformative influence for individuals and society. Audio and video recordings of Brother David can be found at www.gratefulness.org, a website viewed by over twenty thousand visitors per day.
or
Not Currently Available for Direct Purchase