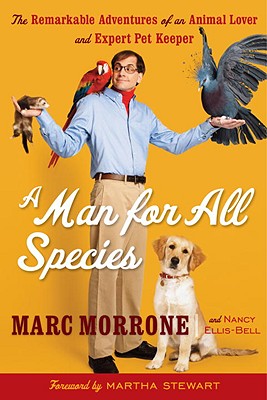 A Man for All Species
The Remarkable Adventures of an Animal Lover and Expert Pet Keeper
Hardcover

* Individual store prices may vary.
Description
Before Martha Stewart named him her "pet keeper," and before millions of people turned to him for advice, Marc Morrone had a simple dream: to learn everything he possibly could about every kind of animal and share that knowledge with others. In this lively, colorful memoir, Morrone offers a heartfelt and candid look inside a life well-lived with creatures great and small, from the domestic to the exotic, from frisky ferrets to renegade reptiles to rare parrots. Morrone is an enthusiastic champion of all animals—furred, feathered, or scaled, domestic or wild—and his lifelong adventures take us from his internationally renowned pet store, Parrots of the World, to his home and personal menagerie, covering his media roles on both television and radio. Inspiring, informative, and frequently amazing, Morrone's story is a memorable tribute to one man's passion for the world of animals and his enduring commitment to their care.

In A Man for All Species, animal expert Marc Morrone weaves thrilling, inspiring, strange, and often hilarious experiences with practical advice gleaned over his forty-year career, revealing a world of adventure and anguish, humor and heart, that every pet owner and animal lover will recognize.
Praise For A Man for All Species: The Remarkable Adventures of an Animal Lover and Expert Pet Keeper…
"A treasure chest of information on how we can best live with animals of all kinds."
—Jim Fowler, star of Mutual of Omaha's Wild Kingdom and former wildlife correspondent for Today
 
"There are many who help animals by learning how to do so. Then there are those who are blessed with a sense that transcends learning—true animal healers. Marc Morrone epitomizes the latter and is one of our gifts to man's 'favorite kingdom.' And now, this book is Marc's way of sharing his gift with us."
—Dr. Marty Goldstein, director of Smith Ridge Veterinary Center (South Salem, New York), and author of Nature of Animal Healing
 
"When many of Marc's orthodox customers requested kosher bird food for Passover, Marc asked me for advice on how to comply with their request. He then became a dedicated provider of kosher pet foods for a variety of animals, and I continue to be impressed by his enthusiasm for what he does, his broad knowledge of animal needs, and his joy in providing the greatest possible satisfaction for all of his customers."
—Rabbi Israel Chait
Crown, 9780307589651, 288pp.
Publication Date: April 20, 2010
About the Author
MARC MORRONE is the co-owner of the Parrots of the World, Ltd., pet store in Rockville Centre, New York, and is also Martha Stewart's pet expert, appearing regularly on "The Martha Stewart Show "on NBC. Additionally, he hosts "The Pet Shop""with Marc Morrone "on Mag Rack and is the host of the radio show "Ask Marc, the""Pet Keeper "on the Martha Stewart Channel.

www.parrotsoftheworld.com

NANCY ELLIS-BELL is the author of "The Parrot Who Thought She Was a Dog, " which was named one of the Top 5 Nonfiction Books of the Year by the "Richmond""Times-Dispatch "as well as one of the Top 10 Sci-Tech Books of 2008 by "Booklist." She is a literary agent and lives in California with her husband, Kerry, and their menagerie of cats, dogs, and birds.

www.thebarkingparrot.com
or
Not Currently Available for Direct Purchase