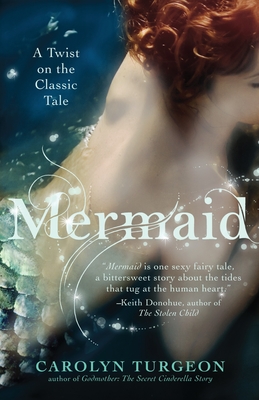 Mermaid
A Twist on the Classic Tale
Paperback

* Individual store prices may vary.
Other Editions of This Title:
Digital Audiobook (12/13/2011)
MP3 CD (1/1/2012)
Compact Disc (1/1/2012)
Description
A surprising take on Hans Christian Anderson's classic tale, Mermaid is the story of two women with everything to lose.
 
Princess Margrethe has been hidden away while her kingdom is at war. One gloomy, windswept morning as she stands in a convent garden overlooking the icy sea, she witnesses a miracle: a glittering mermaid emerging from the waves, a nearly drowned man in her arms. By the time Margrethe reaches the shore, the mermaid has disappeared into the sea. As Margrethe nurses the handsome stranger back to health, she learns that not only is he a prince, he is also the son of her father's greatest rival. Sure that the mermaid brought this man to her for a reason, Margrethe devises a plan to bring peace to her kingdom.
 
Meanwhile, the mermaid princess Lenia longs to return to the human man she carried to safety. She is willing to trade her home, her voice, and even her health for legs and the chance to win his heart….  

Beautifully written and compulsively readable, Mermaid will make you think twice about the fairytale you heard as a child, keeping you in suspense until the very last page.
Praise For Mermaid: A Twist on the Classic Tale…
"Absorbing, poignant, and heartbreaking…Readers who love fairy tale retellings will find this fresh take difficult to put down."—Library Journal

"More robust than a fractured fairy tale, Turgeon's brooding retelling gives voice to both women, fleshing out an essentially tragic tale of destiny and desire…Guaranteed to keep you guessing who – if anyone – will live happily ever after."--Booklist

"Turgeon has done a superb job of creating compelling characters and conflict from a story already familiar to readers."—Publishers Weekly

"A gothic love triangle with two equally matched heroines. This isn't kid's stuff."—Kirkus Reviews

"Vividly imagined and skillfully told, Mermaid is a dark tale that shimmers with light."--Cathy Marie Buchanan, New York Times bestselling author of The Day the Falls Stood Still

"There is a part of every reader that longs to return to the days of reading fairy tales and myths, when imagination had no limits and stories were spellbinding.  Carolyn Turgeon's Mermaid evokes just that feeling.  She is one of my new favorite writers."--Jo-Ann Mapson, author of Solomon's Oak and the Bad Girl Creek trilogy

"This Mermaid is resplendent with shimmering details, the dark and thrilling story behind that comforting childhood memory.   At once fresh and familiar, heartbreaking and full of hope, this dark retelling of Hans Christian Anderson's The Little Mermaid is like a gorgeous dream remembered."—Jeanine Cummins,  bestselling author of A Rip in Heaven and The Outside Boy

"As moody and atmospheric as a gothic novel, Mermaid is a heartfelt portrait of young love and all its sweet complications. Sweeping and lush, an inspired and imaginative reimagining of my favorite fairy tale."—Timothy Schaffert, author of The Coffins of Little Hope

"Turgeon's ability to breathe new life into the old bones of a beloved story we all think we know is unparalleled."—Anton Strout, author of the Simon Canderous series
Crown, 9780307589972, 256pp.
Publication Date: March 1, 2011
About the Author
CAROLYN TURGEON is the author of severl works of fiction, including Rain Village, Godmother, and The Fairest of Them All. Visit her website and blog at carolynturgeon.com.
Mermaid is based on Hans Christian Andersen's The Little Mermaid. Have you read the story? Have you seen the Disney film? What are some of the differences and similarities between the other versions and this one?
What do you think of retellings of fairy tales? How do you account for their popularity? Do you think there's any special power in taking a known story and envisioning it in a new way?
How would you describe the mermaid world in this book? Is this an attractive world to you? How does it compare to the human world in the book?
What does Lenia find so compelling about the human world? Does she have an accurate view of it?
Think about Lenia's choice to return to the sea witch and trade her voice for legs. What you ever make such a sacrifice—for love, for salvation, or any other reason? Why or why not? Talk about the theme of sacrifice in the book generally. Who is making sacrifices and for what purposes?
Compare Lenia and Margrethe. What do they have in common, and how are they different? What do you think about the relationship that develops between them?
How would you characterize Margrethe and the choices she makes? Does she change throughout the book?
If you could switch places with Lenia or Margrethe, whose life and world would you rather inhabit for a day, and why?
Describe Prince Christopher's relationships with Lenia and Margrethe. Does he behave honorably toward them both? What do you think of him?
Mermaids are an incredibly popular subject in many cultures. What do you think accounts for their appeal? What makes mermaids such a rich subject for the imagination? Can you think of other books in which mermaids play an important role?