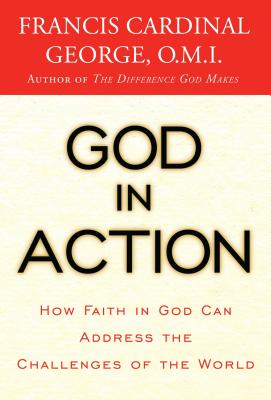 God in Action: How Faith in God Can Address the Challenges of the World (Hardcover)
How Faith in God Can Address the Challenges of the World
Doubleday Religion, 9780307590268, 230pp.
Publication Date: May 3, 2011
* Individual store prices may vary.
or
Not Currently Available for Direct Purchase
Description
"What if God has his own ways that are not always our ways? What if God acts in public affairs in ways that can, of course, be ignored from day to day but at a price for individuals and whole societies? If God is an actor, how is it possible to trace his action? . . . Can we discover God's actions in the part of human experience that is public in our day?" Francis Cardinal George
In this bracing manifesto, His Eminence Francis Cardinal George, one of the leading Catholic intellectuals in America today, provides refreshing insight into the intersection of faith and the public sphere. Finding both challenges and reasons for hope, he lays out a vision for national life that respects natural law, human dignity, and the essential ways religion uniquely contributes to the common good.
In our country today, the significance of religious faith is often reduced to personal spiritual convictions or peculiar ideas found within self-contained churches, synagogues, temples, and mosques. Yet, as Cardinal George argues, it is God acting through humanity that is the very root of the core ideals that shape society. In the process, a moral framework is built that allows life to flourish. Consequently, he calls for resistance to creeping ideas that seek to deny religious organizations the freedom to act on their convictions and, thus, shutting voices of faith out of the public square on culture-defining issues.
Moreover, Cardinal George calls for a fundamental reevaluation of questions surrounding humanrights, religious liberty, respect for life, just war, commerce, immigration, and globalization. In turn, he points out a clear path that respects individual conscience while integrating faith and natural law into the public conversation on our shared future.
An important book for challenging times, God in Action presents a universal message rooted in the Catholic philosophical tradition that is impossible to ignore.
About the Author
FRANCIS CARDINAL GEORGE, O.M.I., is the archbishop of Chicago. He has served as vicar general of his religious order, the Missionary Oblates of Mary Immaculate, and was the president of the U.S. Conference of Catholic Bishops from 2007 through 2010. Cardinal George was elevated to the College of Cardinals by Pope John Paul II in 1998.
Praise For God in Action: How Faith in God Can Address the Challenges of the World…
"This book is a real winner and about as timely as it gets. God is in action in this very book." —Timothy M. Dolan, Archbishop of New York

"With powerful clarity, God in Action brings the wisdom of the Gospel to our time, answering the demands of today with an urgent challenge to each of us: the challenge to renew society with the Gospel values of truth and charity. His challenge is one we would be wise to embrace with courage. God in Action is our key to bringing Christ—and hope—to the world through our hands." —Carl A. Anderson, Supreme Knight of the Knights of Columbus and the New York Times bestselling coauthor of Our Lady of Guadalupe

"This challenging book begins by asking us to take seriously the idea that God is no mere 'first cause,' but always and everywhere actively present in the unfolding of human events—bringing good from evil, hope from despair, life from death. With his long experience as an influential religious leader and thinker, Cardinal Francis George has thought deeply about how to discern divine grace operating in the world and how to cooperate with it. God in Action brings the fruit of that reflection to bear on a wide range of current issues with the clarity and conviction that are the marks of a great teacher." —Mary Ann Glendon, professor of law, Harvard University

"Cardinal Francis George, a thoughtful citizen as well as a distinguished churchman, knows that a democracy's habits of heart and mind are crucial to that democracy's political health. His reflections on the crossroads where culture, moral reasoning, and politics meet is a genuine contribution to the debate that is American democracy's lifeblood. God in Action is an engaging and provocative read." —George Weigel, Distinguished Senior Fellow and William E. Simon
Chair in Catholic Studies, Ethics and Public Policy Center

"In a culture eager to shoo God to the margins of public life, God in Action reminds us that Gospel values and Catholic principles are meant to transform societies as well as individuals. Francis Cardinal George's carefully reasoned, wide-ranging reflections challenge readers to consider political and social debates from an eternal perspective, one in which God is not an obstacle to our freedom but its surest guarantor."
—Colleen Carroll Campbell, host of EWTN's Faith & Culture, author of The New Faithful, and former presidential speechwriter
Advertisement