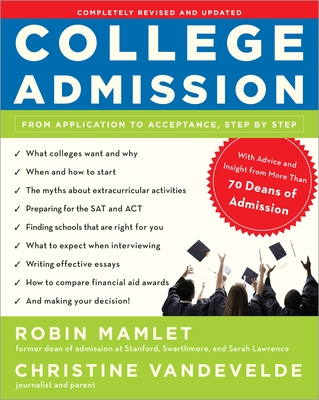 College Admission
From Application to Acceptance, Step by Step
Paperback

* Individual store prices may vary.
Description
College Admission is the ultimate user's manual and go-to guide for any student or family approaching the college application process. 
 
Featuring the wise counsel of more than 50 deans of admission, no other guide has such thorough, expert, compassionate, and professional advice.
 
Let's be honest: applying to college can be stressful for students and parents. But here's the good news: you can get in. Robin Mamlet has been dean of admission at three of America's most selective colleges, and journalist and parent Christine VanDeVelde has been through the process first hand. With this book, you will feel like you have both a dean of admission and a parent who has been there at your side.
 
Inside this book, you'll find clear, comprehensive, and expert answers to all your questions along the way to an acceptance letter: 

   • The role of extracurricular activities
   • What it means to find a college that's the "right fit"
   • What's more important: high grades or tough courses
   • What role does testing play
   • The best candidates for early admission
   • When help from parents is too much help
   • Advice for athletes, artists, international students, and those with learning differences
   • How wait lists work
   • Applying for financial aid

This will be your definitive resource during the sophomore, junior, and senior years of high school.


Praise For College Admission: From Application to Acceptance, Step by Step…
"This guide can be beneficial to students of any background and at any stage of their college search process…Mamlet and Vandevelde's guidebook provides significant and helpful direction at every stage of the college search. To reinforce their advice, they close every chapter with validation and wisdom from experienced admission deans and high school guidance counselors. Families that look to this guidebook will have a balanced sense of how to navigate the college search without feeling overwhelmed. With their new knowledge, students will traverse the college application process with a sense of ease." -- National Association for College Admission Counseling 


"This guide is a must-have resource for any student planning to enter college. No other publication offers this level of expertise and all-encompassing, reassuring wealth of information [...] Whether there is a sophomore, junior or high school student in the home, this guide will help connect the dots and show the way to help an applicant possibly receive an acceptance letter for the college of their choice." -- The Tuscon Citizen

"COLLEGE ADMISSION avoids all stratagems for shoehorning your child into Harvard. Instead, it shows us how to treat the app process as a chance for self-reflection, culminating in acceptance to a school that's an authentic fit." -- Eli Wolfe, San Francisco Magazine

"Hurrah! An upbeat, practical book on college admissions [...]  it's well organized and readable [...] covers the basics (getting ready, selecting colleges, the application process, paying for school, deciding which to attend, etc.), enhanced with insights from 50 deans of admission, high school counselors and educators. And, dare I suggest this? It is good reading for your prospective college freshmen, too." -- Karen Horton, The Star-Ledger - NJ.com

"A new college admissions bible [...]Here is a new book jam-packed with information on every aspect of the admissions process [...] College Admission does what the title promises, in an accessible format that taps the knowledge and experience of admissions directors and others involved in the process." -- Valerie Strauss, The Washington Post
 
Crown, 9780307590329, 432pp.
Publication Date: August 16, 2011
About the Author
 ROBIN MAMLET is the former dean of admission at Stanford, Swarthmore, and Sarah Lawrence, where she made over 100,000 admission decisions. Today, she helps colleges and universities find and select their deans of admission, leading the Enrollment Search Practice for Witt/Kieffer.

Journalist CHRISTINE VANDEVELDE's work has appeared in the San Francisco Chronicle, Parenting, Self, and USA Today.