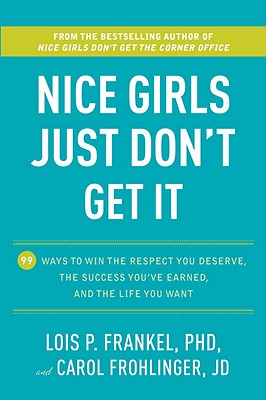 Nice Girls Just Don't Get It
99 Ways to Win the Respect You Deserve, the Success You've Earned, and the Life You Want
Hardcover

* Individual store prices may vary.
Description
Offering the same brand of practical, no-holds-barred, expert advice that made Nice Girls Don't Get the Corner Office an international million-copy bestseller, Nice Girls Just Don't Get It teaches us the skills we need to turn from a nice girl into a winning woman, not just in our careers but in our relationships, families, and everyday lives.

Have you ever felt invisible? Taken advantage of? Reluctant (or unable) to articulate what you really want? If so, join the club. The nice girls club.  Nice girls—that's right, girls—are those  more concerned with pleasing others than with addressing their own needs and haven't yet learned how to overcome the childhood messages cultural stereotypes keeping them from getting their voices heard, their needs met, and the lives they want.

This book will turn those nice girls into winning women. That is, women who factor their own needs in with those of others, confront those who treat them disrespectfully,  maintain healthy and mutually beneficial relationships with appropriate boundaries— and as a result, are happier and more successful in every area of their life. 

In 2004, Lois Frankel blew the lid off so many of our long-held ideas about gender and success with her bestselling Nice Girls Don't Get the Corner Office, which went on to become such a huge phenomenon, the term "nice girls" has secured a place in our cultural lexicon. Here, Frankel teams up with negotiation expert Carol Frohlinger to bring this bestselling advice out of the workplace and provide a broader set of skills that any woman—whether a CEO or stay-at-home mom—can use to win anywhere, with anyone.

Presented in the straightforward, digestible format that helped make Nice Girl's Don't Get the Corner Office an instant hit, Frankel and Frohlinger outline seven practical strategies and 99 supporting tactics that every winning woman should know. By the time you've finished reading this book, you'll be able to:

• Get your husband to do his half of the household chores—without being made to feel like a nag.
 
• Stop overextending yourself by taking on all the unpleasant tasks no one on your volunteer board, or your team at work will go near.
 
• Win an argument with your mother in law about who will be hosting Christmas dinner. 
 
• Have the courage to send back a meal that isn't prepared the way you'd ordered it.
 
• Confront a colleague who is shirking responsibility or taking credit for your work.

• Convince a sales person to reduce a fee, waive a surcharge, or honor a store credit.

• Question a doctor's course or treatment or request a second opinion, instead of simply going along in order to be a "good" patient.

• Firmly but politely bow out of an extravagant vacation to celebrate a friend's birthday that you simply can't afford–without feeling guilty about it. 

And so much more.

A must-read for anyone who's ever felt taken advantage of by a friend or family member, unappreciated by a spouse or partner, or exploited by a vindictive neighbor or co-worker, Nice Girls Just Don't Get It offers women the indispensable knowledge and skills to get the things they want, the respect they've earned, and the success they deserve.
Praise For Nice Girls Just Don't Get It: 99 Ways to Win the Respect You Deserve, the Success You've Earned, and the Life You Want…
"Frankel and Frohlinger break down why so many women go through life harboring resentment and frustration: it's about respect, and no one is going to hand it to us. Bravo to these two winning women – they demonstrate how it's done, share the expert advice that will earn you the things you want, and the respect you deserve."
—Carolyn Kepcher, bestselling author of Carolyn 101, former Trump Executive V.P., and CEO of WorkHerWay.com
 
"I have read all the Nice Girls books, and they've helped me immensely both personally and professionally. Now a new gem in the series appears – this one is the crown jewel!" 
—Hamida Belkadi, CEO, De Beers, North America

"This book is a treasure! If you're looking for smart, down-to-earth strategies for building a fulfilling life look no further.  Frankel and Frohlinger are a winning team whose advice is essential reading for women who want to use their talents to the fullest."
—Anne Fisher, "Ask Annie" columnist, CNNmoney.com
 
"Lois Frankel and Carol Frohlinger have done it again! Nice Girls Just Don't Get It is easy to read, practical and crammed with great advice for all women. It's a gentle wakeup call and powerful resource for everyone—from teenagers to top executives. Brilliant!"
—Liz Cornish, founding partner, FHD (First 100 Days) Consulting
 
"You don't have to be a drop dead diva to love this book. Every woman can win the life she wants by following its sage advice." 
—Josh Berman, Creator, Drop Dead Diva

"If you're a nice girl—or even if you're not—you'll want to read this book."
—Peggy Klaus, author of BRAG! The Art of Tooting Your Own Horn Without Blowing It and The Hard Truth About Soft Skills: Workplace Lessons Smart People Wish They'd Learned Sooner
Harmony, 9780307590466, 320pp.
Publication Date: April 19, 2011
About the Author
The name, DR. LOIS FRANKEL, has become practically synonymous with helping women to succeed in work and life.  Her book, Nice Girls Don't Get the Corner Office, was a New York Times mega-bestseller that has been translated into twenty-five languages and sold a million copies worldwide. As president of Corporate Coaching International and an active speaker, Frankel helps tens of thousands of women each year achieve their personal and professional goals. She has been widely featured in the media, including the Today show, Larry King Live, People magazine, Time magazine, BusinessWeek, and The Wall Street Journal. 

CAROL FROHLINGER,J.D., is a cofounder of Negotiating Women, Inc., a firm committed to helping women to negotiate more confidently, competitively, and competently. Her advice has been featured by CBS MoneyWatch, NPR, Cosmopolitan magazine, and the New York Times. Coauthor of Her Place at the Table and an internationally recognized speaker, Frohlinger draws from her experience as an attorney to help women get to yes in all aspects of life.
or
Not Currently Available for Direct Purchase