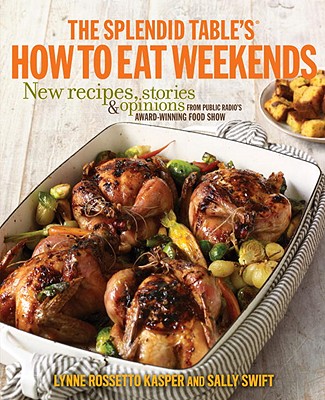 The Splendid Table's How to Eat Weekends
New Recipes, Stories & Opinions from Public Radio's Award-Winning Food Show
Hardcover

* Individual store prices may vary.
Description
In this enticing James Beard Award-nominated follow-up to their first book, Lynne Rossetto Kasper and Sally Swift, host and producer of "The Splendid Table" public radio show, celebrate Saturday and Sunday--those two days of the week when the pressure is off, time becomes your ally, and you get to slow down and dig into cooking in a different way.
In "The Splendid Table's How to Eat Weekends, " Lynne and Sally take you on escapades for a deeply pleasurable experience. They want you to head to different neighborhoods and markets, gather up ingredients, and embrace new cooking techniques and flavors that will carry over into your everyday meals. They include backstories about the rituals and reasons behind particular dishes (such as why lettuce figures into southern Chinese New Year celebrations) and take you deep into the aromatic aisles of ethnic markets and neighborhoods.
Loyal listeners to "The Splendid Table" radio show know Lynne and Sally's insatiable curiosity about the intersections between food and life and their belief that what goes into our mouths transcends taste. Their curiosity fires exciting flavors and new takes on dishes we'll want to eat every day of the week.
Here are 100 recipes for weekends, when you can enjoy the journey of cooking rather than just the destination. The recipes are accessible and their directions easy to follow whether you're a rookie or more experienced in the kitchen. Begin a meal with Rice Paper Rolls of Herbs & Shrimp or Mahogany-Glazed Chicken Wings. Try Scandinavian Broth with Scallop-Smoked Salmon Drop Dumplings; Barley Risotto with Saffron, Corn & Chives; or Sichuan-Inspired Pickled Vegetables. Main courses include YucatAn Pork in Banana Leaves; Timbale of Sweet Peppers, Greens & Hominy; and Leg of Lamb with Honey & Moroccan Table Spices.
Readers will also find lots of variations and ideas for leftovers in "Work Night Encores," expert wine pairings, and musings--plus the stories, quips, and history that "Splendid Table "fans have come to love. "The Splendid Table's How to Eat Weekends" in an essential addition to any cookbook shelf.
Clarkson Potter Publishers, 9780307590558, 337pp.
Publication Date: September 20, 2011
About the Author
LYNNE ROSSETTO KASPER, host and cocreator of "The Splendid Table" radio program, has explored food for more than forty years as a teacher, researcher, writer, and lecturer. Author of "The Splendid Table, " winner of both the James Bead and Julia Child/IACP Cookbook of the Year awards, she also wrote "The Italian Country Table" and coauthored "The Splendid Table's How to Eat Supper" with Sally Swift. Lynne is a member of Who's Who of Food and Beverage in America and a longtime advocate of organic and sustainable foods. She and Sally have worked together for nearly twenty years and still get a kick out of each other.

SALLY SWIFT is the managing producer and cocreator of "The Splendid Table" radio program and coauthor of "The Splendid Table's How to Eat Supper." She is an avid gardener, bicyclist, and public radio aficionado. After nearly two decades of working with Lynne, her only complaint is that they rarely have time for a real lunch.

THE SPLENDID TABLE is produced by American Public Media and is heard nationwide on more than 300 public radio stations. The program has received multiple broadcast awards over the years, including two James Beard Awards for Best National Radio Show on Food, the Gracie Allen Award for Best Syndicated Talk Show, and four Clarion Awards from the Association for Women in Communication for Best National Radio Talk Show. For more information, visit SplendidTable.org.
or
Not Currently Available for Direct Purchase