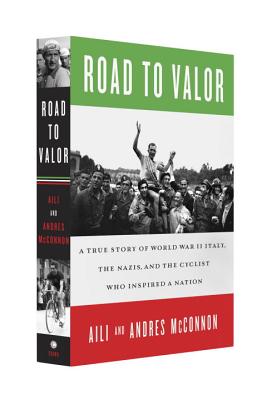 Road to Valor
A True Story of World War II Italy, the Nazis, and the Cyclist Who Inspired a Nation
Hardcover

* Individual store prices may vary.
Other Editions of This Title:
Digital Audiobook (6/11/2012)
MP3 CD (6/12/2012)
Paperback (6/11/2013)
Compact Disc (6/12/2012)
MP3 CD (6/12/2012)
Compact Disc (6/12/2012)
Compact Disc (6/12/2012)
Description
Road to Valor is the inspiring, against-the-odds story of Gino Bartali, the cyclist who made the greatest comeback in Tour de France history and secretly aided the Italian resistance during World War II. 
 
   Gino Bartali is best known as an Italian cycling legend: the man who not only won the Tour de France twice, but also holds the record for the longest time span between victories.  During the ten years that separated his hard-won triumphs, his actions, both on and off the racecourse, ensured him a permanent place in Italian hearts and minds.

   In Road to Valor, Aili and Andres McConnon chronicle Bartali's journey, starting in impoverished rural Tuscany where a scrawny, mischievous boy painstakingly saves his money to buy a bicycle and before long, is racking up wins throughout the country.  At the age of 24, he stuns the world by winning the Tour de France and becomes an international sports icon.

   But Mussolini's Fascists try to hijack his victory for propaganda purposes, derailing Bartali's career, and as the Nazis occupy Italy, Bartali undertakes secret and dangerous activities to help those being targeted.  He shelters a family of Jews in an apartment he financed with his cycling winnings and is able to smuggle counterfeit identity documents hidden in his bicycle past Fascist and Nazi checkpoints because the soldiers recognize him as a national hero in training. 

   After the grueling wartime years, Bartali fights to rebuild his career as Italy emerges from the rubble.  In 1948, the stakes are raised when midway through the Tour de France, an assassination attempt in Rome sparks nationwide political protests and riots.  Despite numerous setbacks and a legendary snowstorm in the Alps, the chain-smoking, Chianti-loving, 34-year-old underdog comes back and wins the most difficult endurance competition on earth.  Bartali's inspiring performance helps unite his fractured homeland and restore pride and spirit to a country still reeling from war and despair.

   Set in Italy and France against the turbulent backdrop of an unforgiving sport and threatening politics, Road to Valor is the breathtaking account of one man's unsung heroism and his resilience in the face of adversity.  Based on nearly ten years of research in Italy, France, and Israel, including interviews with Bartali's family, former teammates, a Holocaust survivor Bartali saved, and many others, Road to Valor is the first book ever written about Bartali in English and the only book written in any language to fully explore the scope of Bartali's wartime work.  An epic tale of courage, comeback, and redemption, it is the untold story of one of the greatest athletes of the twentieth century.
Praise For Road to Valor: A True Story of World War II Italy, the Nazis, and the Cyclist Who Inspired a Nation…
Winner of the Canadian Jewish Book Award – Biography
Winner of the Christopher Award
Winner of the Mazzei Award

"You do not have to follow cycling to relish Bartali's story....Like Laura Hillenbrand's Seabiscuit before it, Road to Valor is about an unlikely, headstrong champion who transcended his sport to make a deep impact on the broader world." – Sports Illustrated

"The McConnons have told the story of his [Bartali's] great and greater victories powerfully and well." – Boston Globe

"Gino Bartali was a hero....He was a cyclist who saved lives by riding throughout Italy during the second world war for a purpose higher than money or glory" – Bill Littlefield, NPR

"This thoroughly documented biography is both inspiring and immensely enjoyable." – Publishers Weekly

"[Road to Valor] tells a dramatic and moving story that is virtually unknown to most readers....An important addition to World War II biography and also to the history of twentieth-century cycling." – Booklist

"Impeccably researched and thrillingly told....This is truly an amazing tale of a poor Tuscan boy who pedaled his way not only to sports immortality, but into true heroism." –The Globe and Mail

"'Thou shall not stand idly by' is a powerful Biblical command. In Aili and Andres McConnon's book it offers a moving example of moral courage. A simple citizen and great athlete chose to oppose a cruel and racist political dictatorship by saving Jewish victims in Italy. Was it so hard to become a hero then? It was enough--enough to remain human. And yet." – Elie Wiesel
 
"The two Tours de France won by Bartali are more than mere entries in the record book of winners. The fact that they were won many years apart proves what an exceptional champion he really was. Above all, the war years separating these victories now reveal Gino to have been a true hero." – Christian Prudhomme, director of the Tour de France
 
"Whether you are a Tour de France fan, a history buff, or looking for an entertaining way to learn about both, Road to Valor will have you turning the pages with more conviction and speed than Bartali could turn the pedals!  An engaging and mesmerizing read." – Craig Hummer, Tour de France broadcaster for NBC Sports
 
"A gritty, scary story of endurance, Road to Valor traces one man's harrowing journey from the resistance movement in Nazi-occupied Italy to a comeback triumph in the Tour de France—told with verve and an affecting appreciation of the human spirit." – Bruce Porter, New York Times bestselling author of Blow
 
"This book is a magnificent ride through the uphill-downhill-uphill story of Gino Bartali. It inspires anyone who tenaciously holds to doing what is just, no matter how difficult, in the face of ignorance and terror. Bartali is a hero for all times."
– Fred Plotkin, author of Italy for the Gourmet Traveler
 
"Many cycling fans recognize the name Gino Bartali, and up until now most people only knew him for the races he won. But during some of the most tumultuous years of the twentieth century he leveraged his fame and risked his life for those being persecuted. With this complete look at Bartali's life, his legacy as one of cycling's greatest heroes grows even stronger." – Chris Carmichael, legendary coach and former Giro d'Italia and Tour de France racer
 
"Bartali is one of cycling's great icons, and this book adds another important dimension to this man's world." – Sir Paul Smith
 
"It is with genuine pleasure that I recommend to men and women of all ages and all religious and ethnic backgrounds Road to Valor by Aili and Andres McConnon.  It recounts a true story that is marvelously exciting and inspiring as well.  The heroism of so many Italians during World War II and afterwards is a tale that needs to be told, and the authors tell it masterfully.  Their readers will be deeply touched by the courage of the hero of the book, Gino Bartali, and others who put their lives at risk to protect the innocent and defend both their faith and their commitment to democracy." – Edward Cardinal Egan, Archbishop Emeritus of New York
 
"At a time when so many sports figures have come to personify scandal and bad behavior, how refreshing it is to read the inspiring tale of Gino Bartali's life.  The McConnons have drawn a portrait of the Italian cycling legend that uplifts the spirit, and reminds us of the many ways tenacity and faith can reshape the world.  This lively book will ride off with your heart and cycle through your memory for years to come." – Raymond Arroyo, New York Times bestselling author and host of EWTN's The World Over Live

Crown Publishing Group (NY), 9780307590640, 316pp.
Publication Date: June 12, 2012
About the Author
Aili McConnon is an award-winning journalist, based in New York. She has written for "BusinessWeek Magazine, The New York Times," "The Wall Street Journal," and "Sports Illustrated "and has appeared on ABC, CNN, and NPR.

Andres McConnon is a researcher, journalist and award-winning author who has written for various publications including "Sports Illustrated, The" "Huffington Post "and" The" "National Post."
or
Not Currently Available for Direct Purchase