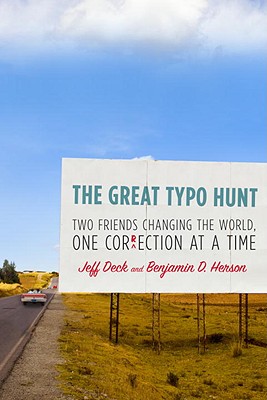 The Great Typo Hunt (Hardcover)
Two Friends Changing the World, One Correction at a Time
Crown, 9780307591074, 288pp.
Publication Date: August 3, 2010
* Individual store prices may vary.
August 2010 Indie Next List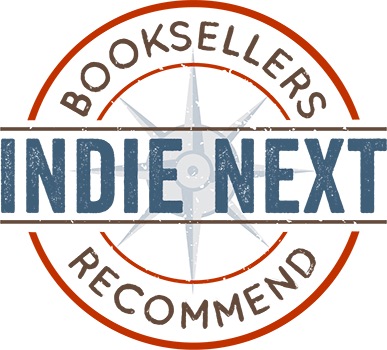 "What happens when one man and his rotating roster of faithful companions set off across America, armed with Sharpies and Wite-Out, to hunt and correct typos wherever they may lurk? TEAL--the Typo Eradication Advancement League, dreamed up by Jeff Deck--did just that, and this quirky, enlightening new memoir chronicles their adventures. Language enthusiasts and fans of offbeat heroes everywhere will thoroughly enjoy The Great Typo Hunt!"
— Erin Kurup, Book House of Stuyvesant Plaza, Albany, NY
View the List
Description
The signs of the times are missing apostrophes.
 
The world needed a hero, but how would an editor with no off-switch answer the call? For Jeff Deck, the writing was literally on the wall: "NO TRESSPASSING." In that moment, his greater purpose became clear.  Dark hordes of typos had descended upon civilization… and only he could wield the marker to defeat them.
 
Recruiting his friend Benjamin and other valiant companions, he created the Typo Eradication Advancement League (TEAL). Armed with markers, chalk, and correction fluid, they circumnavigated America, righting the glaring errors displayed in grocery stores, museums, malls, restaurants, mini-golf courses, beaches, and even a national park. Jeff and Benjamin championed the cause of clear communication, blogging about their adventures transforming horor into horror, it's into its, and coconunut into coconut.
 
But at the Grand Canyon, they took one correction too far: fixing the bad grammar in a fake Native American watchtower.  The government charged them with defacing federal property  and summoned them to court—with a typo-ridden complaint that claimed that they had violated "criminal statues." Now the press turned these paragons of punctuation into "grammar vigilantes," airing errors about their errant errand..
 
The radiant dream of TEAL would not fade, though.   Beneath all those misspelled words and mislaid apostrophes, Jeff and Benjamin unearthed deeper dilemmas about education, race, history, and how we communicate. Ultimately their typo-hunting journey tells a larger story not just of proper punctuation but of the power of language and literacy—and the importance of always taking a second look.
About the Author
JEFF DECKserved as an associate editor for "Rocks & Minerals "magazine and his short stories have appeared in "The Furnace Review "and "Boston Literary Magazine." He won two spelling bees in junior high.

BENJAMIN D. HERSONhas been a bookseller for the past eight years. His short stories have appeared in "Dan River Anthology "and "Down in the Dirt."

They are the somewhat fearless leaders of the Typo Eradication Advancement League (TEAL).

Visit www.GreatTypoHunt.com.
Praise For The Great Typo Hunt: Two Friends Changing the World, One Correction at a Time…
Indie Next List, "Great Reads from Booksellers You Trust," August 2010

Boston Globe Bestseller

"[THE GREAT TYPO HUNT], where editor meets road trip, is entertaining, informative, and thought-provoking, and one that any lover of language, travel — or both — will probably enjoy."
—The Boston Globe

"[A]n illuminating hybrid of travelogue, English usage textbook and sociological experiment."
—Washington Post

"[C]omplete with breezy writing, mock superhero prologues, and a serious mission to return phonics and proofreading to places of honor."
—Christian Science Monitor

"Part classic road-trip narrative, buddy-love saga and state-of-the-nation survey, it's also an adventure thriller for grammar fiends, travel porn for copy editors and other enforcers of linguistic propriety."
—Philadelphia Inquirer

"Deck and Herson show the reader that adventures in language needn't be limited to the computer screen or printed page. In their view, the real excitement's out there on the open road, and they want you to share it."
—Richmond Times-Dispatch

"[B]reezy and fun....most interesting when it delves into issues of class and race...and in its discussion of the plasticity of the English language."
—Salon.com

"This pair of kooks, with their high standards and principled civil disobedience, give me hope for the future of humanity."
—Steven Pinker, Harvard College professor, Harvard University, and author of The Language Instinct and The Stuff of Thought
 
"A compelling read! Deck and Herson have brilliantly combined the exploratory curiosity of the travel writer, the human interest of the story-teller, and the explanatory detail of the language specialist into an original, humorous, and engaging narrative. Anyone interested in language standards, attitudes, and education should read this enticing book."
—David Crystal, author of Just a Phrase I'm Going Through and By Hook or By Crook: a Journey in Search of English

"Only Jeff Deck and Benjamin Herson could make the complete decline of the English language so entertaining. It's heartening to accompany these two young men on their quixotic quest to identify and rehabilitate the typos, spellos, and prepostrophes that threaten to bring down civilization as we know it."
—Richard Lederer, author of Anguished English

"With sly humor and pitch-perfect tone, Jeff and Benjamin take us on a hilarious ride in a '97 Sentra around the U.S.A. in search of malapropisms and misprints on everything from menus to marquees, bumpers to billboards.  It's a spell-checker's On the Road, a Strunk & White Odyssey, a charming Travels with My Dictionary with two young men who start as linguists and end as friends."
—Michael Malone, author of Handling Sin and The Four Corners of the Sky
 
"In this seriously funny--and seriously thoughtful--book, a simple typo hunt becomes something more: an investigation into the deeper mysteries of orthographical fallibility. To err is human; to correct, divine!"
—Patricia T. O'Conner, author of Woe Is I: The Grammarphobe's Guide to Better English in Plain English

"A funny and obsessive adventure that any language lover will appreciate."
—David Wolman, author of Righting the Mother Tongue:  From Olde English to Email, the Tangled Story of English Spelling
Coverage from NPR
or
Not Currently Available for Direct Purchase