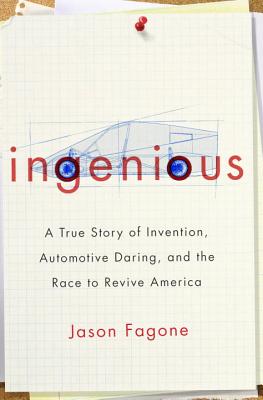 Ingenious (Hardcover)
A True Story of Invention, Automotive Daring, and the Race to Revive America
Crown Publishing Group (NY), 9780307591487, 375pp.
Publication Date: November 5, 2013
Other Editions of This Title:
Digital Audiobook (11/4/2013)
MP3 CD (11/5/2013)
Paperback (5/16/2017)
Compact Disc (11/5/2013)
Compact Disc (11/5/2013)
Pre-Recorded Audio Player (12/1/2013)
* Individual store prices may vary.
Description
An epic tale of invention, in which ordinary people's lives are changed forever by their quest to engineer a radically new kind of car

In 2007, the X Prize Foundation announced that it would give $10 million to anyone who could build a safe, mass-producible car that could travel 100 miles on the energy equivalent of a gallon of gas. The challenge attracted more than one hundred teams from all over the world, including dozens of amateurs. Many designed their cars entirely from scratch, rejecting decades of thinking about what a car should look like.
Jason Fagone follows four of those teams from the build stage to the final race and beyond into a world in which destiny hangs on a low drag coefficient and a lug nut can be a beautiful talisman. The result is a gripping story of crazy collaboration, absurd risks, colossal hopes, and poignant losses. In an old pole barn in central Illinois, childhood sweethearts hack together an electric-powered dreamboat, using scavenged parts, forging their own steel, and burning through their life savings. In Virginia, an impassioned entrepreneur and his hand-picked squad of speed freaks pool their imaginations and build a car so light that you can push it across the floor with your thumb. In West Philly, a group of disaffected high school students come into their own as they create a hybrid car with the engine of a Harley motorcycle. And in Southern California, the early favorite a start-up backed by millions in venture capital designs a car that looks like an alien egg.
Ingenious is a joyride. Fagone takes us into the garages and the minds of the inventors, capturing the fractious yet beautiful process of engineering a bespoke machine. Suspenseful and bighearted, this is the story of ordinary people risking failure, economic ruin, and ridicule to create something vital that Detroit had never pulled off. As the Illinois team wrote in chalk on the wall of their barn, "SOMEBODY HAS TO DO SOMETHING. THAT SOMEBODY IS US.
About the Author
Jason Fagonehas written about science, sports, and culture forGQ, Wired, The Atlantic, New York, Grantland, Mother Jones, theNew York Times Magazine, andThe Best American Sports Writing. He is the author of one previous nonfiction book, Horsemen of the Esophagus, about competitive eaters, and is the recipient of a Knight-Wallace Fellowship in journalism. He lives in Texas with his wife and daughter.Visit @jfagone on Twitter."
Praise For Ingenious: A True Story of Invention, Automotive Daring, and the Race to Revive America…
A Mother Jones Best Book of 2013

"Fagone's reporting is as personal as it is scientific, and he spends as much time getting a sense for the inventors as for the invented. His focus, we come to see, is less about the relationship between piston and crankshaft and more about father and son, teacher and teen, rival and rival...Although there is plenty here to interest those who spend their weekends tinkering under their car in an oil-stained driveway, the book is at its core a story of Lindbergh-esque triumph of man over machine."
--The Miami Herald

"A paean to the long-lost American art of invention, Ingenious is a story that has all the built-in drama of the best fiction. It's driven by characters that are, by turns, whip smart and wide-eyed and desperate, and a plot to achieve a seemingly unobtainable goal...Fagone does an impeccable job of conveying the angst of teams that had literally put everything on the line – their livelihoods, their marriages, their financial, emotional and physical well-being...A thought-provoking book that will appeal to automotive efficiency geeks and readers who long for America's can-do past."
--The Orange County Register

"The real story Ingenious tells is about the deep strain of hope, fortified with elbow grease, in the American character. Jason Fagone is a generous, clear-eyed writer, and this is an exhilarating, beautifully engineered book."
--Benjamin Wallace, author of The Billionaire's Vinegar: The Mystery of the World's Most Expensive Bottle of Wine
 
"The most accurate term, the literary term, for Jason Fagone's new book is awesome. It's also fabulous, in both senses of the word, for the cars and creators of Ingenious work in grand and fantastical realms of the imagination. Only for the time being, though. Read this splendidly wrought book now for that rarest of views, a genuinely hopeful glimpse of things to come."
--Jeff Sharlet, author of Sweet Heaven When I Die and The Family
 
"Just when you thought America's can-doism is in decline, along comes Jason Fagone's Ingenious, proving the tinker-bench spirit is still alive and well. Jumping between Illinois, California, and Pennsylvania, this book is a love song to our great country."
--Douglas Brinkley, author of Wheels for the World: Henry Ford, His Company, and a Century of Progress
 
"Precious few books have ever captured the soul of human creativity as perfectly as Jason Fagone's Ingenious. This beautifully rendered tale of engineering wizardry, set amid a mad scramble for fame and fortune, is a testament to both America's vast promise and our species' knack for perseverance. If you have ever dreamed of building something—or simply dreamed at all—this is a book you cannot miss."
--Brendan I. Koerner, author of The Skies Belong to Us: Love and Terror in the Golden Age of Hijacking
 
"Wow, what an adventure. It's the spellbinding tale of a race between rich dreamers and barnyard tinkerers and inner-city teenagers who are all out to create a car that could change the world and win a fortune. I love Ingenious because it's bursting with villains, heroes, and the magic of ingenuity brought to life by determination."
--Christopher McDougall, author of Born to Run: A Hidden Tribe, Super-Athletes, and the Greatest Race the World Has Never Seen

"Ingenious is a wonderful, original book that will stay in my mind for a long time…It is a remarkable study of the human drive to make things, to create, and why the impulse we usually celebrate in artistic or intellectual realms can be as glorious when it comes to the creation of beautifully engineered machines."
--James Fallows, National Correspondent, The Atlantic; author of China Airborne
 
"A must-read for every gearhead and tinkerer who dares to dream beyond the garage. Ingenious shows us that America remains a place of bold innovators willing to risk everything for the glory of progress, fame, and a little loot – the same prize that's pushed our nation forward since the Mayflower."
--Bryan Mealer, co author of The Boy Who Harnessed the Wind and author of Muck City
 
"Compelling…Jason Fagone tells the story of eccentric American inventors committing their lives, design skills, and savings to a common dream – a smarter, cooler transportation future."
--Chris Paine, writer/director of Who Killed the Electric Car? and Revenge of the Electric Car

"A well-told tale of invention, tribulation, and, yes, ingenuity.  Car and green enthusiasts alike, from high school nerds to old-time readers of Popular Mechanics, will find this a ripping good tale."
--Library Journal

"Anyone interested in how automobile dreams are born in this postbailout economy will delight in this fast, engaging read."
--Publishers Weekly
 
"An entertaining book that offers insight and inspiration for a wide range of [readers] who could be thinking about inventing 'something that matters.'"
--Booklist

"Journalist Fagone...smelled a good story, and he makes the most of it here. Fagone is not above raising an eyebrow at some of the loopiness that went on, but he never falls short of conveying the energy and spirit of the enterprises. Along the way, readers will pick up plenty of inside information on regenerative brakes, chromoly steel and how to reinvent the common lug nut to shave a pound off the car's weight...Fagone succeeds in making his subjects entirely relatable...A well-tooled, instructive tale of ingenuity."
--Kirkus Reviews



or
Not Currently Available for Direct Purchase