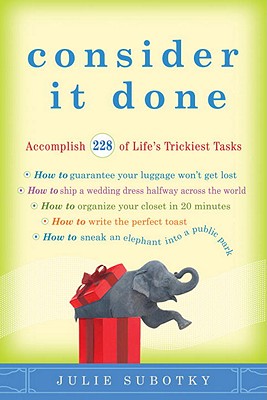 Consider It Done: Accomplish 228 of Life's Trickiest Tasks (Paperback)
Accomplish 228 of Life's Trickiest Tasks
Three Rivers Press (CA), 9780307591579, 396pp.
Publication Date: February 1, 2011
* Individual store prices may vary.
or
Not Currently Available for Direct Purchase
Description
There's nothing Julie Subotky can t get done. After all, as the founder and CEO of a lifestyle management and personal concierge company catering to the creme-de-la-creme of New York, LA, and Aspen, she's used the fielding her fair share of formidable requests from wealthy and time starved clients.
Luckily, now you don t need to be a rock star, socialite, or millionaire to Consider it Done. In this charming and unique book, she shares her secrets from for accomplishing hundreds of life's most bizarre, off-beat, and yet often inescapable tasks. Ranging from the unusual but useful, to the seemingly impossible, to the annoying but necessary, these include:
How to hire a snake dancer for a party within 24 hours notice
How to argue your way out of a speeding ticket
How to get a last-minute table at an impossibly overbooked restaurant
How to find a reputable pet psychic
How to get the best seat on an airplane
How to blow a date
How to fix a hole in the wall
How to get a wedding dress shipped halfway across the world
How to refuse a dare
How to change a tire
How to make a citizen's arrest
How to mix the perfect hangover cure
and countless more
Filled with practical tips, hints and advice as well as hilarious stories of near mishaps, crazy wild goose chases, and outrageous requests from eccentric clients, Consider it Done is sometimes zany, often surprising, and yet always useful. After all, there may come a time when you actually need to know how propose to someone in skywriting, replace a matching spoon from your great-great-great grandmother's antique silver set, or simply make the perfect martini. When that day comes, this essential and completely one-of-a-kind book will be there to walk you through it.
About the Author
JULIE SUBOTKY is the founder, CEO, and owner of Consider It Done, a high-end lifestyle management and personal concerige company dedicated to solving problems, saving time, and making life easier for its wealthy but busy clients. With offices in LA, New York, and Aspen, the company's client list is studded with celebrities like Tom Cruise, Halle Berry, and Mayor Bloomberg, as well as Fortune 500 companies such as Revlon, the GAP, and Unilever. Julie and her company have been featured in The New York Post, Financial Times, Fortune, The New York Daily News, and on ABC News, Martha Stewart Radio, and more."
Praise For Consider It Done: Accomplish 228 of Life's Trickiest Tasks…
"If I could have Julie Subotky follow me about 24 hours a day, I would.  Next best thing: this book.  Her secrets for getting things done are nothing short of problem-solving genius."
–Evelyn Lauder, Senior Corporate Vice President, The Estee Lauder Companies
 
"I can't remember the last time I read a book that was so useful and funny at the same time. No question in my mind:  this book is a winner. "
-Chris Evert, tennis champion
 
 "The only thing more daunting to most people than managing their finances is managing all the annoying tasks that pile up in their daily lives. Luckily, Julie Subotky is willing to share all her brilliant secrets for accomplishing quite literally anything under the sun."
--David Bach, #1 New York Times Bestselling Author of The Automatic Millionaire and Founder of Finishrich.com
Advertisement