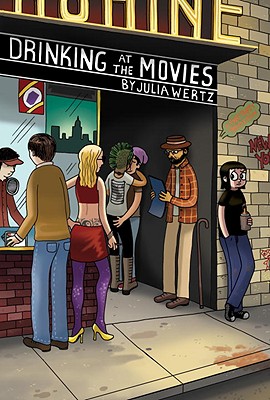 Drinking at the Movies (Paperback)
Three Rivers Press (CA), 9780307591838, 187pp.
Publication Date: August 31, 2010
* Individual store prices may vary.
or
Not Currently Available for Direct Purchase
Description
In her first full-length graphic memoir, Julia Wertz (creator of the cult-hit comic The Fart Party) documents the year she left San Francisco for the unfamiliar streets of New York. Don't worry—this isn't the typical redemptive coming-of-age tale of a young woman and her glorious triumph over tragedy or any such nonsense. It's simply a hilarious—occasionally poignant—book filled with interesting art, absurd humor and plenty of amusing self-deprecation. Box by box, Wertz chronicles four sketchy apartments, seven terrible jobs, family drama, traveling fiascos, and too many whiskey bottles to count.
Praise For Drinking at the Movies…
Praise for Drinking at the Movies
 
"This comic masterpiece should not be gifted to your grandma, unless of course your grandma is, to borrow the phrase, the shiznit. Instead, it should be read by you. Wertz's hilarious, cutting, filthy wit will either make you want to date, be, or shower her." —Sara Barron, author of People Are Unappealing
 
"[P]ut it on your radar" — USA Today
 
 "Charming…bold yet subtle…Subtly subverts the expectations of the memoir even as [Wertz's] drawing style — blocky, simple, with a deceptive lack of polish — speaks to the rough-hewn intimacy of the form…She is laceratingly self-revealing, exposing her failings with a glee that borders on the perverse…What Wertz is tracing is the difficulty of knowing how to live…Title to the contrary, this is not really a book about alcohol. Rather, it's about her development, her transition into adulthood ("Well, sort of"), which Wertz reveals with acuity and grace…A quiet triumph, a portrait of the artist in the act of becoming, a story with heart and soul." —David Ulin, Los Angeles Times
 
 "Wertz might be best known for her comic The Fart Party, but this is my favorite work of hers to date….Wertz isn't a girly-girl: She likes to drink whiskey, wear the same outfit every day and look on the darker side of life. I can only dream of sneaking a bottle of Jack into the theater with her." —Whitney Matheson, USA Today's Pop Candy blog
 
"This comic masterpiece should not be gifted to your grandma, unless of course your grandma is, to borrow the phrase, the shiznit. Instead, it should be read by you. Wertz's hilarious, cutting, filthy wit will either make you want to date, be, or shower her." —Sara Barron, author of People Are Unappealing
 
"Wertz's first full-length graphic novel captures everything that is the glorious twenties—that is if you're a broke comic artist who's struggling to pay rent and keep your head afloat above the fray that is life in New York City. Wertz capably—and more importantly, believably—gets to the nitty gritty of post-collegiate life." —Kirkus Reviews
 
 "Delightful."—Time Out New York
 
 "Charmingly awkward…Confronts the vices of Jane Everywoman while simultaneously allowing us to see through her unique perspective." —Bust.com
 
"Wertz's self-caricature is one of the most memorable in comics…Wertz is careful not to tip her hand too far in any direction. While the autobiographical and travelogue aspects of the comic dominate key sections of the book, they never threaten to completely take over or overwhelm Wertz's gags…Frequently hilariously disgusting…Her (cranky and quirky but lovable) identity remain[s] fully intact." —Rob Clough, The Comics Journal
 
"Brilliant old-school comic strip timing...[Wertz has] added some new qualities not found in her earlier work: a sense of narrative beyond the individual strip and—it is true—some serious drawing chops…She has found a way to maintain the unique style she developed when she started cartooning in her early 20s while developing the craft to fill in background details and nuance in expression…Drinking at the Movies is her best work yet, a book that feels in many ways like the proper launch of her career."—Jared Gardner, The Comics Journal
 
"Wertz opens up with a warts-and-all look at her first year in New York…Strips away much of the whiskey coating that Wertz usually uses and leaves us with an honest image of what life is like for her…Do yourself a favor and get yourself a copy of this book." —Stumptown Trade Review
 
"F-ing fantastic...Knee slapping hilarity…Her art can be described as a bit simplistic. That's no insult. She's found her own style and it completely works…If the late Harvey Pekar went on a drunken bender and crapped out a kid onto a pizza box, it would be Julia Wertz…Pick this book up…You'll laugh a lot, possibly tear up and have a sudden craving for pizza and beer." —Comic News Insider

 
Praise for Julia Wertz and The Fart Party:
 
"I wish the little 2-D Julia was my 'Indian in the Cupboard'…I'd make an easy chair out of a ring box, fasten it to the front of my bike, give her a pen cap full of whiskey, and off we'd go!"
—Fiona Apple

"Simple, candid, and very funny."
—San Francisco Examiner
 
 "Like the best work of the slacker era, The Fart Party communicates the joyous underbelly of an underwhelming existence." —Douglas Rushkoff
 
"Fart Party is friggin' hilarious." —New York Magazine
 
"Julia Wertz is the next big thing in comics. Fart Party is cute, raw, reckless and laugh out loud funny." —Keith Knight, The K Chronicles
 
"There's something enchanting about Wertz's comics….she's hilarious, profane and occasionally self-conscious. In a good way. The best way." —Paul Constant, The Stranger

"Wertz brings to light the funny and real moments of day-to-day life in New York…the honesty of her experiences translates across age, gender, and geographic demographics. She's fun to laugh at."
—Stumptown Trade Review 
Advertisement