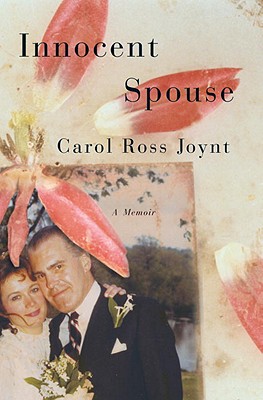 Innocent Spouse (Hardcover)
A Memoir
Crown, 9780307592095, 288pp.
Publication Date: May 10, 2011
Other Editions of This Title:
Paperback (11/20/2012)
* Individual store prices may vary.
Description
What would you do if, just weeks after your spouse's sudden death, you found out he was keeping secrets? Big secrets. Secrets that could cost you millions of dollars—and brand you as a criminal. Innocent Spouse is an eye-opening memoir that asks a provocative and disturbing question: Is it possible to really know and trust someone, even your spouse?
 
Carol Ross Joynt was a successful television producer in Washington, D.C.  Her husband, Howard, owned Nathans, a legendary restaurant in Georgetown. From an outsider's perspective, Carol and Howard lived a fairy-tale life—spending weekends at their Chesapeake Bay estate, rubbing shoulders with New York's and Washington's elite, and raising their beloved son, Spencer. But everything changed with Howard's sudden death when Spencer was only five years old.
 
Like any widow, Carol was devastated because she lost the love of her life and her son's father. But soon Carol had much more to cope with than her grief and new life as a single parent. As she was forced to take over her family's legal and financial responsibilities, as well as run Howard's restaurant on her own, Carol discovered that her husband had secrets, and one of them, an almost $3 million debt to the IRS, threatened to derail her entire life. And even though Carol didn't know anything about the tax fraud—finances had always been Howard's department—no one cared. As his surviving spouse, legally, Carol was responsible.
 
As Carol picks up the pieces of her fractured life and copes with her sadness and anger, she learns to become something she'd never been before: self-sufficient. Poignant, eye-opening, and at times heartbreaking, Innocent Spouse is ultimately an inspiring story of strength and newfound independence in the face of loss and betrayal.  
About the Author
CAROL ROSS JOYNT started her three-decade career in journalism with the wire services and "Time" magazine before becoming a writer for Walter Cronkite on "CBS Evening News." She went on to work as a producer and writer for NBC News, "The CBS News Nightwatch," "USA Today: The Television Show," " This Week with David Brinkley, Nightline, Larry King Live, " and "Hardball with Chris Matthews." Upon her husband's death, Joynt inherited his landmark Georgetown restaurant, Nathans, where she created an interview program, "The Q&A Cafe." Today, in addition to hosting the show, Carol writes a weekly column about Washington for NewYorkSocialDiary.com.
Praise For Innocent Spouse: A Memoir…
"One can easily imagine the ladies of "The View" grilling Washington journalist Carol Ross Joynt about the financial and emotional soap opera chronicled in Innocent Spouse, her memoir of love, death, betrayal, survival, re-invention and major name-dropping."--The Washington Post
"
INNOCENT SPOUSE does a great job of highlighting a huge tax problem and
is entertaining to boot. A page-turning read about unexpected reversals of fortune."--
Forbes
"There are many memoirs by women who don't know their husbands until they die...but none has the brutal irony of "Innocent Spouse...What makes this memoir exceptional is Carol Joynt's unending honesty. She doesn't spare herself --- on many pages, she really does come off like an idiot...But she perseveres. She learns. She gets it right."--Jesse Kornbluth, HeadButler.com
"A page-turning, name-dropping memoir..."-
InStyle
"When a husband dies suddenly he often leaves his widow holding the bag. The choice is to crumble or carry on. Carol Joynt not only carried on but she came through victorious."--Joan Rivers
"Carol Ross Joynt is more than an
Innocent Spouse
; her indomitable spirit prizes through in this compelling memoir of growth and accomplishment.  In the flood of widow memoirs, hers will stand out as a story of overcoming financial ruin, professional and personal deceptions, as well as losing the man she believed was the love of her life."–Sally Ryder Brady, author of
A Box of Darkness
"For those who read
The Pilot's Wife
by Anita Shreve and wondered how a loving husband could possibly keep a secret life hidden from his family, wonder no more: Carol Joynt reveals in sad and searing detail how it can happen and the price she, as a wife, had to pay to save herself and her young son."--bestselling author Kitty Kelley
"A searing personal journey where the pages fall away from one's hand like meat from a bone. Ms. Joynt takes on her life with both a hatchet and a scalpel and is unafraid to turn an unerring spotlight on herself, examining the flaws and mistakes from every angle. Yet what emerges from this fascinating story is a courageous woman who is a survivor and above all else a mother who would do anything for her child."--bestselling author David Baldacci
"Think you know your husband?  Read this book.  Carol Joynt takes us on a harrowing roller-coaster ride through a system that viewed her as guilty until she proved her innocence.  A riveting, inspirational account of one woman's dreamy life turned nightmare and her ultimate triumph. I couldn't put it down."--bestselling author Jane Stanton Hitchcock
"An utterly compelling story of spousal deception, postmortem forgiveness, how NOT to run the hottest restaurant in DC, and the enduring power of love. You will read this memoir in one night, pages flying and heart racing."-- Leslie Morgan Steiner, author of Mommy Wars and the New York Times bestseller
Crazy Love


"An honest telling of a woman betrayed by her husband whom she had loved and her determination to protect herself and her son."--
Publishers Weekly

"Engagingly written. . . .Very readable...inspiring."--
Booklist


"Excellent recounting of the author's lost decade, during which she rebuilt her life, became self-sufficient and found peace following her husband's deceit."--
Kirkus
or
Not Currently Available for Direct Purchase