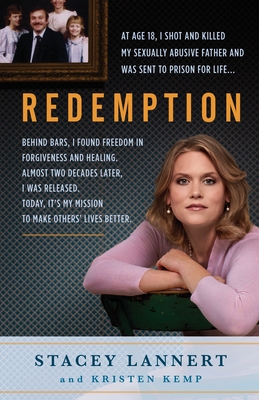 Redemption (Paperback)
Broadway Books, 9780307592149, 336pp.
Publication Date: March 20, 2012
* Individual store prices may vary.
Description
"This real-life tale, as dramatic as any movie, of Stacey Lannert and her struggle to survive violent sexual assault and the devastating aftermath raises intense issues of crime, culpability and the nature of violence and families. It's a devastating and important subject, beautifully told."--Naomi Wolf

On July 4, 1990, eighteen-year-old Stacey Lannert shot and killed her father, who had been sexually abusing her since she was eight. Missouri state law, a disbelieving prosecutor, and Stacey's own fragile psyche conspired against her: She was found guilty of first-degree murder and sentenced to life without parole. 

Redemption is Stacey's candid memoir of her harrowing childhood and the pain and protective love of her sister that led her to that horrifying night. It is also an extraordinary portrait of what happened after she found herself in prison and how she grew determined to live positively, even triumphantly, despite her circumstances. Ultimately, and most profoundly, she learned the healing power of forgiveness. 

After spending as many years in prison as she had out of it, on January 10, 2009, outgoing Missouri governor Matt Blunt commuted Stacey's life sentence. Six days later she walked out of the gates a free woman. Redemption is the story of how Stacey learned to be free while living behind bars. It is a coming-of-age story set in a parallel universe of a maximum-security prison. And, it is a story of sisterhood, courage, and justice finally served.
About the Author
STACEY LANNERT was born in St. Louis, Missouri, in 1972. In 1992 she was convicted of murder in the first degree and sentenced to life in prison. On January 10, 2009, she was commuted and released. She is currently living and working in St. Louis, where she trains dogs, teaches, and has founded Healing Sisters (http://healingsisters.org), a resource website and nonprofit agency that raises awareness about sexual abuse and helps women support one another.

KRISTEN KEMP is a longtime writer for Glamour, Self, Cosmopolitan, Marie Claire, and many other publications. She has written several books and is the editor of the Healing Sisters blog.
Praise For Redemption…
"This real-life tale, as dramatic as any movie, of Stacey Lannert and her struggle to survive violent sexual assault and the devastating aftermath raises intense issues of crime, culpability and the nature of violence and families. It's a devastating and important subject, beautifully told."--Naomi Wolf