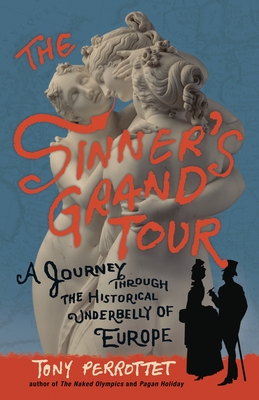 The Sinner's Grand Tour: A Journey Through the Historical Underbelly of Europe (Paperback)
A Journey Through the Historical Underbelly of Europe
Broadway Books, 9780307592187, 286pp.
Publication Date: May 10, 2011
Description
Sex and travel have always been intertwined, and never more so than on the classic Grand Tour of Europe in the eighteenth and nineteenth centuries. Today the Continent is still littered with salacious remnants of that golden age, where secret boudoirs, notorious dungeons, and forbidden artifacts lured travelers all the way from London to Capri.
In The Sinner's Grand Tour, celebrated historian and travel writer Tony Perrottet sets off to discover a string of legendary sites and relics that are still kept far from public view. In southern France, an ancient text leads him inside the chateau of the Marquis de Sade, now owned by fashion icon Pierre Cardin. In Paris, an 1883 prostitute guide helps him discover the Belle Epoque fantasy brothel Le Chabanais and the lost sex chair of King Edward VII. Renaissance documents in the Vatican Secret Archives point the way to the Pope's very own apartments in Vatican City, wherein lies the fabled Stufetta del Bibbiena, a pornography-covered bathroom painted by Raphael in 1516.
With his unique blend of original research, sharp wit, and hilarious anecdotes, Perrottet brings us a romping travel adventure through the scandalous backrooms of historical Europe.
About the Author
TONY PERROTTET is the author of four previous books: Off the Deep End, Pagan Holiday, The Naked Olympics, and Napoleon's Privates. He lives in New York City.
Praise For The Sinner's Grand Tour: A Journey Through the Historical Underbelly of Europe…
"Hugely entertaining... Perrottet has a wonderful knack for ferreting out the obscure, the offbeat, and the just plain weird. A real eye opener." 
—Booklist
 
"Lots of people write about sex, and lots of people write about history, but nobody writes about either quite the way Tony Perrottet does. His well-informed wit is front and center in his latest—and, for my money—best book to date. . . . The perfect read for anyone blessed with a sense of humor and a touch of perverse curiosity."
—Chris Ryan, New York Times-bestselling author of Sex at Dawn: The Prehistoric Origins of Modern Sexuality

"This X-rated version of "National Lampoon's European Vacation" segues into an amusing — and absorbing — series of quests...  (Perrottet) tears away Europe's decorous historical facade he pays spirited homage to the rakes and reprobates who subscribed to Casanova's motto: "I have devoted my life to the pursuit of pleasure." 
-- The New York Times Book Review
 
"Delightful and edifying... Undercover historian Tony Perrottet presents the Tour with a twist: studying the Continent's most famous, or infamous, sites and relics associated with human sexuality, from the belle epoque brothels of Paris to a secret Vatican bathroom covered with erotic panels by Raphael."
—Trip Lit, National Geographic Traveler
 
"A terrifically funny writer . . . informative and twice as quirky. 
—Boston Globe
Advertisement