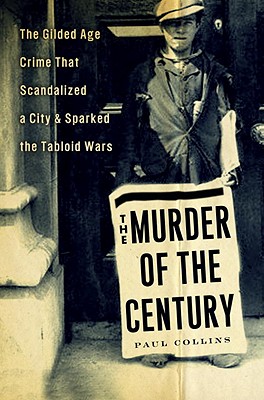 The Murder of the Century
The Gilded Age Crime That Scandalized a City & Sparked the Tabloid Wars
Hardcover

* Individual store prices may vary.
Description
"No writer better articulates ourinterest in the confluence of hope, eccentricity, and the timelessness of the bold and strange than Paul Collins."—DAVE EGGERS
 
On Long Island, a farmer finds a duck pond turned red with blood. On the Lower East Side, two boys playing at a pier discover a floating human torso wrapped tightly in oilcloth. Blueberry pickers near Harlem stumble upon neatly severed limbs in an overgrown ditch. Clues to a horrifying crime are turning up all over New York, but the police are baffled: There are no witnesses, no motives, no suspects.
 
The grisly finds that began on the afternoon of June 26, 1897, plunged detectives
headlong into the era's most baffling murder mystery. Seized upon by battling media moguls Joseph Pulitzer and William Randolph Hearst, the case became a publicity circus. Reenactments of the murder were staged in Times Square, armed reporters lurked in the streets of Hell's Kitchen in pursuit of suspects, and an unlikely trio—a hard-luck cop, a cub reporter, and an eccentric professor—all raced to solve the crime.
 
What emerged was a sensational love triangle and an even more sensational trial: an unprecedented capital case hinging on circumstantial evidence around a victim whom the police couldn't identify with certainty, and who the defense claimed wasn't even dead. The Murder of the Century is a rollicking tale—a rich evocation of America during the Gilded Age and a colorful re-creation of the tabloid wars that have dominated media to this day.
 
Praise For The Murder of the Century: The Gilded Age Crime That Scandalized a City & Sparked the Tabloid Wars…
"[Collins'] exploration of the newspaper world, at the very moment when tabloid values were being born, is revealing but also enormously entertaining….Collins has a clear eye, a good sense of telling detail, and a fine narrative ability."—Wall Street Journal

"Riveting….Collins has mined enough newspaper clippings and other archives to artfully recreate the era, the crime and the newspaper wars it touched off."--New York Times

"[A] richly detailed book that reads like a novel and yet maintains a strict fidelity to facts. THE MURDER OF THE CENTURY isn't a case of history with a moral. It's simply a fantastic, factual yarn, and a reminder that abhorrent violence is nothing new under the sun."--Oregonian

"A wonderful reminder that we have often been just as we are: fools for spectacle, short of memory, cheered by the invigorating shock of the immoral."–Willamette Week

"Paul Collins' account of the headless torso murder that led to an all-out newspaper war and then a dramatic trial has all the timeless elements of a great yarn--a baffling mystery, intriguing suspects, and flawed detectives. It's compelling history that's also great page-turning entertainment."-- Howard Blum, author of The Floor of Heaven and American Lightning

"Wonderfully rich in period detail, salacious facts about the case and infectious wonder at the chutzpah and inventiveness displayed by Pulitzer's and Hearst's minions. Both a gripping true-crime narrative and an astonishing portrait of fin de siecle yellow journalism."--Kirkus Reviews

"A dismembered corpse and rival newspapers squabbling for headlines fuel Collins's intriguing look at the birth of "yellow journalism" in late–19th-century New York.  an in-depth account of the exponential growth of lurid news and the public's (continuing) insatiable appetite for it."--Publishers Weekly


 
Crown, 9780307592200, 336pp.
Publication Date: June 14, 2011
About the Author
PAUL COLLINS is the author of seven books, which have been translated into ten languages. His work has appeared in "Slate," "New Scientist," and the "New York Times," and he is regularly featured on NPR's "Weekend Edition "as their "literary detective." He lives in Portland, Oregon.
or
Not Currently Available for Direct Purchase