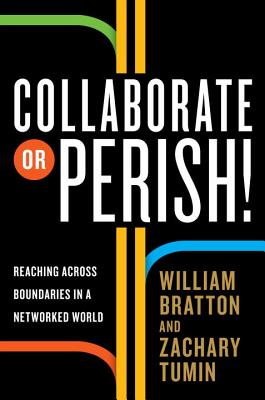 Collaborate or Perish!: Reaching Across Boundaries in a Networked World (Hardcover)
Reaching Across Boundaries in a Networked World
Crown Business, 9780307592392, 336pp.
Publication Date: January 17, 2012
* Individual store prices may vary.
or
Not Currently Available for Direct Purchase
Description
In Collaborate or Perish former Los Angeles police chief and New York police commissioner William Bratton and Harvard Kennedy School's Zachary Tumin lay out a field-tested playbook for collaborating across the boundaries of our networked world. Today, when everyone is connected, collaboration is the game changer. Agencies and firms, citizens and groups who can collaborate, Bratton and Tumin argue, will thrive in the networked world; those who can t are doomed to perish.
No one today is better known around the world for his ability to get citizens, governments, and industries working together to improve the safety of cities than William Bratton. At Harvard, Zachary Tumin has led senior executives from government and industry in executive sessions and classrooms for over a decade, burnishing a global reputation for insight and leadership. Together, Bratton and Tumin draw on in-depth accounts from Fortune 100 giants such as Alcoa, Wells Fargo, and Toyota; from masters of collaboration in education, social work, and the military; and from Bratton's own storied career. Among the specific strategies they reveal:
Start collaboration with a broad vision that supporters can add to and make their own
Rightsize problems, and get value in the hands of users fast
Get the right people involved from sponsors to grass roots
Make collaboration pay in the right currency whether recognition, rewards, or revenue
Today companies and managers face unique challenges and opportunities in reaching out to others, thanks to the incredibly connected world in which we live. Bratton and Tumin provide practical strategies anyone can use, from the cubicle to the boardroom. This is the ultimate guide to getting things done in today's networked world.
About the Author
WILLIAM J. BRATTON is chairman of Kroll, one of Altegrity, Inc. s three core businesses. Mr. Bratton joined Altegrity in November 2009 after serving as chief of the Los Angeles Police Department for seven years. Prior, he served as chief of the New York City Transit Police and commissioner of the Boston Police Department and the New York City Police Department. A frequent lecturer, writer, and commentator, Bill Bratton is known as one of the world s premier police chiefs. Mr. Bratton also serves on the Motorola Solutions board of directors. In 2009 Her Majesty Queen Elizabeth II recognized Bratton with the honorary title of Commander of the Most Excellent Order of the British Empire (CBE).ZACHARY TUMIN is special assistant to the director and faculty chair of Harvard Kennedy School s Science, Technology, and Public Policy Program, the most recent of a number of key posts that Mr. Tumin has held at the school. In addition to leading research programs and executive teaching at Harvard, Mr. Tumin served in senior executive roles for industry and government, including as head of public safety for the New York City public schools, on the executive staffs of the Brooklyn District Attorney and the New York State Organized Crime Task Force, and as director of the Financial Services Technology Consortium. A frequent lecturer, Mr. Tumin is also author of numerous teaching cases, working papers, reports, and essays. www.brattonandtumin.com"
Praise For Collaborate or Perish!: Reaching Across Boundaries in a Networked World…
Advance acclaim for Collaborate or Perish!
 
"Bratton and Tumin give example after vivid example of something I have long believed: that by creating a vision, aligning goals, breaking down barriers, and working together to innovate, we can achieve results that few thought possible." ―Captain Chesley "Sully" Sullenberger, author of Highest Duty: My Search for What Really Matters.
 
"Collaborate or Perish! is a brilliant guide replete with sound practical insight into what it takes to successfully collaborate in today's highly networked world. Bratton and Tumin skillfully use their own experiences and fascinating analyses of business, high-stakes national defense issues, and government to bring their ideas to life." ―Professor Renée Mauborgne, INSEAD, coauthor of the international bestseller Blue Ocean Strategy
 
"Collaborate or Perish packs a powerful one-two punch: practical street-smart experience lashed up to a coherent intellectual framework for managing and fostering change. It's a user's down-to-earth guide for transforming a traditional hierarchy into an agile, self-sustaining network. I only wish I had such a guide in some of my former government positions." —Gen Michael V. Hayden, USAF (ret.), and former Director, National Security Agency and Central Intelligence Agency
 
"The velocity of the things and events around us are accelerating faster than ever. Chief Bratton and Zach Tumin have insightfully captured that our individual effectiveness must be multiplied through people, platforms, and unparalleled passion." ―Greg Brown, chairman and CEO of Motorola
 
"Bill Bratton and Zach Tumin reveal in this book a first-class understanding for organization and management in a variety of situations. Their theme is collaboration along with technology that provides critical information for evaluating the situation on the ground under a leadership that supplies direction and support. The lessons, based in part on Bill Bratton's own record as police commissioner of both New York and Los Angeles, shine through the pages of this book to the point where it becomes inspirational for the reader . . . An extraordinary book for anyone interested in how 'action leads to results,' as Mr. Bratton puts it. —Mort Zuckerman, editor in chief of U.S. News & World Report and publisher of the New York Daily News

The joy of this book—yes, joy—is in seeing people run through walls: on the streets of a big city plagued by extortion rackets; submersed in a submarine that is not picking up danger signals; in a disease control center baffled by clues to the source of a bug that is hourly threatening thousands and ruining hundreds of angry farmers; in a customs shed unable to process goods fast and safely enough; in a convoy in Iraq and Afghanistan up against the diabolical permutations of the bomb-makers. Bratton and Tumin document scores of successful resolutions of apparently insuperable complexities. The magic key, from their own experiences and others, is collaboration. Technology counts but people talking to people counts for more. . . . The rich accumulation of the lessons is valuable but entertaining too. Every copy of the book should bear a sticker: Guaranteed not to bore. ―Sir Harold Evans, author of They Made America: From the Steam Engine to the Search Engine, Two Centuries of Innovation
 
"Bill Bratton is the Vince Lombardi of the security game. And in Collaborate or Perish!, he and Zach Tumin explain the roots of this success: building a team, unifying a team, and then getting results through leadership and collaboration." ―Graydon Carter, editor of Vanity Fair
 
"Becoming more effective and succeeding is a goal most of us share. Now William Bratton and Zachary Tumin focus on the power of effective collaboration, citing real-life examples as the key to real success. Their insight together with their extremely readable story clearly and convincingly explain why "going it alone" no longer works in our increasingly connected society." —Leonard Stern, chairman and CEO of the Hartz Group
 
"Collaborate or Perish! is a refreshing kick in the pants—a wonderful collection of real-world, 'power of the many' examples. We all need to hear the rallying cry to take action together. Bill Bratton and Zach Tumin create excitement and a new desire to get involved. They not only motivate, they provide a playbook for how." —Lt Gen Tad Oelstrom, USAF (ret.), and Director, National Security Program, Harvard Kennedy School 

"The days of a Lone Ranger approach to problem-solving are over. In today's interconnected world, the best ideas and most effective implementation come when collaboration is at the core. Collaborate or Perish! is chock-full of real-world examples and behind-the-scenes insights from across industries and sectors that illustrate how success comes when teams work together." ―Eli Broad, founder of the Broad Foundations
 
"Like many New Yorkers, I love Bill Bratton. It may be that no single person had more of a role transforming New York City into the safe, welcoming city it became when he was police commissioner. Collaborate or Perish, written with Zachary Tumin, captures everything that makes Bratton so special. It's built around a big vision—that true collaboration is the key to solving the world's most complex problems—but it's also grounded in incredibly specific, cool, disruptive strategies for how to make collaboration happen, and the sort of insider stories that only someone like Bratton is in a position to know. I savored every word of this book . . ." ―Tony Schwartz, author of The Way We're Working Isn't Working and The Power of Full Engagement
 
"In today's world, collaboration across organizational boundaries is an imperative--not only within the public sector, but between the public, private, and nonprofit sectors. In Collaborate or Perish!, Bill Bratton and Zach Tumin show us how it works, providing a series of lessons that spell the difference between success and failure. Not only that, they do so in entertaining fashion, with real-world stories that jump off the page. Read this book!" ―David Osborne, senior partner at the Public Strategies Group and coauthor of Reinventing Government, The Price of Government, and other books.
 
"No effective organization is an island. Whether you're in the corporate world, the public sector, the military, or even a small business owner, Bill Bratton and Zach Tumin's guide to institutional collaboration is a game changer." —Cynthia Brown, publisher of American Police Beat
 
 "In this networked, wired, 'flat' world of ours today, for some reason, America is losing its competitive edge. In Collaborate or Perish!, internationally renowned anti-crime expert Bill Bratton and Zach Tumin identify that reason and point the way to regaining our edge. In today's world, our individualist culture won't cut it. We've simply got to collaborate, if we are to survive, much less thrive. Wall Street, Main Street, and, especially, Washington, listen up!" ―Clark Ervin, director of the Aspen Institute Homeland Security Program
 
"Bratton and Tumin make a convincing case that collaboration benefits not only policing, but virtually every organizational process and decision. In settings from casinos to schools, Collaborate or Perish! demonstrates how systematic collaboration can transform an organization." ―Thomas H. Davenport, President's Distinguished Professor of IT and Management, Babson College
 
"Bill Bratton has proved that he knows how to get results. In New York City and Los Angeles, he brought crime down because he had a big new vision for the police—he said police must prevent crime, not just investigate after the harm has been done. And Bratton saw his job as changing the urban environment, so people would feel safe in the city and would once again trust their police. To achieve these sweeping changes, Bill looked beyond the police department and got other people and organizations involved in his mission. Zach Tumin has led the way in bringing this kind of collaborative thinking to corporate America. Together, Bill and Zach have written a book that's a road map for any organization to succeed. They tell compelling stories of what is possible when you look for partners who can help you achieve your goals." ―Chuck Wexler, Police Executive Research Forum
Advertisement