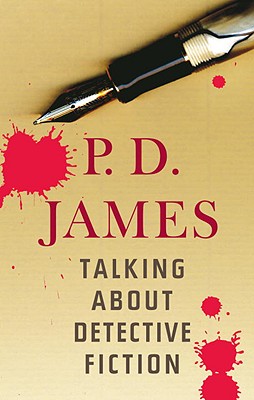 Talking About Detective Fiction
Hardcover

* Individual store prices may vary.
Other Editions of This Title:
Paperback (5/3/2011)
Compact Disc (4/1/2010)
Compact Disc (2/15/2011)
Description
In a perfect marriage of author and subject, P. D. James—one of the most widely admired writers of detective fiction at work today—gives us a personal, lively, illuminating exploration of the human appetite for mystery and mayhem, and of those writers who have satisfied it.

P. D. James examines the genre from top to bottom, beginning with the mysteries at the hearts of such novels as Charles Dickens's Bleak House and Wilkie Collins's The Woman in White, and bringing us into the present with such writers as Colin Dexter and Henning Mankell. Along the way she writes about Arthur Conan Doyle, Dorothy L. Sayers, Agatha Christie ("arch-breaker of rules"), Josephine Tey, Dashiell Hammett, and Peter Lovesey, among many others. She traces their lives into and out of their fiction, clarifies their individual styles, and gives us indelible portraits of the characters they've created, from Sherlock Holmes to Sara Paretsky's sexually liberated female investigator, V. I. Warshawski. She compares British and American Golden Age mystery writing. She discusses detective fiction as social history, the stylistic components of the genre, her own process of writing, how critics have reacted over the years, and what she sees as a renewal of detective fiction—and of the detective hero—in recent years.

There is perhaps no one who could write about this enduring genre of storytelling with equal authority and flair: it is essential reading for every lover of detective fiction.
Praise For Talking About Detective Fiction…
"Talking About Detective Fiction is fascinating. It's as rich in characters and literary detail as the novels that have made P. D. James famous . . . Her writing shows a vast knowledge and abiding love for the genre she describes."
—USA Today
 
"Talking About Detective Fiction is a short book, but it has heft, and little wonder, given Lady James's literary mastery and deep familiarity with her subject . . . Her literary sensibility—calm observation and exact description—is on ample display here . . . [Detective fiction] is a realm she mastered and over which she graciously reigns."
—Wall Street Journal
 
"P. D. James is the undisputed grande dame of the modern mystery . . . She presents an energetic, insightful, and often witty history of the genre."
—Boston Globe

"Slim as it is, P. D. James's Talking About Detective Fiction has biblical heft. Like her own novels, the style is clean, thoughtful and full of grace. In expounding her ideas on how detective fiction works, James makes fearless reference to everyone from Jane Austen to Evelyn Waugh . . . Incisive."
—New York Times Book Review
 
"Talking About Detective Fiction reads like a master class on British mysteries . . . It's hard to imagine a better guide . . . Fans of Baroness James's novels will be rewarded by plenty of insights into how she approaches her chosen profession, as well as some intelligent and well-read discussion of a genre that has perhaps never been more popular."
—Christian Science Monitor
  
"An avid book-length essay on the roots, ethics and methods of the detective story . . . James's opinions are often surprising and determinedly contrary . . . Refreshingly outspoken."
—New York Times

"Anyone who is interested in P. D. James's own fiction will want to read this, but it stands in its own right as a deeper, more thoughtful enquiry into what it is we get out of detective fiction . . . If you want to extend your own reading, discover new authors, or clarify your thoughts, this is an excellent way to do so . . . Elegant and thoughtful."
—Independent (London)

"It's like sitting across from P. D. James over tea, and that, naturally, is a delight."
—Booklist

"For crime fiction fans, this master class from one of the leading practitioners of the art will be a real treat."
—Publishers Weekly

"An amiable, personal appreciation of the genre by someone who has been one of its most accomplished and popular exponents."
—The Times (London)
 
 
Knopf, 9780307592828, 208pp.
Publication Date: December 1, 2009
About the Author
P. D. James is the author of twenty previous books, most of which have been filmed and broadcast on television in the United States and other countries. She spent thirty years in various departments of the British Civil Service, including the Police and Criminal Law Departments of Great Britain's Home Office. She has served as a magistrate and as a governor of the BBC. In 2000 she celebrated her eightieth birthday and published her autobiography, "Time to Be in Earnest." The recipient of many prizes and honors, she was created Baroness James of Holland Park in 1991 and was inducted into the International Crime Writing Hall of Fame in 2008. She lives in London and Oxford.
Coverage from NPR
or
Not Currently Available for Direct Purchase