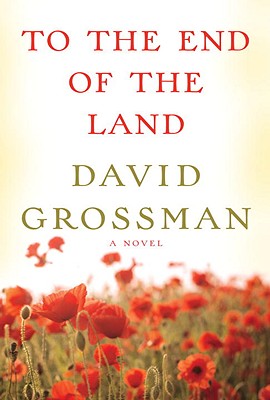 To the End of the Land
Hardcover

* Individual store prices may vary.
Other Editions of This Title:
Digital Audiobook (9/20/2010)
Paperback (8/9/2011)
Description
From one of Israel's most acclaimed writers comes a novel of extraordinary power about family life—the greatest human drama—and the cost of war.

Ora, a middle-aged Israeli mother, is on the verge of celebrating her son Ofer's release from army service when he returns to the front for a major offensive. In a fit of preemptive grief and magical thinking, she sets out for a hike in the Galilee, leaving no forwarding information for the "notifiers" who might darken her door with the worst possible news. Recently estranged from her husband, Ilan, she drags along an unlikely companion: their former best friend and her former lover Avram, once a brilliant artistic spirit. Avram served in the army alongside Ilan when they were young, but their lives were forever changed one weekend when the two jokingly had Ora draw lots to see which of them would get the few days' leave being offered by their commander—a chance act that sent Avram into Egpyt and the Yom Kippur War, where he was brutally tortured as POW. In the aftermath, a virtual hermit, he refused to keep in touch with the family and has never met the boy. Now, as Ora and Avram sleep out in the hills, ford rivers, and cross valleys, avoiding all news from the front, she gives him the gift of Ofer, word by word; she supplies the whole story of her motherhood, a retelling that keeps Ofer very much alive for Ora and for the reader, and opens Avram to human bonds undreamed of in his broken world. Their walk has a "war and peace" rhythm, as their conversation places the most hideous trials of war next to the joys and anguish of raising children. Never have we seen so clearly the reality and surreality of daily life in Israel, the currents of ambivalence about war within one household, and the burdens that fall on each generation anew.

Grossman's rich imagining of a family in love and crisis makes for one of the great antiwar novels of our time.
Praise For To the End of the Land…
"This is a book of overwhelming power and intensity, David Grossman's masterpiece. Flaubert created his Emma, Tolstoy made his Anna, and now we have Grossman's Ora—as fully alive, as fully embodied, as any character in recent fiction. I devoured this long novel in a feverish trance. Wrenching, beautiful, unforgettable."  —Paul Auster
 
"Very rarely, a few times in a lifetime, you open a book and when you close it again nothing can ever be the same. Walls have been pulled down, barriers broken, a dimension of feeling, of existence itself, has opened in you that was not there before. To the End of the Land is a book of this magnitude. David Grossman may be the most gifted writer I've ever read; gifted not just because of his imagination, his energy, his originality, but because he has access to the unutterable, because he can look inside a person and discover the unique essence of her humanity. For twenty-six years he has been writing novels about what it means to defend this essence, this unique light, against a world designed to extinguish it. To the End of the Land is his most powerful, shattering, and unflinching story of this defense. To read it is to have yourself taken apart, undone, touched at the place of your own essence; it is to be turned back, as if after a long absence, into a human being." —Nicole Krauss
Knopf, 9780307592972, 592pp.
Publication Date: September 21, 2010
About the Author
David Grossman was born in Jerusalem. He is the author of numerous works of fiction, nonfiction, and children's literature. His work has appeared in "The New Yorker "and has been translated into thirty languages around the world. He is the recipient of many prizes, including the French Chevalier de l'Ordre des Arts et des Lettres, the Buxtehuder Bulle in Germany, Rome's Premio per la Pace e l'Azione Umitaria, the Premio Ischia-- International Award for Journalism, Israel's Emet Prize, and the Albatross Prize given by the Gunter Grass Foundation.
Coverage from NPR
or
Not Currently Available for Direct Purchase