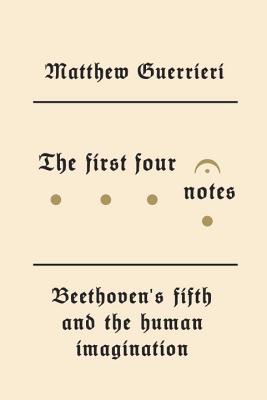 The First Four Notes
Beethoven's Fifth and the Human Imagination
Hardcover

* Individual store prices may vary.
Other Editions of This Title:
Paperback (3/4/2014)
Description
A TIME Magazine Top 10 Nonfiction Book of 2012
A New Yorker Best Book of the Year
Los Angeles Magazine's #1 Music Book of the Year

A unique and revelatory book of music history that examines in great depth what is perhaps the best-known and most-popular symphony ever written and its four-note opening, which has fascinated musicians, historians, and philosophers for the last two hundred years.

Music critic Matthew Guerrieri reaches back before Beethoven's time to examine what might have influenced him in writing his Fifth Symphony, and forward into our own time to describe the ways in which the Fifth has, in turn, asserted its influence. He uncovers possible sources for the famous opening notes in the rhythms of ancient Greek poetry and certain French Revolutionary songs and symphonies. Guerrieri confirms that, contrary to popular belief, Beethoven was not deaf when he wrote the Fifth. He traces the Fifth's influence in China, Russia, and the United States (Emerson and Thoreau were passionate fans) and shows how the masterpiece was used by both the Allies and the Nazis in World War II. Altogether, a fascinating piece of musical detective work—a treat for music lovers of every stripe. 
Praise For The First Four Notes: Beethoven's Fifth and the Human Imagination…
Praise for Matthew Guerrieri's The First Four Notes

"How does a song evolve from the mind of its creator to something larger in the popular imagination? And how do four simple notes—da-da-da-DUM—inspire everyone from Ralph Waldo Emerson and Mao Zedong to the Nazis and the Allies in WWII? Guerrieri uncovers everything you'd ever want to know about Beethoven's most famous symphony, from its composition in 1808 to its disastrous premiere through its more recent incarnation as a rallying cry for both discotheques and cellphone ringtones."
—Los Angeles Magazine, #1 Music Book of the Year

"Can you really squeeze a book out of the first four notes of Beethoven's Fifth Symphony? Guerrieri shows us how, dashing back and forth from the terse notes to all the meaning-baggage that's been heaped on them. It's a formidable act of intelligent scholarship and imaginative connection-making."
—Jeremy Denk, The New Yorker, Best Books of the Year
 
"With the omnivorous curiosity of a polymath, Matthew Guerrieri follows [the first four notes'] path through cultural history, from their humble beginnings (he even dwells on the symphony's real opening, which is of course not a note at all but an eighth-rest) through early reactions (the composer Le Sueur told Berlioz, "That sort of music should not be written") to their eventual canonization as the great opening of the quintessential great symphony. And, of course, to their cameo as background music for Tony Manero in Saturday Night Fever."
—TIME Magazine, Top Ten Nonfiction Book of 2012
 
"A pleasure. . . . There's a lot left to learn about Beethoven's 'Fifth Symphony,' from its first line to its long life in the two centuries after its 1808 premiere, as Matthew Guerrieri's enormously entertaining, endlessly informative new book proves. . . . Guerrieri is a friendly, chatty guide."
—The Boston Globe
 
"Spectacular. . . . The author's kaleidoscopic account of his subject starts in the early 19th century and ends in contemporary popular culture. . . . With a quick mind and wit, [Guerrieri] traverses two centuries of musical culture, literature and politics with uncommon authority. The passage from one reference point to another resembles free association; it reveals a novelistic ambition, permitting the author's tastes and sparkling capacity for commentary to shape a journey the reader would otherwise not have taken. . . . We can use more commentators and advocates, in other words, like Matthew Guerrieri, who can restore a sense of beauty, wonderment and profundity to classical music. The First Four Notes brings back into memory many unfairly forgotten musicians, writers and scholars whose work would otherwise continue to drift into obscurity. . . . This book should serve as an inspiration to look, listen and read further."
—The Wall Street Journal
 
"Guerrieri's spare exegesis strips away some of the rhetoric around the piece, by providing a concrete inventory of the musical elements that have often inspired overwrought and imprecise description. . . . Lively detail. . . . The ultimate test of the book may be in what its readers hear when they put it down and reach for the nearest recording of the symphony, ready to listen anew."
—Los Angeles Review of Books

"New and intriguing. . . . A treasury of such information. But the allure of this book is not the factoids that will delight trivia lovers, but the encyclopedic biography of the Fifth Symphony, starting with its origins, tracing its development and, most important, charting interpretations of it over the past 200 years. . . . [Guerrieri] is as adept at tracing philosophical arguments and their transformations as he is at tracing musical history. As a result, music lovers will find much to enthrall them in his pages, while readers interested in the intellectual history of Europe and the United States will be captured by its application to Beethoven's Fifth. So will those with literary interests. . . . Not least of the pleasures of this book is the lucid and often sprightly prose."
—The Washington Times
 
"Fascinating. . . . [Guerrieri's explorations] will coax anyone into giving a fresh ear to the symphony."
—The Columbus Dispatch

"Guerrieri has turned up a vast array of artifacts, from the profound to the perfunctory, in an enjoyable and at times surprising cultural history of those first four notes from Beethoven's Fifth Symphony. . . . Guerrieri is an affable guide who writes with genuine enthusiasm and patience about the Fifth and the ranging material on philosophy and aesthetics he amasses."
—Bookforum
 
"Matthew Guerrieri is a brilliant, impassioned, and witty observer not only of music but of the entire cultural landscape surrounding the art. A bit like Beethoven himself, Guerrieri finds a cosmos in four notes."
—Alex Ross, author of Listen to This and The Rest Is Noise

"Music's most memorable da-da-da-dummm touched off a cultural and intellectual ferment that's ably explored in this sparkling study. Boston Globe music critic Guerrieri opens with an engaging musicological investigation of how Ludwig van Beethoven orchestrated his Fifth Symphony's urgent rhythms and unsettling harmonies into a work of unique emotional and rhetorical force. . . . Guerrieri often wanders away from Beethoven for luxuriant digressions on German romanticism or Victorian patent laxatives, but clothes his erudition in lucid, breezy prose. He makes the muzziest musico-philosophical conceits accessible and relevant, while tossing off his own intriguing insights—'Beethoven's heroic music is a lot like Steve McQueen's acting'—with the flick of a baton. The result is a fresh, stimulating interpretation that shows how provocative the familiar classic can be."
—Publishers Weekly (starred review)
Knopf Publishing Group, 9780307593283, 359pp.
Publication Date: November 13, 2012
About the Author
Matthew Guerrieri is a music critic for "The Boston Globe," and his articles have also appeared in "Vanity Fair," "NewMusicBox," "Playbill," and "Slate." He is responsible for the popular classical music blog Soho the Dog (sohothedog.blogspot.com). He lives in Framingham, Massachusetts.
Coverage from NPR
or
Not Currently Available for Direct Purchase