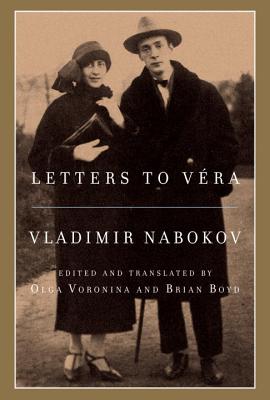 Letters to Véra (Hardcover)
Knopf, 9780307593368, 864pp.
Publication Date: November 3, 2015
Other Editions of This Title:
Paperback (12/12/2017)
* Individual store prices may vary.
Description
The letters of the great writer to his wife—gathered here for the first time—chronicle a decades-long love story and document anew the creative energies of an artist who was always at work.

No marriage of a major twentieth-century writer is quite as beguiling as that of Vladimir Nabokov's to Véra Slonim. She shared his delight in life's trifles and literature's treasures, and he rated her as having the best and quickest sense of humor of any woman he had met. From their first encounter in 1923, Vladimir's letters to Véra form a narrative arc that tells a half-century-long love story, one that is playful, romantic, pithy and memorable. At the same time, the letters tell us much about the man and the writer. We see the infectious fascination with which Vladimir observed everything—animals, people, speech, the landscapes and cityscapes he encountered—and learn of the poems, plays, stories, novels, memoirs, screenplays and translations on which he worked ceaselessly. This delicious volume contains twenty-one photographs, as well as facsimiles of the letters themselves and the puzzles and doodles Vladimir often sent to Véra. 
About the Author
VLADIMIR NABOKOV studied French and Russian literature at Trinity College, Cambridge, then lived in Berlin and Paris, writing prolifically in Russian under the pseudonym Sirin. In 1940, he left France for America, where he wrote some of his greatest works, including Lolita (1955) and Pnin(1957), while also teaching at Wellesley, Harvard, and Cornell. After returning to Europe in 1959, he wrote Pale Fire (1962) and Ada (1969) and translated his earlier Russian novels, stories and poems into English. He died in Switzerland in 1977. 

OLGA VORONINA was deputy director of the Nabokov Museum in St. Petersburg and was the Nabokov Estate representative in Russia before receiving a PhD in Slavic languages and literatures from Harvard University. She is now assistant professor of Russian and director of the Russian and Eurasian Studies Program at Bard College.

BRIAN BOYD, University Distinguished Professor of English, University of Auckland, wrote an MA thesis that Vladimir Nabokov called "brilliant" and a PhD thesis that Véra Nabokov thought the best thing written about her husband to date. His biography of Nabokov won awards on four continents; his criticism has been translated into eighteen languages. He has edited Nabokov's English-language novels, autobiography, butterfly writings, and translations from Russian poetry.
Praise For Letters to Véra…
"It is the prose itself that provides the lasting affirmation. The unresting responsiveness; the exquisite evocations of animals and of children; the way that everyone he comes across is minutely ­individualized; the detailed visualizations of soirees and street scenes; the raw-nerved susceptibility to weather and underlying it all the lavishness, the freely offered gift, of his divine energy." —Martin Amis, The New York Times Book Review (front page)
 
"A self-portrait of the young Vladimir unvarnished by Nabokovian irony. The earliest letters, intoxicated with language and desire, are intoxicating to read . . . A lifetime of scholarship informs this massive tome." —Judith Thurman, The New Yorker
 
"Letters to Véra, a five-decade epistolary love story, is like being handed a celebrity's unlocked iPhone. Pry away . . . I still hope for Nabokovian romance." —Keziah Weir, Elle
 
"A fascinating collection of correspondence . . . A wife—and indeed, a son—who could inspire such caring and creative letters as these deserve to be included in Nabokov's literary legacy." —Peter Tonguette, The Christian Science Monitor
 
"Letters to Véra opens the workshop door and shows us Vladimir not in his accredited hard-shell case of genius but as a soft, vulnerable practicing writer . . . Again and again, we see what Charles Kinbote, in Pale Fire, calls the magic of a mind 'perceiving and transforming the world, taking it in and taking it apart, re-combining its elements.'" —David Lipsky, Harper's Magazine
or
Not Currently Available for Direct Purchase