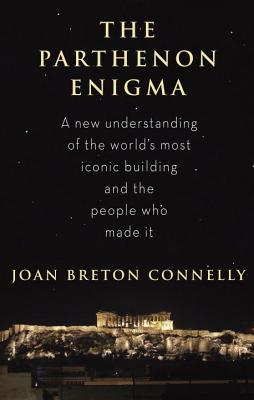 The Parthenon Enigma (Hardcover)
Alfred A. Knopf, 9780307593382, 485pp.
Publication Date: January 28, 2014
Other Editions of This Title:
MP3 CD (6/7/2016)
* Individual store prices may vary.
Description
Built in the fifth century b.c., the Parthenon has been venerated for more than two millennia as the West's ultimate paragon of beauty and proportion. Since the Enlightenment, it has also come to represent our political ideals, the lavish temple to the goddess Athena serving as the model for our most hallowed civic architecture. But how much do the values of those who built the Parthenon truly correspond with our own? And apart from the significance with which we have invested it, what exactly did this marvel of human hands mean to those who made it?
In this revolutionary book, Joan Breton Connelly challenges our most basic assumptions about the Parthenon and the ancient Athenians. Beginning with the natural environment and its rich mythic associations, she re-creates the development of the Acropolis the Sacred Rock at the heart of the city-state from its prehistoric origins to its Periklean glory days as a constellation of temples among which the Parthenon stood supreme. In particular, she probes the Parthenon's legendary frieze: the 525-foot-long relief sculpture that originally encircled the upper reaches before it was partially destroyed by Venetian cannon fire (in the seventeenth century) and most of what remained was shipped off to Britain (in the nineteenth century) among the Elgin marbles. The frieze's vast enigmatic procession a dazzling pageant of cavalrymen and elders, musicians and maidens has for more than two hundred years been thought to represent a scene of annual civic celebration in the birthplace of democracy. But thanks to a once-lost play by Euripides (the discovery of which, in the wrappings of a Hellenistic Egyptian mummy, is only one of this book's intriguing adventures), Connelly has uncovered a long-buried meaning, a story of human sacrifice set during the city's mythic founding. In a society startlingly preoccupied with cult ritual, this story was at the core of what it meant to be Athenian. Connelly reveals a world that beggars our popular notions of Athens as a city of staid philosophers, rationalists, and rhetoricians, a world in which our modern secular conception of democracy would have been simply incomprehensible.
The Parthenon's full significance has been obscured until now owing in no small part, Connelly argues, to the frieze's dismemberment. And so her investigation concludes with a call to reunite the pieces, in order that what is perhaps the greatest single work of art surviving from antiquity may be viewed more nearly as its makers intended. Marshalling a breathtaking range of textual and visual evidence, full of fresh insights woven into a thrilling narrative that brings the distant past to life, "The Parthenon Enigma" is sure to become a landmark in our understanding of the civilization from which we claim cultural descent.
About the Author
JOAN BRETON CONNELLYis a classical archaeologist and the author of two previous books, "Portrait of a Priestess: Women and Ritual in Ancient Greece" and "Votive Sculpture of Hellenistic Cyprus." She received her A.B. in classics from Princeton University and Ph.D. in classical and Near Eastern archaeology from Bryn Mawr College, where she now serves on the board of trustees. In 1996, Professor Connelly was awarded a MacArthur Fellowship. She received the Archaeological Institute of America s Excellence in Undergraduate Teaching Award in 2007 and held NYU s Lillian Vernon Chair for Teaching Excellence in 2002 2004. She has held visiting fellowships at All Souls College, Magdalen College, New College, and Corpus Christi College at Oxford University, and at the Radcliffe Institute for Advanced Study, Harvard University, and has been a member of the Institute for Advanced Study in Princeton. Professor Connelly has excavated throughout Greece, Kuwait, and Cyprus where she has directed the Yeronisos Island Excavations since 1990. She is currently a professor of classics and art history at New York University."
Praise For The Parthenon Enigma…
"Exciting and revelatory…the subject of this matchless narrative is a matter of extraordinary significance for understanding the ancient people we so admire…The Parthenon Enigma serves as a bracing reminder that first-rate scholarship not only takes no visible fact for granted, but also digs deep into the unknown unknowns…Her book is that rare thing: the exposition of a truly great idea, and a reminder of what a thrilling subject the past, that foreign country, can be."
 
      —Caroline Alexander, The New York Times Book Review

"A careful, learned account and a good read … There is plenty of learned and intricate argument here."

      —Mary Beard, The New York Review of Books

"The thrilling notion that a great monument has been decoded, that centuries of misunderstanding have been put to flight, will captivate many readers…one of the most original theses of modern classical scholarship."
 
      —James Romm, The Wall Street Journal
 
"A detailed portrait of the Parthenon as seen through what Connelly calls "ancient eyes." 
 
       —Eric Wills, The Washington Post

"Engaging and intensely interesting . . . [makes] a thoughtful, stimulating, and unquestionably valuable contribution to our understanding."

       —J. J. Pollitt, The New Criterion

"Usually recognized as a symbol of Western democracy, the Parthenon emerges in Connelly's bold new analysis as a shrine memorializing myths radically alien to modern politics…An explosive reinterpretation of a classical icon."
 
     —Booklist, starred review

"This detailed, smart, and tantalizing study offers much to savor while immersing readers in a 'spirit-saturated, anxious world' at the mercy of mercurial gods."

      —Publisher's Weekly
 
"Joan Connelly's groundbreaking work will forever change our conception of the most important building in the history of western civilization. By cracking the hidden code of the Parthenon, she reveals the classical world in a radical new light that will reorient how we all view its legacy for the 21st century."
 
   —Tom Reiss, author of The Black Count, winner of the Pulitzer Prize
 
"Joan Connelly's learned and elegant study makes a powerful case for a new understanding of the Parthenon, its original meaning as a religious object and for the fullest possible restoration of its many parts still scattered far and wide."
            
   —Donald Kagan, Sterling Professor Emeritus of Classics and History, Yale University, and author of The Peloponnesian War

 "I so admire the historical approach of this luminous book: courageously and intelligently starting from scratch, Joan Connelly reconstructs the meaning of the Parthenon from the perspective of Perikles and his contemporaries in Classical Athens. The unfamiliar picture that emerges gives us all a sharper vision of what this timeless monument can still mean to our own troubled world."
 
      —Gregory Nagy, Francis Jones Professor of Classical Greek Literature and Professor of Comparative Literature, Director of the Center for Hellenic Studies, Harvard University
 
"Readers born before 1960 may be reluctant to break with some long established "truths" about the meaning of the Parthenon frieze but Joan Connelly's book is one for the 21st century, full of new finds and fresh insights."
 
      —Angelos Chaniotis, Professor of Ancient History and Classics, Institute for Advanced Study, Princeton 
 
"We are a species of storytellers whose tales have shaped our reality since ancient times. Joan Connelly's brilliant study of the Parthenon shows how a myth can reveal as many secrets as a rock or a ruin, and how rethinking what we know about antiquity can help us better understand ourselves today."
            
      —George Lucas, creator of the Star Wars saga
Book Videos
or
Not Currently Available for Direct Purchase