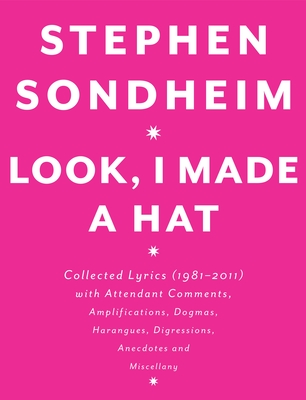 Look, I Made a Hat
Collected Lyrics (1981-2011) with Attendant Comments, Amplifications, Dogmas, Harangues, Digressions, Anecdotes and Miscellany
Hardcover

* Individual store prices may vary.
Other Editions of This Title:
Hardcover (11/1/2011)
Description
Both a remarkable glimpse into the brilliant mind of a living legend, and a continuation of the acclaimed and best-selling Finishing the Hat (named one of the New York Times 10 Best Books of 2010), Stephen Sondheim returns with the second volume of his collected lyrics, Look, I Made a Hat.
 
Picking up where he left off in Finishing the Hat, Sondheim gives us all the lyrics, along with excluded songs and early drafts, of the Pulitzer Prize–winning Sunday in the Park with George, Into the Woods, Assassins and Passion. Here, too, is an in-depth look at the evolution of Wise Guys, which subsequently was transformed into Bounce and eventually became Road Show. Sondheim takes us through his contributions to both television and film, some of which may surprise you, and covers plenty of never-before-seen material from unproduced projects as well. There are abundant anecdotes about his many collaborations, and readers are treated to rare personal material in this volume, as Sondheim includes songs culled from commissions, parodies and personal special occasions—such as a hilarious song for Leonard Bernstein's seventieth birthday. As he did in the previous volume, Sondheim richly annotates his lyrics with invaluable advice on songwriting, discussions of theater history and the state of the industry today, and exacting dissections of his work, both the successes and the failures.
 
Filled with even more behind-the-scenes photographs and illustrations from Sondheim's original manuscripts, Look, I Made a Hat is fascinating, devourable and essential reading for any fan of the theater or this great man's work.
Praise For Look, I Made a Hat: Collected Lyrics (1981-2011) with Attendant Comments, Amplifications, Dogmas, Harangues, Digressions, Anecdotes and Miscellany…
"Sondheim is a national treasure, a giant in the world of musical theater who changed the structure and sound of the form in 20th-century masterpieces. Speaking of heaven, though, here's Look, I Made a Hat, the second part of Sondheim's two-volume collection of lyrics, this one spanning 1981-2011, with additional bits and pieces. Talmudically thorough and devilishly diverting with what the author refers to as 'attendant comments, amplifications, dogmas, harangues, digressions, anecdotes, and miscellany,' the book is divine. It's also even more magnanimously authoritative than the first book. The handsomely designed book, like the first volume, contains illuminating reproductions of pages from the author's beloved legal pads on which he works out rhyme schemes, as well as annotated scripts and pages of musical notations. And the second volume is brimming — a word Sondheim would probably dismiss as 'infelicitous' — with precise, vigorous, instructive, sharp-tongued, and often very funny comments. Look, I Made a Hat, together with Finishing the Hat, makes an enormously satisfying journal by one of the great theatrical minds of our time, a guide and touchstone for who knows how many future great theatrical minds. A" —Lisa Schwarzbaum, Entertainment Weekly
 
"While the book technically covers Mr. Sondheim's output from 1981 to the present, aficionados will delight in all the bits and bobs from early in his career that Mr. Sondheim didn't make room for in the first volume . . . The extensive miscellany also includes a drawerful of lyrics Mr. Sondheim wrote as birthday gifts for friends like Harold Prince, Mary Rodgers and Leonard Bernstein. One of the choicest pleasures of the first volume was in Mr. Sondheim's sharp-minded analysis of the strengths and weaknesses of musical theater lyricists from the past. He's covered most of that territory already, so the new book features essays on 'Awards and Their Uselessness' and 'Critics and Their Uses' — savory reading." —Charles Isherwood, New York Times
Knopf, 9780307593412, 480pp.
Publication Date: November 22, 2011
About the Author
Stephen Sondheim has written award-winning music and lyrics for theater, film and television. He is also the coauthor of the film The Last of Sheila and the play Getting Away with Murder. Sondheim is on the council of the Dramatists Guild of America, having served as its president from 1973 to 1981. He lives in New York City.