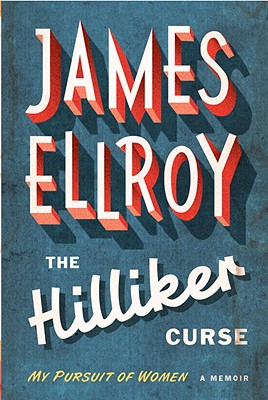 The Hilliker Curse (Hardcover)
My Pursuit of Women
Knopf, 9780307593504, 224pp.
Publication Date: September 7, 2010
* Individual store prices may vary.
Description
The legendary crime writer gives us a raw, brutally candid memoir—as high intensity and as riveting as any of his novels—about his obsessive search for "atonement in women."

The year was 1958. Jean Hilliker had divorced her fast-buck hustler husband and resurrected her maiden name. Her son, James, was ten years old. He hated and lusted after his mother and "summoned her dead." She was murdered three months later.

The Hilliker Curse is a predator's confession, a treatise on guilt and on the power of malediction, and above all, a cri de cœur. James Ellroy unsparingly describes his shattered childhood, his delinquent teens, his writing life, his love affairs and marriages, his nervous breakdown, and the beginning of a relationship with an extraordinary woman who may just be the long-sought Her.

A layered narrative of time and place, emotion and insight, sexuality and spiritual quest, The Hilliker Curse is a brilliant, soul-baring revelation of self. It is unlike any memoir you have ever read.
About the Author
James Ellroy was born in Los Angeles in 1948. He is the author of the Underworld U.S.A. Trilogy--"American Tabloid, ""The Cold Six Thousand, "and "Blood's A Rover"--and the L. A. Quartet novels, "The Black Dahlia, The Big Nowhere, L. A. Confidential, " and "White Jazz." "American Tabloid" was "Time "magazine's Best Book (fiction) of 1995; his memoir "My Dark Places" was a "Time" Best Book of the Year and a "New York Times" Notable Book for 1996. "The Cold Six Thousand "was a "New York Times "Notable Book and a "Los Angeles Times "Best Book of 2001. He lives in Los Angeles.
Praise For The Hilliker Curse: My Pursuit of Women…
"As fascinating as it is at times utterly disturbing."
 —Entertainment Weekly

"Crime writer James Ellroy's most compelling mystery story has always been his own . . . But The Hilliker Curse is not meant to be merely a confession. It is an act of creation . . . There's a truth of feeling in it, too, an underlying sense of what it is actually like to live in the vortex of an impossible yearning . . . Ellroy is expert and relentless at dramatizing the effects [of his obsession]."
 —Wall Street Journal
 
"This latest book is Ellroy's most intimate and personal . . . It's forceful and unsparing in its revelations . . . [His sentences] make you grateful to read his prose, with its marvelous fury, passion and energy. They also compel you to keep rooting for him."
 —San Francisco Chronicle
 
"Crime novelist Ellroy has given us a wild memoir in his hard-boiled, jazzy, staccato style . . . Quite a read."
 —New York Post
 
"Perhaps the most confessional memoir I've ever read."
 —Dallas Morning News
 
"From the fantastic writer who brought us unforgettable books like L.A. Confidential and The Black Dahlia, comes this extraordinary in-depth work about his own life. As always, Ellroy is extremely explicit, writing every word of this memoir with an in-your-face passion, elegance, and anger that will literally stop readers in their tracks . . . Bravo!"
—Bookpleasures.com

"Ellroy's characteristically unforgiving portrait of himself as an angry and frustrated teenager is a masterpiece of savage economy . . . There's no doubt that Ellroy's is a singular voice."
—Observer (UK)
 
"Fascinating . . . A searching and difficult but utterly compelling and often heartbreaking memoir of love and obsession from noir master James Ellroy . . . Readers familiar with Ellroy will recognize and appreciate the machine-gun prose, Los Angeles chiaroscuro and tortured psyche that Ellroy has made his own."
—Shelf Awareness
 
"A fervent portrait of the artist as a young screw-up—an old one, too, who writes like an avenging angel . . . It's vintage Ellroy."
 —Kirkus Reviews
 
 "The Hilliker Curse centers mainly around the author's doomed relationships, but also gives tantalizing glimpses into the mind of Ellroy the writer . . . As always, the writing is razor sharp, infused with Ellroy's patented abrasive black humor. He holds nothing back."
—ChuckPalahniuk.net

"There's no doubt about it: James Ellroy is a fascinating character . . . He's as hard to ignore as a burning fire truck . . . The revelations are compelling, as the author indicts the tough-guy persona he has so meticulously constructed."
—Booklist
or
Not Currently Available for Direct Purchase