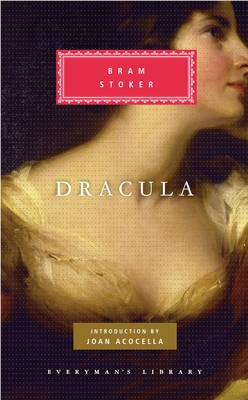 Dracula (Everyman's Library Classics Series) (Hardcover)
Everyman's Library, 9780307593856, 440pp.
Publication Date: May 4, 2010
Other Editions of This Title:
Paperback (5/25/2015)
Paperback (9/17/2015)
Paperback (5/14/2015)
Paperback (10/27/2018)
Paperback (6/8/2018)
Paperback (10/27/2018)
Paperback (12/2/2014)
Paperback (7/6/2018)
Paperback (7/8/2015)
Paperback (9/30/2014)
Paperback (2/15/2015)
Paperback (2/27/2010)
Paperback (6/13/2013)
Paperback (8/9/2010)
Paperback (4/7/2015)
Paperback, Spanish (10/29/2011)
Paperback (4/11/2013)
Paperback (4/26/2015)
Paperback (7/4/2013)
Paperback, Spanish (6/13/2013)
* Individual store prices may vary.
Description
Since its publication in 1897, Dracula has enthralled generation after generation of readers with the same spellbinding power with which Count Dracula enthralls his victims. Though Bram Stoker did not invent vampires, and in fact based his character's life-in-death on extensive research in European folklore, his novel elevated the nocturnal creature to iconic stature, spawning a genre of stories and movies that flourishes to this day. But a century of imitations has done nothing to diminish the power of Stoker's tale. As his chilling, suave monster stalks his prey from a crumbling castle in the Carpathian Mountains of Transylvania to an insane asylum in England to the bedrooms of his swooning female victims, the drama is infused with a more and more exquisite measure of sensuality and suspense.

Dracula is a classic of Gothic horror, an undying wellspring of modern mythology, and an irresistible entertainment.
About the Author
Abraham "Bram" Stoker (1847–1912) was born in Ireland. He was a theater critic in Dublin and then manager of the Lyceum Theatre in London, as well as the author of many novels and short stories.

Joan Acocella is a cultural critic for The New Yorker. She is the author of several books, including Mark Morris and Willa Cather and The Politics of Criticism. She lives in New York.
Praise For Dracula (Everyman's Library Classics Series)…
"Those who cannot find their own reflection in Bram Stoker's still-living creation are surely the undead."