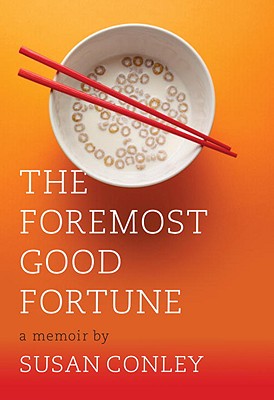 The Foremost Good Fortune
Hardcover

* Individual store prices may vary.
Other Editions of This Title:
Paperback (3/6/2012)
Description
Susan Conley, her husband, and their two young sons say good-bye to their friends, family, and house in Maine for a two-year stint in a high-rise apartment in Beijing, prepared to embrace the inevitable onslaught of new experiences that such a move entails. But Susan can't predict just how much their lives will change.

While her husband is consumed with his job, Susan works on finishing her novel and confronting the challenges of day-to-day life in an utterly foreign country: determining the proper way to buy apples at a Chinese megamarket; bribing her little boys to ride the school bus; fielding invitations to mysterious "sweater parties" and tracking down the faux-purse empire of the infamous Bag Lady; and getting stuck in an elevator, unable to call for help in Mandarin.

Despite the distractions, there are many occasions for joy.  From road trips to the Great Wall and bartering for a "starter Buddha" at the raucous flea market to lighting fireworks in the streets for the Chinese New Year and feasting on the world's best dumplings in back-alley restaurants, they gradually turn their unfamiliar environs into a true home.

Then Susan learns she has cancer.  After undergoing treatment in Boston, she returns to Beijing, again as a foreigner—but this time, it's her own body in which she feels a stranger.  Set against the eternally fascinating backdrop of modern China and full of insight into the trickiest questions of motherhood—How do you talk to children about death?  When is it okay to lie?—this wry and poignant memoir is a celebration of family and a candid exploration of mortality and belonging.
Praise For The Foremost Good Fortune…
"This is a beautiful story of womanhood, motherhood, travel and loss, written by an author of rare and radiant grace." —Elizabeth Gilbert

"Susan Conley has written a moving and deeply thoughtful memoir about her years in China.  The Foremost Good Fortune begins with one dislocation – a family's move to Beijing – and then proceeds to another challenge on a completely different level, as Conley is forced to cope with a cancer diagnosis.  This book is for anybody who has felt out of place, whether in a foreign country or a doctor's office."  —Peter Hessler, author of Oracle Bones
 
"Heartbreakingly honest . . . strange, sweet, terrifying, and hilarious . . . A beautifully intimate story of homesickness and culture shock, of motherhood and illness, of China and cancer, and the unwavering truths of family and friends and home . . . The lovely surprise is that [Conley] turns the same observant eye on her memories of Maine." —Kathleen Meil, DownEast.com

"Conley's ability to describe her challenges honestly, without self-pity, leads you not only to relate to her, but also to admire her." —Ellen Tarlin, Double X
 
"Rewardingly perceptive and frank." —Judith Chettle, Richmond Times-Dispatch
 
"Graceful and honest, humorous and insightful." —Christina Eng, San Francisco Chronicle
 
"You hear about riveting prose, and this is it. The Foremost Good Fortune is just about as honest a book as you'll ever read . . . a beautiful [story] about China and cancer and how to be an authentic, courageous human being." —Carolyn See, The Washington Post
 
"Startling, poignant." —Rebecca Adler Warren, More

One of O's 10 Titles to Pick Up Now: "An American mother recounts her struggle to adjust to a new life in Beijing—and then face another challenge, this one medical." —Karen Holt, O, The Oprah Magazine
 
"Terrific . . . Conley deftly balances humor, poignancy and fierce honesty. She captures perfectly the distortion of normal family rhythms [and] is marvelously adept at giving readers just the right doses of her boys' quirky quotidian habits, as well as her own manner of coping with the pleasures and burdens of living far, far from home . . . This is a book of fortitude, of good humor, of love that is absolute and enduring." —Debra Gwartney, The Oregonian
 
"Fresh and engaging . . . [Conley's] running account of the profound strangeness of both expat existence and contemporary China is fascinating." —Rebecca Steinitz, The Boston Globe
 
"Conley's lovely memoir powerfully reminds us that we draw our strength from the many little wonders of our everyday lives." —Henry L. Carrigan Jr., BookPage
 
"Compelling and humorous…Beautifully written and insightful on many levels." —Deborah Donovan, Booklist
 
"Luminous….Conley's writing is at once spare and strong…[She] pulls the reader into her world like a close friend." —Publishers Weekly, starred review
 
"I loved this memoir not only for its humor and humility, but for its gentle weaving of disparate elements—dislocation, illness, motherhood, travel, marriage—into a seamless, irresistible whole. It is beautifully written." —Monica Wood, author of Any Bitter Thing
 
"Susan Conley's China is gritty, unforgiving, and magnificently perplexing.  How fitting a backdrop for a journey into motherhood—and how perfectly absurd a setting for the harrowing passage through cancer.  This is an exquisite memoir, a gripping story from page one that tugs you along with the honest questioning and insightful whispers of a courageous best friend." —Jeanne Marie Laskas, author of Growing Girls
 
"Susan Conley vividly shows how complicated life in China can become for expats. She expected surprises and adjustments when she moved to China with her husband and two little boys, but she never expected that the surprises would include her coping, as a young mother, with breast cancer. Her book is a story of resilience, told with grace and humor, and with Chinese accents." —James Fallows, author of Postcards from Tomorrow Square
 
"The Foremost Good Fortune is a moving and exhilarating ride, as well as a deep meditation on family, belief and mortality.  Conley's keen eye captures small moments in gorgeous detail that offer a wider perspective on the whole they create.  Conley resets the bar for the memoir with her humor, sensitivity, and stunning sentences." —Lily King, author of Father of the Rain
 
"The Foremost Good Fortune is a treasure: The unique experience of being yanked out of context by moving to China and diagnosed with breast cancer allows Conley, paradoxically, to explore the most universal of women's experiences—the meaning of our lives, the meaning of motherhood, the meaning of partnership." —Peggy Orenstein, author of Cinderella Ate My Daughter
 
"From its endearing and at times comic tableau of an American family abroad in the new, proliferating China of today's headlines, to the heartrending news that narrows Conley's whole world to survival, The Foremost Good Fortune is told by an intrepid traveler who has found her voice in a daunting, exhilarating cultural wilderness...and has found it with wisdom and grace and wonder." —Michael Paterniti, author of Driving Mr. Albert: A Trip Across America with Einstein's Brain
Knopf Publishing Group, 9780307594068, 276pp.
Publication Date: February 8, 2011
About the Author
Susan Conley lived in Beijing for more than two years, and returned to Portland, Maine, with her husband and two sons in December 2009. She is cofounder and executive director of the Telling Room, a writers' workshop and literary hub for the region. She was an associate editor at "Ploughshares" and has led creative writing seminars at Emerson College in Boston. Her work has been published in "The New York Times Magazine "as well as "The Paris Review," "Harvard Review," "Ploughshares," and other literary magazines. She is currently working on a novel and settling back into life in the States.
Book Videos
or
Not Currently Available for Direct Purchase