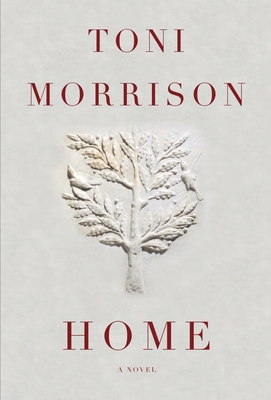 Home
A novel
Hardcover

* Individual store prices may vary.
Other Editions of This Title:
Digital Audiobook (5/7/2012)
Description
NATIONAL BESTSELLER • A New York Times Notable Book • From the acclaimed Nobel Prize winner: an emotional powerhouse of a novel about a modern Odysseus returning to a 1950s America mined with lethal pitfalls for an unwary Black man

When Frank Money joined the army to escape his too-small world, he left behind his cherished and fragile little sister, Cee. After the war, he journeys to his native Georgia with a renewed sense of purpose in search of his sister, but it becomes clear that their troubles began well before their wartime separation. Together, they return to their rural hometown of Lotus, where buried secrets are unearthed and where Frank learns at last what it means to be a man, what it takes to heal, and—above all—what it means to come home.
Praise For Home: A novel…
"Perhaps Morrison's most lyrical performance so far." —Christopher Benfey, The New York Review of Books 
 
"Morrison writes about psychological violence with an engineer's precision and a poet's expansiveness." —Tyrone Beason, The Seattle Times

"Morrison packs a powerful narrative punch. . . . [Her] depiction of the delightful ways black men engage in verbal banter to exchange personal and collective memories, and the poignant ways black women stand on their faith to deploy survival strategies only they could design, makes this a novel that begs rereading. She movingly describes people who survive and thrive, even when life deals them painful, mean blows. . . . [T]he beauty of Morrison's language and her profound truths about life and living compel one to run the page and keep reading. This 10th novel shows that the author is still questioning what we think we know when we think we know someone."   —Marilyn Sanders Mobley, Ms. Magazine 
 
"Home showcases a writer at the height of her powers in evoking a moment and its historical counter-currents. And it ranks among [Morrison's] most readable stories. It is also, like so many of her novels, a book certain to reward rereading: you can go Home again. And you should."  —Jim Cullen, History News Network

"Gorgeous and intense, brutal yet heartwarming . . . like a slingshot that wields the impact of a missile. . . . Home is as accessible, tightly composed and visceral as anything Morrison has written. . . . [Her] shorter, more direct sentences have the capacity to leave a reader awestruck. . . . Devastating, deeply humane, ever-relevant." —Heller McAlpin, NPR 
 
"The story of the warrior's struggle to return home is classic, but Nobel laureate Morrison  imbues her tale with twists that make the journey more challenging and Frank Money's success less certain. . . . As usual, Morrison's writing is both lyrical and earthy and, although spare, dense with hints and meaning. This is a book that can be read in one long sitting, and probably will be . . . [A] satisfying, emotional . . . textured, painful and ultimately uplifting story." —Anne Neville, Buffalo News 
 
"In this slim, scathing novel, Morrison brings us another quintessentially American character struggling through another shameful moment in our nation's history. . . . Home is as much prose poem as long-form fiction—a triumph for a beloved literary icon who proves that her talents remain in full flower. Four stars." —Meredith Maran, People 
 
"Beautifully wrought . . . [Home] packs considerable power, because the Nobel Prize-winning author is still writing unflinchingly about the most painful human experiences. There's nothing small about the story she's told with such grace in these pages." —Steve Yarbrough, The Oregonian

"Short, swift, and luminescent . . . The music of Morrison's language, with its poetic oral qualities, its ability to be both past and present in one long line, requires a robust structure, a big space; a small auditorium simply does not suit it. Home, then, is . . . a remarkable thing: proof that Morrison is at once America's most deliberate and flexible writer. She has almost entirely retooled her style to tell a story that demands speed, brevity, the threat of a looming curtain call."  —John Freeman, The Boston Globe 
 
"Part of Morrison's longstanding greatness resides in her ability to animate specific stories about the black experience and simultaneously speak to all experience. It's precisely by committing unreservedly to the first that she's able to transcend the circumscribed audience it might imply. This work's accomplishment lies in its considerable capacity to make us feel that we are each not only resident but co-owner of, and collectively accountable for, this land we call home." —Leah Hager Cohen, The New York Times Book Review

"Powerful . . . Home, the latest novel by Toni Morrison, is almost eerie in its timeliness. Set in the 1950s, it does not evoke the martini and pinched waist nostalgia of Mad Men. Rather, it calls to mind the plight of today's veterans returning from the Iraq and Afghanistan wars. . . . A hallmark of Morrison's magic is the way that her imagination engages critically with several subjects simultaneously, but Home is particularly intriguing because it also seems to be a reflection on the author's previous works. . . . . The writing reads like a love letter to a generation that took the English language, lubricated its syntax and bent meanings as the situation required. . . . The result is not poetry, exactly, yet the characters communicate in such a way that there are subtle metaphors in every exchange. The events of this narrative are striking and arresting in the manner that one expects from Morrison, the only living American Nobel laureate in literature. Family secrets are revealed, brutal truths about the history of race in America are displayed without sentimentality or animus. As always, Morrison's prose is immaculate, jaw-dropping in its beauty and audacity. . . . In addition to her reputation for gorgeous sentences, Morrison is known for a certain brutality in her plotting, and this wrenching novel is no exception. But Home also brims with affection and optimism. The gains here are hard won, but honestly earned, and sweet as love." —Tayari Jones, San Francisco Chronicle 
 
"Morrison writes without airs. In Home, even the most painful and devastating moments are told head-on, not prettified to make them more palatable [or] heightened to create a stronger impression. She builds trust with the reader at every step; the events may be imagined, but Morrison is speaking her truth, and we believe her. Here, as in her previous books, Morrison's characters carry their histories heavy on their backs, a burden that defines them and influences everything they do today. The past, she says repeatedly, is always with us. It can't be ignored or shunted aside because to be truly home in the present, we must confront the past." —Amy Driscoll, The Miami Herald 
 
"[Home] is compact, a novella really, and filled with Morrison's signature style—clear, razor-sharp, poetic writing and layered storytelling. . . . This story isn't about taking responsibility for others. It is a tale about taking responsibility for yourself. . . . The journey home, then, is not to a physical place. It is an internal destination that each of us must find." —Karen M. Thomas, The Dallas Morning News 
 
"If you are familiar with Toni Morrison's work (who isn't?), you will want to read her new novella, Home, in one sitting. It will take only two or three hours, and that one sitting will help you keep in mind the story's beautiful symmetry. Home is a reverse journey, a return to an earlier place, a going back instead of forward—at least physically—though it can just as easily be argued that the protagonist (Frank Money) advances as much as he retreats. And that metaphor of advancing is especially suitable, given the fact that Frank has recently returned from the war in Korea. He's been traumatized by horrific events but is equally unsettled when he realizes that he's returned to the same racist country he left before he departed to fight for America. . . . Above all, Home demonstrates a sense of community, not just within the physical environment of one's origins but also with the assistance that total strangers offer Frank Money. The poorest people in the country extend a hand, share, and rehabilitate others when necessary. These values are shown to be so redemptive that they cancel out what many people believe to be natural instincts of revenge, of payback, of an eye-for-an-eye and a tooth-for-a-tooth. . . . Home is an engaging narrative, full of surprises and profundities."  —Charles R. Larson, Counterpunch 
 
"This haunting, slender novel is a kind of tiny Rosetta Stone to Toni Morrison's entire oeuvre. Home encapsulates all the themes that have fueled her fiction: . . . the hold that time past exerts over time present, the hazards of love (and its link to leaving and loss), the possibility of redemption and transcendence. Once again we are introduced to characters who must choose between the suffocating but sustaining ethos of small-town life and the temptations and pitfalls of the wider world. Once again we are made to see the costs and consolations of caring too much—for a family member, a lover or a friend. . . . Whereas Beloved mythologized its characters' stories, lending their experiences the resonance of a symphony or an opera, Home is a lower-key chamber piece, pitched somewhere between straight-up naturalism and the world of fable. In these pages Morrison eschews the fierce Faulknerian prose and García Márquez-like flights of surrealism that animated some of her earlier novels, adopting a new, pared-down style that enables her to map the day-to-day lives of her characters with lyrical precision. . . . Morrison has found a new, angular voice and straight-ahead storytelling style that showcase her knowledge of her characters, and the ways in which violence and passion and regret are braided through their lives, the ways in which love and duty can redeem a blighted past." —Michiko Kakutani, The New York Times 
 
"Another dazzling journey with Toni Morrison as tour guide into America's slippery psychological, cultural and political terrain. In Home, Morrison has given us another triumph of beauty and brutality both in tone, language, and characters. Like her slim volumes The Bluest Eye, Sula, and Jazz, the Nobel Laureate's tenth offering reminds you of riveting tales told by a wise stranger—not kinfolk, not on any official business—that remain with you for days—sometimes longer. . . . Morrison proves there is no writer who can craft, shape, twist, and bend the English language quite like she can. . . . Home calmly lays out the horrors of war, abroad and domestic, with the understanding that peace is sometimes negotiable." —Patrik Henry Bass, Essence 
 
"Cinematic, poetic and profound. . . . Home, is, at its heart, the tale of a man enslaved (in mind, body, and spirit), on an uncertain journey to freedom. . . . The concept of home in Home becomes a metaphor for the cultivation of an inner strength and dignity independent of external factors, shielded from the vicissitudes of an unjust society. In Morrison's assessment, it seems that country can be difficult to navigate alone, and relies not only on our self acceptance, but also on the relationships and communities we build. . . . [She] continues to beg the reader to reflect critically on notions of identity, race, gender and class, and, perhaps most importantly, to examine what me mean when we talk about freedom, and the role we play as a community and as individuals, hand and hand, and in a solitary way, in emancipating ourselves." --Chase Quinn, The Grio 
 
"Nobel Prize-winning writer Toni Morrison begins her newest novel, Home, with a question: How does a man rebuild himself while the world chips away at his soul? That is the problem posed to Frank Money, a Korean War veteran returned to the United States after witnessing the horrors of combat on the front lines. Now a shell of a man, Frank finds himself on a journey to rescue his medically abused younger sister and return to his home in small-town Georgia. . . . The problem goes deeper than race or politics. It is not limited to questions of black or white (or gender or economic status, for that matter), though those things inform the issue. But the problem, ultimately, is personal in nature. It's downright spiritual. . . . Immediately, a reader senses in Morrison a seeker. Her prose reaches out for answers to very difficult questions, feeling its way through the possibilities of the story it presents. She has the psychological acuteness to move beyond the realm of parable and into the realm of tragedy. The writing is easy and flowing but still elegantly constructed. And it doesn't settle for easy answers. We do not know if and how Frank and his sister will ever find redemption. In the end, we only know that home is a good place to start. . . . A  wonderfully pleasurable and rewarding literary experience." —Gerard Martinez, San Antonio Express-News 
 
"Within its pared-down limits, [Home] tells a compelling story, and the man at the center, Frank Money, is such a strong and convincing character that we are not taken aback when Frank himself, speaking in italics, interrupts the narrative a couple of times to set the author straight on some details she got wrong. The novel is leanly poetic, at times is very funny and is skillful in using symbols without turning them into clichés. One of the best things about the book is that it functions as a cultural and historical travelogue, a fascinating commentary on crossing the country while black in the middle of the 20th century. . . . A tale fit for an epic." —Harper Barnes, St. Louis Post-Dispatch 
 
"In her characteristically breathtaking prose, rich in all the contradictions that make us human, Morrison transforms unthinkable suffering into incomplete but believable redemption." —Pam Houston, More Magazine 
 
"Stunning . . . A masterfully written novella that uses alternating points of view, swift characterization-by-action and metaphorical symmetry with a compression which is simultaneously a tour de force and a tantalization. . . . . Regardless of narrator, the vividness of the chapters and their concise accumulation of experiences give Home a broader scope than would seem possible in so few pages. Morrison unleashes her most lyrical language upon the foreshadowing and depiction of Home's most brutal events. Her technique is indelible."  —Holloway McCandless, Shelf Awareness

"Toni Morrison doesn't have to prove anything anymore, and there's artistic freedom in that calm. Her new novel, Home, is a surprisingly unpretentious story from America's only living Nobel laureate in literature. . . . This scarily quiet tale packs all the thundering themes Morrison has explored before. She's never been more concise, though, and that restraint demonstrates the full range of her power. . . . Home is unusual, not only in that it features a male protagonist but that it's so fiercely focused on the problem of manhood. . . . Are acts of violence essentially masculine, or are they an abdication of manliness? Is it possible, the novel finally asks, to consider the manhood implicit in sacrifice, in laying down one's life? What [Frank] Money eventually does to help his sister and to quiet his demons is just as surprising and quietly profound as everything else in this novel. Despite all the old horrors that Morrison faces in these pages with weary recognition, Home is a daringly hopeful story about the possibility of healing—or at least surviving in a shadow of peace." —Ron Charles, The Washington Post

"The title of [Morrison's] new novel, Home, refers to Frank Money's Georgia hometown, which lies at the end of a long, tortuous journey. Traumatized by atrocities in Korea and the Deep South of his childhood, Frank races back to save his sister from a sadistic white doctor. It's an archetypal postwar homecoming story, reminiscent of The Odyssey. But it's really about the upheavals that took Frank away from home in the first place, along with a generation of Korean War veterans and southern black migrants, during a supposedly tranquil and homey decade that was, for them, anything but." —Boris Kachka, New York Magazine 
 
"A bona fide literary event . . . an emotional powerhouse that more than lives up to his pedigree. Told in the stark, economical tone of a short story, with all the philosophical heft of a novel, . . . Home is a moving testament to taking responsibility for your own life—especially the parts you'd like to look away from. Grade: A-" —Melissa Maerz, Entertainment Weekly 
 
"Triumphant." —Marie Claire

"Nobel laureate Toni Morrison is known for novels in which female protagonists struggle to wrest control of their lives from an establishment bent on their destruction. Home, by contrast, tells the story of Korean War vet Frank Money, who returns from the battlefield plagued by visions of his friends' deaths and a disturbing episode that cuts at the roots of his sexual and moral identity. . . . Salvation awaits, however, in his tiny Georgia hometown." —Tim McDonnell, Mother Jones 
 
"Home's slim spine belies a fertile narrative imbued with and embellished by Morrison's visionary scope and poetic majesty. These traits expand on her long exploration of the suffering and striving born of slavery and segregation that are unique to the history of blacks in America. Conjoined in all her stories and richly illumined are the culture, traditions, talents, and triumphs of African-Americans as well." —Lisa Shea, ELLE

"Profound . . . Morrison's portrayal of Frank is vivid and intimate, her portraits of the women in his life equally masterful. Its brevity, stark prose, and small cast of characters notwithstanding, this story of a man struggling to reclaim his roots and his manhood is enormously powerful." —Stephan Lee, O, The Oprah Magazine

"Morrison's perfect prose [is] immaculate . . . Beautiful, brutal." —Publishers Weekly (boxed and starred review) 
 
"A deceptively rich and cumulatively powerful novel."  —Kirkus (starred review) 
 
"The Korean conflict is over, and soldier Frank Money has returned to the States with a disturbed psyche that sends him beyond anger into actually acting out his rage. From the mental ward in which he has been incarcerated for an incident he can't even remember, he determines he must escape. He needs to get to Atlanta to attend to his gravely ill sister and take her back to their Georgia hometown of Lotus, which, although Frank realizes a return there is necessary for his sister's sake, remains a detestable place in his mind. Morrison's taut, lacerating novel observes, through the struggles of Frank to move heaven and earth to reach and save his little sister, how a damaged man can gather the fortitude to clear his mind of war's horror and face his own part in that horror, leave the long-term anger he feels toward his hometown aside, and take responsibility for his own life as well as hers. With the economical presentation of a short story, the rhythms and cadences of a poem, and the total embrace and resonance of a novel, Morrison, one of our national literary treasures, continues to marshal her considerable talents to draw a deeply moving narrative and draw in a wide range of appreciative readers. . . . bound to be a big hit." —Brad Hooper, Booklist (starred review)
Knopf, 9780307594167, 160pp.
Publication Date: May 8, 2012
About the Author
TONI MORRISON is the author of eleven novels and three essay collections. She received the National Book Critics Circle Award, the Pulitzer Prize, and in 1993 the Nobel Prize in Literature. She died in 2019.
Coverage from NPR