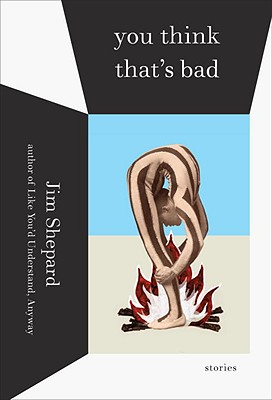 You Think That's Bad
Stories
Hardcover

* Individual store prices may vary.
Other Editions of This Title:
Digital Audiobook (3/21/2011)
Paperback (3/6/2012)
Compact Disc (3/22/2011)
Description
Following Like You'd Understand, Anyway—awarded the Story Prize and a finalist for the National Book Award—Jim Shepard returns with an even more wildly diverse collection of astonishingly observant stories. Like an expert curator, he populates the vastness of human experience—from its bizarre fringes and lonely, breathtaking pinnacles to the hopelessly mediocre and desperately below average—with brilliant scientists, reluctant soldiers, workaholic artists, female explorers, depraved murderers, and deluded losers, all wholly convincing and utterly fascinating.

A "black world" operative at Los Alamos isn't allowed to tell his wife anything about his daily activities, but he can't resist sharing her intimate confidences with his work buddy. A young Alpine researcher falls in love with the girlfriend of his brother, who was killed in an avalanche he believes he caused. An unlucky farm boy becomes the manservant of a French nobleman who's as proud of his military service with Joan of Arc as he's aroused by the slaughter of children. A free-spirited autodidact, grieving her lost sister, traces the ancient steps of a ruthless Middle Eastern sect and becomes the first Western woman to travel the Arabian deserts. From the inventor of the Godzilla epics to a miserable G.I. in New Guinea, each comes to realize that knowing better is never enough.

Enthralling and unfailingly compassionate, You Think That's Bad traverses centuries, continents, and social strata, but the joy and struggle that Shepard depicts with such devastating sensitivity—all the heartbreak, alienation, intimacy, and accomplishment—has a universal resonance.
Praise For You Think That's Bad: Stories…
"Stories so good, so meaty, so brilliant, that you will want to read them over and over, unearth the subtle notes, try to understand what drives people to do what they do." -- Sarah Willis, Pittsburgh Post-Gazette
 
"Why isn't Jim Shepard more famous?  A finalist for the National Book Award, he is best known for his obsessive and fearless plundering of the trunks of history, [and here] he summons a gallery of real and imagined anti-heroes.... With empathy, intelligence, and a wit that finds its mark like lightning, Shepard explodes and re-creates the reader's notions of reality, like a word-wielding Zeus, transporting us light years beyond what we think we know of the world." —Elissa Schappell, Vanity Fair ("Best Books of 2011 You Haven't Read")

"A short-fiction master, [Shepard] here pushes into new territory, giving us 11 stories about characters at the end of their endurance: contradictory, foolishly brave (or bravely foolish), clinging to hope beyond the point that hope is any longer a reasonable alternative." —David L. Ulin, Los Angeles Times

"Each one of these eleven stories stands out for its masterly fusion of technique and subject." —Alan Cheuse, San Francisco Chronicle

"[Shepard's] kaleidoscopic . . . genius resides in his omnivorous curiosity and imaginative inventiveness. [His] stories have the strangeness and bell-like clarity of truth [and] the execution is so sure-handed that the reader is drawn in with complete and effortless authority." —Michael Lindgren, The Washington Post  
 
"Nobody writes stories like Jim Shepard. They're cool and sophisticated with an irresistibly wayward humor. At the same time, they're not afraid to stake everything on moments of pathos." —Catherine Holmes, The Post and Courier

"Immersive, visceral . . . [Shepard's] writing is so good it's borderline gaudy." —Jacob Schraer, Portland Mercury
 
"Shepard's prose never fails to be devastatingly handsome, accreting hard particles of technical description and tough-mouthed man-talk before reaching a lyrical climax . . . He's our leading miniaturist of massive catastrophe." —Jennifer Schuessler, Slate

"Remarkably inventive. Shepard moves seamlessly across a wide-ranging fictional landscape with verve, irony and humor . . . [You Think That's Bad] ranks with the best short story collections of the past 40 years, which puts him in the heady company of such masters as John Cheever, John Updike, Raymond Carver and Alice Munro." —William Hogan, Albany Times Union
 
"Potent enough to stamp Shepard as one of  this generation's short story masters . . . [His] language is precise, the scope of research impressive, and he taps obscure historical events to terrific and terrifying effect." —Lidia Yuknavitch, The Oregonian
 
"Shepard has traced his own odd line through contemporary fiction engaging everything from historical figures to the most outrageous landscapes of the imagination . . . These stories bring their first-person narrators right up to the point of obliteration, leaving us exhilarated and depsairing at once . . . A stunner." —David L. Ulin, Los Angeles Times
 
 "The stories in You Think That's Bad are powerful reminders that institutions cannot be considered apart from the individuals who populate them. Armies, empires, corporations, and film crews shape the lives and dreams of countless millions, even as their own fates are made or broken by a few visionary leaders or disobedient drones . . . Shepard finds fascinating ways to consider how the global and the personal are inextricably intertwined, and he never commands less than your full attention . . . Magnificent." —Justin Taylor, Bookforum
                                          
"An exciting collection of stories [that] cast light on particulars so concrete that they call up the love, hate, despair, and—mostly starkly—alienation that we all feel, a feat of alchemy that's rarer than it ought to be in fiction . . . Many of these stories explore extremes of human endurance and endeavor (and the consequent toll on human relationships), though a few plumb the other depths to which Shepard is an expert guide: human underachievement." —Sarah L. Courteau, Barnes and Noble Review
 
"Beautifully written . . . What keeps you reading this eclectic and eccentric collection of stories is the emotional truth of the characters, and their doomed efforts to connect to the people in their lives they love most." —Ann Levin, The Miami Herald
 
"Exceptional . . . Shepard reminds us that the short story is an art form unto itself, one that he has mastered in his own elegant and expansive way." —Scott Ditzler, The Kansas City Star
 
 "If ventriloquism is a lost art, Mr. Shepard has found it . . . he can move the lips of anyone: a special effects designer on a Japanese film, a 15th-century accomplice to dozens of murders, a retired American soldier reeling with post-traumatic stress disorder. [He nails] entire worlds together with teeming, precise detail." —Susannah Meadows, The New York Times
 
"Stunning . . . Cinematic . . . Shepard's cataclysmic renderings are both terrifying and awe-inspiring. There's a word for that too—sublime. —O, The Oprah Magazine
 
"Jim Shepard, who thinks big and writes short, [is] without a doubt the most ambitious short story writer in America . . . In just a few pages, [his] short stories do the work of entire novels in capturing different places and times . . . In every story, Shepard sets his imagination (and ambition) at full throttle. In every story he lets his fancy run . . . A welcome reminder that fiction needn't be a walk around the precincts of a writer's experience." —Taylor Antrim, The Daily Beast
 
"Beautiful, essential . . . [Shepard is] one of the most perceptive, intelligent and fearless writers of fiction in America today . . . Each of the eleven stories in his new book is heartbreaking and true, and not one is less than perfect . . . [his] evocation of catastrophes both small and large, real and fictional, is an amazing study in contrast and loss, and it's exquisitely written." —Michael Schaub, NPR
 
"A master . . . Shepard's taut, high-concept, research-dependent fiction covers a bracing, career-long range of hobbyhorses and obsessions . . . And his preference for historical quests, for real people's big gestures, may help keep American short fiction from falling asleep in the snug little precincts of its usual subject matter." —Thomas Mallon, The New York Times Book Review
 
"Excellent . . . brutal, funny, cerebral [and] further proof that Shepard is one of the most catholic writers in America . . . It's exhilarating just to make that list [of his characters], to recall the variety of forms and subjects and voices. And it's even more exhilarating to see what Shepard does to and within these forms, how he can make Blackwater-esque jargon funny, how he can make the end of the world and the end of a marriage equally terrifying, how he can show that we're closest to people when we're hurting them . . . In Shepard's hands the sense of doom is often transformed by the biting wit and his deep affection for his characters and their fates." —Brock Clarke, The Boston Globe
 
"Exceptionally imaginative [and] highly original…There is so much knowledge, insight, feeling, and artistry in each engrossing Shepard story, he must defy some law of literary physics." —Donna Seaman, Booklist, starred
 
"Jim Shepard is a shapeshifting wizard: in some stories he seems to be a historian on hallucinogens; in others a scholarly purveyor of speculative fiction. Whether he's writing about the past or the future, Shepard combines a wild imagination with a stunning gift for mimesis.  You Think That's Bad is his best collection yet." —Jay McInerney
 
"Shepard's elegant, darkly-tinged stories of love [offer] humor in unexpected places." —Publishers Weekly
 
"Shepard translates the world for us.  I felt so grateful reading this book because he has metabolized, thought about, researched, learned, gleaned, and understood so many complicated aspects of the world we live in.  And not just our world now but past worlds, new worlds, internal worlds, external worlds.  He is a time traveler with insight, and we are just plain lucky to have him bringing back these treasures." —Aimee Bender
 
"Shepard's talent is so various and canny he can write about seemingly anything and make it thrilling to us.  His writerly eye is acute.  His instinct around a sentence is virtuosic and masterful." —Richard Ford
Knopf, 9780307594822, 240pp.
Publication Date: March 22, 2011
About the Author
Jim Shepard is the author of six novels and three previous story collections. His stories are published regularly in such magazines as "The New Yorker, The Atlantic, McSweeney's, Tin House, Zoetrope: All-Story, Playboy, "and" Vice, " among others. "The Netherlands Lives with Water," from this collection, appears in "The""Best American Short Stories 2010." "Your Fate Hurtles Down at You," also from this collection, appears in "PEN/O. Henry Prize Stories 2011." He lives with his wife and their three children in Williamstown, Massachusetts.
Coverage from NPR
or
Not Currently Available for Direct Purchase