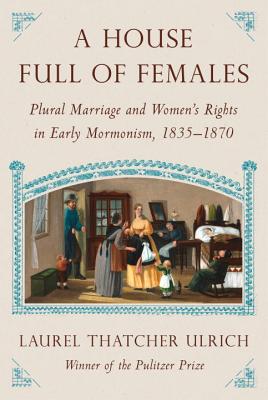 A House Full of Females (Hardcover)
Plural Marriage and Women's Rights in Early Mormonism, 1835-1870
Knopf, 9780307594907, 512pp.
Publication Date: January 10, 2017
Other Editions of This Title:
Compact Disc (1/10/2017)
Paperback (2/20/2018)
* Individual store prices may vary.
Description
From the author of A Midwife's Tale, winner of the Pulitzer Prize and the Bancroft Prize for History, and The Age of Homespun--a revelatory, nuanced, and deeply intimate look at the world of early Mormon women whose seemingly ordinary lives belied an astonishingly revolutionary spirit, drive, and determination.

A stunning and sure-to-be controversial book that pieces together, through more than two dozen nineteenth-century diaries, letters, albums, minute-books, and quilts left by first-generation Latter-day Saints, or Mormons, the never-before-told story of the earliest days of the women of Mormon "plural marriage," whose right to vote in the state of Utah was given to them by a Mormon-dominated legislature as an outgrowth of polygamy in 1870, fifty years ahead of the vote nationally ratified by Congress, and who became political actors in spite of, or because of, their marital arrangements. Laurel Thatcher Ulrich, writing of this small group of Mormon women who've previously been seen as mere names and dates, has brilliantly reconstructed these textured, complex lives to give us a fulsome portrait of who these women were and of their "sex radicalism"--the idea that a woman should choose when and with whom to bear children.
About the Author
LAUREL THATCHER ULRICH was born in Sugar City, Idaho. She holds degrees from the University of New Hampshire, University of Utah, and Simmons College. She is 300th Anniversary University Professor at Harvard University and past president of the American Historical Association. As a MacArthur Fellow, Ulrich worked on the PBS documentary based on A Midwife's Tale. Her work is also featured on an award-winning website called dohistory.org. She is immediate past president of the Mormon History Association. She lives in Cambridge, Massachusetts.
Praise For A House Full of Females: Plural Marriage and Women's Rights in Early Mormonism, 1835-1870…
Excitement about Laurel Thatcher Ulrich's
A HOUSE FULL OF FEMALES
 
"Laurel Thatcher Ulrich is a historian's historian. For more than three decades, she has dazzled her profession with archival discoveries, creative spark and an ability to see 'history' where it once appeared there was none to be seen . . . In the best ways, A House Full of Females remains a work of traditional 'women's history,' a straightforward exploration of women's lives and experiences on their own terms . . . The work of dedicated and imaginative historians like Ulrich allows us access to lost worlds."
—Beverly Gage, The New York Times Book Review
 
"As crucial as it is fascinating . . . It's no secret that history is full of people, often women, whose usually unpaid labor allowed famous men to make their marks on the world. Their stories don't always make it to the official record books, but historians like Ulrich make sure they're not forgotten."
—Lily Rothman, Time
 
"Movingly portrays believers' early struggles . . . Ulrich is a gifted historian whose works have forged new paths in women's studies."
—M.J. Andersen, The Boston Globe
 
"This empathetic account of the women of early Mormonism focusses on the doctrine of polygamy, first articulated by Joseph Smith in 1843. Ulrich, a Pulitzer Prize-winning historian, explores complex and contradictory responses to a practice seen by Mormons as answering a divine imperative to procreate; with many wives, a man could beget dozens of "spirits" of the faith. Ulrich describes the daily lives of these women in attentive detail, their sorrows (child-mortality levels were high), their stubborn strength, and their willingness to defy social norms. To the astonishment of the outside world, the same women who vigorously defended multiple marriages also fought for—and won—female suffrage."
—The New Yorker
 
"O pioneers! Ulrich stitches together diaries, poems, meeting minutes, and quilt designs into a fascinating history of women's lives. Tough doesn't even begin to describe it—they drove wagons across the frozen Midwest, bore and buried children, spoke in tongues, farmed, and organized relief societies while the men traveled on missions. (They drank and danced too.)"
—Christine Smallwood, Harper's Magazine
 
"A remarkable labor of love. Laurel Ulrich brings her readers inside Mormon life during the two formative generations of this distinctively American religious community. Her close and insightful reading of diaries and letters especially, in addition to a wealth of other records (including an extraordinary quilt), enable her to convey an appreciation of why Mormons committed to their faith—notwithstanding the persecution and privations they faced crossing the country and building their pioneer settlements. Ulrich even enables outsiders to understand how polygamy functioned and why Mormon women embraced and defended it against Victorian condemnation. A House Full of Females is the richest work on the social history of religion in a generation.
—Richard Brown, University of Connecticut
 
"The reader who opens A House full of Females is truly privileged to have Laurel Thatcher Ulrich as their guide into the circles of strong women who defended plural marriage before Utah voted to give the vote to women. Ulrich takes us inside early Mormon communities, house by house, arriving with her well-honed archival skills of reading between the lines of diaries preserved in bags stitched of drapery fabric and piecing together the scraps of correspondence left behind to interpret a past that is especially meaningful to her, carved as it was out of the West by her own forebears. A truly extraordinary read."
—Janet Polasky, author of Revolutions without Borders
 
"Pulitzer-winner Ulrich gives readers a day-to-day look at the hardships early Mormons endured as pioneers and religious outlaws but also takes a broader view of longer-term changes in the religion . . . Impeccable scholarship and a fascinating topic."
—Publishers Weekly
or
Not Currently Available for Direct Purchase