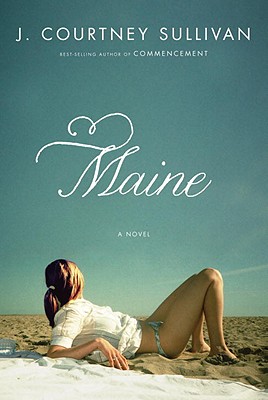 Maine
Hardcover

* Individual store prices may vary.
Other Editions of This Title:
Digital Audiobook (6/13/2011)
Paperback (5/29/2012)
Compact Disc (6/14/2011)
Hardcover, Large Print, Large Print (7/1/2011)
Paperback (1/1/2012)
Description
In her best-selling debut, Commencement, J. Courtney Sullivan explored the complicated and contradictory landscape of female friendship. Now, in her highly anticipated second novel, Sullivan takes us into even richer territory, introducing four unforgettable women who have nothing in common but the fact that, like it or not, they're family.

For the Kellehers, Maine is a place where children run in packs, showers are taken outdoors, and old Irish songs are sung around a piano. Their beachfront property, won on a barroom bet after the war, sits on three acres of sand and pine nestled between stretches of rocky coast, with one tree bearing the initials "A.H." At the cottage, built by Kelleher hands, cocktail hour follows morning mass, nosy grandchildren snoop in drawers, and decades-old grudges simmer beneath the surface.

As three generations of Kelleher women descend on the property one summer, each brings her own hopes and fears. Maggie is thirty-two and pregnant, waiting for the perfect moment to tell her imperfect boyfriend the news; Ann Marie, a Kelleher by marriage, is channeling her domestic frustration into a dollhouse obsession and an ill-advised crush; Kathleen, the black sheep, never wanted to set foot in the cottage again; and Alice, the matriarch at the center of it all, would trade every floorboard for a chance to undo the events of one night, long ago.

By turns wickedly funny and achingly sad, Maine unveils the sibling rivalry, alcoholism, social climbing, and Catholic guilt at the center of one family, along with the abiding, often irrational love that keeps them coming back, every summer, to Maine and to each other.
Praise For Maine…
"You don't want the novel to end in July. You want to stay with the Kellehers straight through to the end of August, until the sand cools, the sailboats disappear from their moorings, and every last secret has been pried up." —Lily King, The New York Times Book Review

"I have never stayed at this cottage in Maine, or any cottage in Maine, but no matter: I now feel I know what it's like being in a family that comes to the same place summer after summer, unpacking their familiar longings, slights, shorthand conversation, and ways of being together. J. Courtney Sullivan's Maine is evocative, funny, close-quartered, and highly appealing." –Meg Wolitzer, author of The Uncoupling

"An ideal summer read. . . . Gives us . . . characters we can care about, despite their sometimes too-familiar flaws." —USA Today
 
"Attentive to class distinctions and hierarchies, as well as historic pressures and family dynamics, Sullivan presents women who may be stubborn and difficult, but she does so with such compassion and humor that we, too, end up rooting for them. Even if Maine weren't set on a beach, it would be a perfect beach book." —Chicago Tribune

"Sullivan's smarts shed light on topics all families deal with, but her tasteful approach on the tough ones (particularly modern-day religious issues) shine through. The cast of quirky characters will have you laughing out loud and aching for their regrets in the same chapter, pining for more pages when it comes to an end." —MarieClaire.com

"Maine's brisk storytelling, and the unfurling of its central mystery . . . sweep readers along with gratifying sink-into-your-deck-chair ease." —Entertainment Weekly

"Curl up with this wry, absorbing novel and eavesdrop on a summer's worth of secrets, feuds, and misunderstandings." —Parade magazine

"Ms. Sullivan's follow-up to her best-selling novel, Commencement . . . follows adult children who gather at their beach cottage in Maine to sip that familial cocktail of misery and love. . . . Once the women are together, the fuse is lighted. Ms. Sullivan locks the doors and waits for the explosion." —The New York Times

"[Sullivan] validates the old adage that you can pick your friends, but you are stuck with your relatives. This is a powerful, evocative story, beautifully written to reveal raw human emotions. . . . Fresh and lively. . . . This is a well-crafted story about destructive family relationships and shameful behavior, loaded with tension, secrets, booze, marital conflict, stinging arguments, and some very funny scenes." —The New Maine Times

"Maine by J. Courtney Sullivan is a powerful novel about the ties that bind families tight, no matter how dysfunctional. Sullivan has created in the Kelleher women a cast of flawed but lovable characters so real, with their shared history of guilt and heartache and secret resentments, that I'm sure I'll be thinking about them for a long time to come." –Amy Greene, author of Bloodroot

"Everyone has dark secrets. It's why God invented confession and booze, two balms frequently employed in Sullivan's well-wrought sophomore effort. Alice Brennan is Irish American through and through, the daughter of a cop, a good Catholic girl so outwardly pure that she's a candidate for the papacy. . . . As Sullivan's tale unfolds, there are plenty of reasons that Alice might wish to avoid taking too close a look at her life: There's tragedy and heartbreak around every corner, as there is in every life. . . . Sullivan spins a leisurely yarn that looks into why people do the things they do—particularly when it comes to drinking and churchgoing—and why the best-laid plans are always the ones the devil monkeys with the most thoroughly. The story will be particularly meaningful to Catholic women, though there are no barriers to entry for those who are not of that faith. Mature, thoughtful, even meditative at times—but also quite entertaining." –Kirkus

"At the heart of this compelling novel of three generations of women emotionally stunted by fate and willful stubbornness is the family vacation property in Cape Neddick, ME, where the Kellehers have convened for six decades. . . . In her second novel (after Commencement), Sullivan brilliantly lays out the case for the nearly futile task of these three generations of badly damaged Irish Catholic women seeking acceptance from one another." –Library Journal

"Sullivan creates deeply observed and believable [characters]. . . . Moody matriarch Alice, her uninvolved hippie daughter Kathleen, brown-nosing daughter-in-law Mary Ann, and newly-single, thirtysomething granddaughter Maggie each has a simmering-below-the surface inner-monologue that lights a spark, and Sullivan makes sure we can only anticipate an explosion. Sullivan gracefully meets the challenge of crafting a cast clearly pulled from the same DNA soup, without a clunk or hitch in the machinery." –Booklist

 
Knopf Publishing Group, 9780307595126, 388pp.
Publication Date: June 14, 2011
About the Author
J. Courtney Sullivan is the author of the "New York Times" best-selling novel "Commencement." Her writing has appeared in "The New York Times Book Review," the "Chicago Tribune," "New York," "Elle," "Glamour," "Allure," and "Men's Vogue," among others. She lives in Brooklyn, New York.
or
Not Currently Available for Direct Purchase