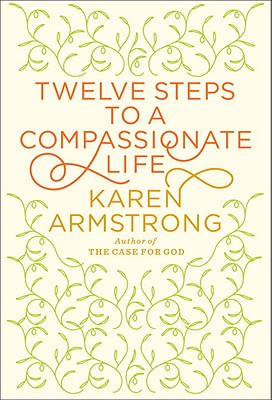 Twelve Steps to a Compassionate Life
Hardcover

* Individual store prices may vary.
Other Editions of This Title:
Digital Audiobook (12/27/2010)
Paperback (12/27/2011)
Paperback, Chinese (8/19/2014)
Hardcover, Large Print, Large Print (2/1/2011)
Paperback (1/1/2011)
Paperback (12/1/2011)
Compact Disc (12/28/2010)
Description
One of the most original thinkers on the role of religion in the modern world author of such acclaimed books as A History of God, Islam, and Buddha now gives us an impassioned and practical book that can help us make the world a more compassionate place.
Karen Armstrong believes that while compassion is intrinsic in all human beings, each of us needs to work diligently to cultivate and expand our capacity for compassion. Here, in this straightforward, thoughtful, and thought-provoking book, she sets out a program that can lead us toward a more compassionate life.
The twelve steps Armstrong suggests begin with Learn About Compassion and close with Love Your Enemies. In between, she takes up compassion for yourself, mindfulness, suffering, sympathetic joy, the limits of our knowledge of others, and concern for everybody. She suggests concrete ways of enhancing our compassion and putting it into action in our everyday lives, and provides, as well, a reading list to encourage us to hear one another's narratives. Throughout, Armstrong makes clear that a compassionate life is not a matter of only heart or mind but a deliberate and often life-altering commingling of the two.
Praise For Twelve Steps to a Compassionate Life…
Acclaim for Karen Armstrong
 
Twelve Steps to a Compassionate Life
 
"Armstrong combine[s] in this brief volume both her usual high quality historical scholarship and an explicit self-help programme . . . Her erudition and ability to convey complex ideas on the page . . . has long been widely admired. . . . [A] challenging, persuasive self-help book that seeks to distil the very best of religion."
—Peter Stanford, The Independent
 
"When I hear that Karen Armstrong, the widely respected religion scholar . . . has a new book called Twelve Steps to a Compassionate Life, I figure it's about big stuff—and she does not disappoint."
—Laurie Abraham, Elle
 
"Rich with wisdom and provocative ideas that stimulate deeper thinking . . . Chock full of practical ideas for examining one's life and modifying aims and behaviors . . . What Armstrong's clear and concise little book offers [readers] is threefold: a greater appreciation of how widespread compassion is as an ideal, a spur to deeper reexamination of aspects of their own experience, and an impetus to define and act upon a fresh contribution . . . to the restoration of compassion in community life."
—Jane Lampman, Christian Science Monitor
 
"The contents of this book surely deserve our attention. . . . One of the charming things about Armstrong's book is its delivertat descents into bathos. We move from the high thoughts of the old sages to the demands of everyday life, from Confucius to the checkout girl in the supermarket."
—A. N. Wilson, Financial Times
 
"Its emphasis on the practical, rather than the theoretical, side of spirituality makes it easy to dip into, but even with its brevity, the book doesn't oversimplify the many religious traditions from which it draws. . . . Armstrong's book offers suggestions that, though seemingly humble, might have far-reaching results."
—Margaret Quamme, The Columbus Dispatch
 
"A blueprint for cultivating kindness."
—Carlene Bauer, Whole Living
 
"[Armstrong possesses an] ability to express abstruse points clearly and quickly . . . [An] impressive range . . . Armstrong is neither dreamy nor simple-minded. In Twelve Steps to a Compassionate Life, she seeks to retrain us from an ego-fuelled outlook of partiality and prejudice to an informed, expanded humanity."
—Moez Surani, The Globe and Mail (Canada)
 
"Twelve Steps is an important and useful book that will help many readers take on humanity's most important task: creating a better, more compassionate world."
—Sam Mowe, Tricycle
 
"A commendably methodical description of the human condition and an insightful program for how to improve life on all levels: the personal, interpersonal, societal and global."
—Thomas Massaro, America
 
"Impassioned and practical . . . Twelve Steps is deeply committed to facilitating interfaith dialogue and understanding around the world."
—Kim Shippey, Christian Science Sentinel
 
"Armstrong, a revered genius of elucidation and synthesis, now tells the full and profound story of altruism throughout human history . . . beautifully clarifying interpretation in a mind-expanding discussion of the history of the Golden Rule, the essence of compassion and the kernel of every religious tradition. Exquisite and affecting. . . . The most sagacious and far-reaching 12-step program ever."
—Donna Seaman, Booklist (starred review)
 
"[Twelve Steps] is deeply grounded in what Armstrong knows, and presents well: the core teachings of all religions that can make us better, more compassionate humans. [Armstrong] pulls ideas and references from religions Eastern and Western with aplomb and respect for all sources. . . . Well-informed, welcome, and practical."
—Publishers Weekly
 
"As always, Armstrong weaves together the teachings of diverse religions in a graceful, approachable manner . . . well-executed."
—Kirkus Reviews
 
"Armstrong's genius is her ability to distill an impressive amount of information into just over 200 pages, making complex concepts easy to understand. . . . Her prose is clear and her concepts surprisingly easy to follow; it's a warm and, yes, compassionate book."
—Linda Leaming, Bookpage
 
"A book that may change fundamentally the way you regard the world and act in it. . . . A sophisticated discussion."
—Harvey Freedenberg, Shelf Awareness
 
"Armstrong, [is] one of the most celebrated writers on religious subjects in the world . . . a splendid scholar for the popular market . . . both men and women, both thoughtful believers and nonbelievers, will take an interest in her perspectives."
—Graham Christian, Library Journal (starred review)
 
The Charter for Compassion
 
"Karen Armstrong [is] the voice of the new compassion. The former nun's writings about God and society upset some, but her ideas are becoming increasingly influential. . . . Armstrong's charisma and sense of humour have helped her step on to the world stage as a benign Henry Kissinger, equipped with the trace outline of a wimple, if not a halo."
—Vanessa Thrope, The Observer
 
"We need better, more open dialogue about the world's religions, and to foster acceptance and discussion rather than fear and hate. Karen Armstrong has done just this."
—Amy Novogratz, The Huffington Post
Knopf Publishing Group, 9780307595591, 222pp.
Publication Date: December 28, 2010
About the Author
Karen Armstrong is the author of numerous other books on religious affairs. In February 2008 she was awarded the TED Prize and began working on the Charter for Compassion, created online by the general public and crafted by leading thinkers in Judaism, Christianity, Islam, Hinduism, and Buddhism. The charter was signed in November 2009 by a thousand religious and secular leaders. She lives in London.
Coverage from NPR
or
Not Currently Available for Direct Purchase