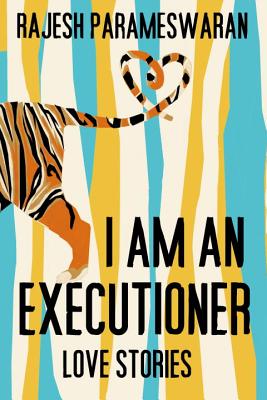 I Am an Executioner
Love Stories
Hardcover

* Individual store prices may vary.
Other Editions of This Title:
MP3 CD (4/10/2012)
Paperback (1/22/2013)
Hardcover (5/1/2012)
Description
An explosive, funny, wildly original fiction debut: nine stories about the power of love and the love of power, two urgent human desires that inevitably, and sometimes calamitously, intertwine.
In I Am an Executioner, Rajesh Parameswaran introduces us to a cast of heroes—and antiheroes—who spring from his riotous, singular imagination. From the lovesick tiger who narrates the unforgettable opener, "The Infamous Bengal Ming" (he mauls his zookeeper out of affection), to the ex-CompUSA employee who masquerades as a doctor; from a railroad manager in a turn-of-the-century Indian village, to an elephant writing her autobiography; from a woman whose Thanksgiving preparations put her husband to eternal rest, to the newlywed executioner of the title, these characters inhabit a marvelous region between desire and death, playfulness and violence. At once glittering and savage, daring and elegant, here are wholly unforgettable tales where reality loops in Borgesian twists and shines with cinematic exuberance, by an author who promises to dazzle the universe of American fiction.
Praise For I Am an Executioner: Love Stories…
"Delectable . . . Enchanting, engaging . . . Parameswaran's debut short story collection takes tried and true themes like identity and heritage and weaves them into a spectacular new tapestry. . . . No matter the subject, all are written with consistently smooth and elegant prose. [His] writing remains inviting and yet causally informative for anyone unfamiliar with minute details about Indian-American culture. Thankfully, the end result is not sappy, unnecessarily historical or frustratingly pedantic. The stories have the merit of keeping the reader's attention. . . . [A] worthy addition to your summer reading list [and] a book that cements Parameswaran's place as a writer to watch." —Ryan Strong, New York Daily News 
 
"Bold and fiercely imaginative, captivating and surprising . . . Parameswaran has put together a selection of love stories that are anything but typical. His stories range from the thoughts of a fugitive tiger on an unintentional killing spree, to a geriatric love triangle played out in film, to interspecies relations on an alien planet where killing your mate is the norm. Each story speaks of love in its own way: violent, tender, thoughtless, fleeting, strong, empty, natural, romantic, enduring. How is love expressed? And what does that expression lead to? Love is ubiquitous, but it's also incredibly diverse, as the characters in I Am an Executioner show. . . . Each story draws you in and keeps you there, enthralled, to the end. . . . Dark and intense, quiet and strong, a fascinating study of love in all its forms."—Leah Sims, Portland Book Review 
 
"I Am an Executioner has the power to change your definition of love. Imaginative and rich in their prose, yet darkly humorous and at times stomach-turning, each story is unique in its concept and process. In fact, the title describes the author well—he is a superb executioner of short fiction. This powerful collection is not for the faint of heart." —Vivienne Finche, Sacramento News & Review 
 
"When you read [the stories in I Am an Executioner] in succession, noting the subtle ways in which they play off each other, what emerges is a distinct sensibility and storytelling flair. [It] bears the subtitle 'Love Stories,' but this is not the stuff of conventional romance: layers of doubt and betrayal run through these stories, even the ones that are about genuinely caring relationships. At least four of the pieces involve people hiding significant things from their spouses, but one never gets a sense of repetition; instead, it's as if the angle of a mirror has been slightly altered to give us a new perspective on love and its possibilities. . . . This is a difficult book to categorise. It could be said that it is about passionate and duplicitous lovers, about narrators who are unreliable and deeply perceptive in turn, about animals and extraterrestrials who are strangers to people, and about people who are strangers to each other. But ultimately, a clinical listing of 'abouts' is an inadequate way to describe such a varied yet organically linked collection. This is among the most stimulating story collections I've read in a long while, and a reminder of the possibilities that still exist for short fiction in a jaded, post-post-modern world." —Jai Arjun Singh, The Sunday Guardian 
 
"Don't be misled by the subtitle of this offbeat debut collection: for Parameswaran, 'love' bespeaks deadly passion. These tales, with their grotesque imagery and bathetic reversals in tone, [contain] flashes of brilliance. Parameswaran shows a mastery of perspective and voice that hints at greater things to come." —David Evans, Financial Times (May 26, 2012)
 
"The aphorism says a 'thin line' divides love and hate, but in fact they operate more like two circles in a Venn diagram with a thin sliver of overlap. All of the stories in I Am an Executioner live in that borderland where love and hate intersect. His stories spring from an incredibly diverse group of characters. . . . Phenomenal." —Catie Disabato, Full Stop 
 
"This smorgasbord of stories explores love's dark underbelly with a remarkably broad purview. . . .The title story is deeply affecting, at times devastating. Parameswaran has a sharp sense of what makes a story work, his stories reveal their mysteries gradually, and very cleverly zero in on the heart of the matter. . . . Unsettling but highly inventive." —Nauman Khalid, Huffington Post UK 
 
"Love in Parameswaran's debut takes a darker, less expected form. In nine tales, [he] presents the world through the eyes of the misunderstood, the murderous, the megalomaniacs, and the mad. In these tales, tenderness blends in disturbing seamlessness with bloodthirst, and violence is carried out with quiet intimacy. Yet these stories, as the collection's cover suggests, are not without a certain strange humor. They are not bleak, nor are they sadistic . . . Parameswaran creates a tone all his own, something like an even blend of Roald Dahl as he wrote for children and Roald Dahl as he wrote for adults. Even as his stories twist and turn, mounting in horror, I can imagine them paired with the whimsical illustrations of Quentin Blake. . . . The author's ability as a sculptor of the written word is dazzling. . . . [His] blend of horror, tenderness, and humor works as it does because beneath its violence and wit lies compassion for even the most deeply disturbed among us. Despite their eccentric appearances, these are but stories of universal human experience, twisted slightly. . . . Triumphant." —Mia Nakaji Monnier, Hyphen Magazine

"Dangerous, misunderstood creatures—a man-eating tiger, a wild elephant, and the title executioner, to name just a few—populate Parameswaran's debut collection of stories, [which] offers a fiercely creative vision of what it takes to stay alive. As the title suggests, where there is love, death is near, [but] these stories are more than well-executed variations on a theme. In some of these stories' finest moments, Parameswaran patiently teases out the most tender, human impulses of his characters—from the classified agent who struggles with her urge to simply to tell her husband about her day to the quack doctor [who] derives a real glimmer of joy from believing he has 'helped, not harmed' a fellow being. Death may be inescapable, but life is still a tender thing to be savored. . . . These stories are without fail brightly original, and despite his dark themes, there's a real levity in Parameswaran's writing. This is a world of many fools, but few villains—a world where tragedy and farce are plentiful but evil is debatable: for every death or disappearance in this collection, there's a wink." — Mythili Rao, The Daily Beast 
 
"A compulsive and infectious narrative restlessness marks Parameswaran's first collection. And although tagged with the subtitle 'Love Stories,' Parameswaran's work demonstrates about the same relationship to traditional literary debuts as the insects in his strange and beautiful story 'On the Banks of Table River [Planet Lucina, Andromeda Galaxy, AD 2319]' do to the earthlings who have colonized their planet. His storytellers are wedded to a 21st-century experimentalism, continually uncaging themselves from realist fiction. From tigers and elephants [to] a man in a yellowing photograph [and] a fiercely committed spy, they form an unpredictable and often charming cavalcade, revealing both the particularity of what they perceive and the extent of what they misunderstand, or simply miss. Raptly attentive to their own narratives, they gradually paint us into corners; we must peer around and above them. . . . Parameswaran's characters, humans and animals both, find themselves puzzled by love and power, devotion and detachment. [His] stories combine narrative brio, ringing voices and beguilingly looped plots. . . . Realist revelation and postmodern speculation proceed in parallel. . . .These are very much stories that make us 'wonder the universe.'" —Chandrahas Choudhury, The New York Times Book Review 
 
"Parameswaran's prose has the tender-savage texture of a rare steak veined with blood."—Nina Martyris, The Millions 
 
"Compelling. . . . In Parameswaran's universe, some of the people and places may seem familiar; others are quite obviously figments of an imagination that freewheels in style. Each story is distinct and intricately crafted, with characters come to life with his storytelling, which is a wonderfully balanced potpourri of morbidity, humour and sensitivity. There are no loose ends, no repeated voices. It's almost as though Parameswaran, who was born in India but raised in America since he was a baby, set himself a new challenge with each story. . . . All those who had resigned themselves to fictional Indian immigrants being predictable, boring and flat, pour yourselves a drink and raise a toast to Parameswaran. Desis haven't been this much fun in the pages of a book in years. . . . [A] very impressive debut." —Deepanjana Pal, Mumbai Boss 
 
"Strange, magical love stories . . . Worlds of unrestrained creativity . . . Very dark and yet very funny." —Tarra Gaines, Culture Map Houston

"In spite of its title, death, not love, is the subject of Rajesh Parameswaran's debut collection. His tales play with mortality so frequently that doom and destruction merely become props in a series of dark, comedic circumstances. . . . The author expertly outfits each protagonist with a distinctive inner monologue that feels richly authentic. . . . Less a commentary on the desensitized nature of the modern world, Parameswaran is comparing the awkward, inescapable facets of everyday life—work, romance, familial exchanges—with the awkward, inescapable reality of death. I Am an Executioner won't be tossed around at tea parties, but it's a heck of a way for an author to make an entrance—if, admittedly, a bloody one. Four stars." —Josh Davis, Time Out New York

"[I Am an Executioner] opens with 'The Infamous Bengal Ming,' narrated by a tiger who expresses affection for his keeper in the only language available to him, a fatal combination of mauling and love-biting; he then escapes the zoo to commit other acts of mayhem, under which lies a misunderstood tenderness. This tour de force sets the tone and the stage for these dark, rollickingly imaginative stories in which the powers of love and savagery are loosed upon each other again and again. . . . Parameswaran is a dazzlingly versatile stylist and the conceits and voices here are varied and evocative. An inventive, impressive and witty book." —Kirkus Reviews (starred review) 
 
"The nine stories that make up I Am an Executioner: Love Stories are virtuosic, summoning some of the wildness of the tiger that graces the cover. . . . The stories aren't experimental so much as they are vibrantly, raucously creative. . . . Like a great poet working in rhyme, [Parameswaran] can employ established forms to startling effect. . . . fabulously inventive and heterogeneous." —Jacob Silverman, Capital New York 
 
"Masterful.. . . abundantly inventive, deceptively cunning, and fearless. I Am an Executioner marks the advent of a genuinely distinctive voice in American fiction. In this intriguing alternate universe, exotic aliens turn out to be surly, lovelorn teens, zoo animals fall murderously in love with their captors, and elephants engage in violent clan feuds worthy of Elizabethan drama. Parameswaran has the knack for mimicry and ventriloquism of a born outsider, guilelessly transporting the reader into a Swiftian upside-down-land where the rules of logic and of sense have been temporarily suspended. One character has 'the air of someone who had been dropped here from another planet, fascinated but flummoxed'; another observes that 'children are monsters, strange versions of ourselves.' All of these narrators—animal, human or alien—feel themselves to be strangers, exiles from the familiar and the mundane. 'We are just visitors,' says one, of the world around him. 'None of it is our own.' This gift for the unusual perspective results in a debut collection of startling freshness and force." —Michael Lindgren, The Washington Post 
 
"This collection fizzes with a mesmeric, restless energy. Rajesh Parameswaran makes us believe the unbelievable—in his hands the fantastic becomes intimate and human."—Tash Aw, author of The Harmony Silk Factory

"Lethal innocence and the uncanny pairing of brutality and tenderness [shapes] Parameswaran's macabre love stories. A thoughtful zoo tiger is only trying to express love when he inadvertently goes on a killing spree. The thin line between freedom and imprisonment is traced to provocative effect in a story told by a captured elephant, though the footnotes written by her alleged translator, a curious sort of elephant-man obsessed with suicide, take over her narrative. Venturing into Kafka and Borges territory, Parameswaran writes pristine, even serene prose that flows in disquieting counterpoint to the grotesqueness of most of his tales, with one sterling exception, the heartbreaking, Chekhovian story about an aging art director helplessly in love with the wife of a world-famous filmmaker. A potent, haunting, darkly sublime, and completely compassionate debut collection." —Donna Seaman, Booklist (starred review)

"In the staggering title story, the awkward, love-starved narrator maneuvers between his day job finishing off convicted criminals and his home life, where he tries unsuccessfully to reassure his new wife that he's not as bad as his profession would imply. His poetic, if exaggerated, Indian English creates its own cadence just as his compulsive justification creates its own logic . . . Parameswaran should be applauded for pushing the limits of genre and for the searing brilliance of his language. . . . [An] admirably risky debut collection."  —Publishers Weekly

"Parameswaran writes like a demon. . . . When you read this, you will be telling everyone you know about this book."  —Jason Rice, Three Guys One Book

"To claim that an author has written inventive stories about love conjures up many possibilities, but none will compare to the fertile imaginings of Rajesh Parameswaran. His debut collection, I Am an Executioner, is filled with the voices of astonishing characters—a misunderstood tiger, a strip mall con man who opens a medical clinic with only library texts to guide him, an executioner, a surveillance agent, a pompous railway manager, and more—whose pitch-perfect stories recalibrate the notion of love and power with dark humor and unbearable tenderness." —Walter Mosley
 
"I Am an Executioner is intelligent and hilarious and wildly imaginative. Parameswaran explores with great delicacy that fraught line between provincial life and modern times. There are traces of Chekhov in his writing. These stories have the power to endure." —Saïd Sayrafiezadeh, author of When Skateboards Will Be Free
 
"Stories that are savagely funny, stories that haunt and sear and stun, stories so original they defy categorization—above all, stories generously laden with sheer reading pleasure: I Am an Executioner is a brilliant and spellbinding collection." —Manil Suri, author of The Death of Vishnu

"Brilliantly unnerving, wickedly funny, and deeply satisfying. These are ferocious stories about the power of love both to save and destroy, and what can happen to us when we succumb to our true animal natures. Rajesh Parameswaran writes with elegance and style and a fiendishly seductive wit that will take your breath away. An astonishingly original debut by a writer to reckon with." —Julie Otsuka, author of The Buddha in the Attic
 
"The characters in this first collection, including a frustrated Bengal tiger and a woman gamely managing Thanksgiving dinner with her husband sprawled dead on the floor, suggest an offbeat temperament at work. The venues where these stories have appeared—e.g., McSweeney's, Granta, and Zoetrope—suggest talent at work as well. Great expectations!" —Library Journal 
 
"I Am an Executioner gets the pulse racing from word one. I love Rajesh because his last name is even more impossible than my own, and because he has redefined the American short story for me. Bravo!" —Gary Shteyngart, author of Super Sad True Love Story
 
"Wonderful stories—like small, deft carnivals entering our desert cities and cranky towns to, for a while, muster us into feeling, resolution, and happiness, before they go on their way.  We can't help but be grateful for them." —Charlie Smith, author of Word Comix: Poems
 
Knopf, 9780307595928, 272pp.
Publication Date: April 10, 2012
About the Author
Rajesh Parameswaran's stories have appeared in "McSweeney's, Granta, Zoetrope: All-Story, "and "Fiction. ""The Strange Career of Dr. Raju Gopalarajan" was one of three stories for which "McSweeney's "earned a National Magazine Award in 2007, and it was reprinted in "The Best American Magazine Writing. "He lives in New York City.
or
Not Currently Available for Direct Purchase