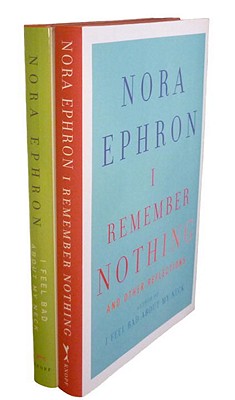 The Nora Ephron Collection Bundle: I Feel Bad about My Neck/I Remember Nothing (Hardcover)
I Feel Bad about My Neck/I Remember Nothing
Knopf, 9780307596840
Publication Date: November 9, 2010
* Individual store prices may vary.
or
Not Currently Available for Direct Purchase
Description
The perfect holiday gift: a pair of hilarious books from the "wickedly witty and astute" Nora Ephron, a "crackling smart cultural scribe" ("The Boston Globe") whose insights and observations have made her a heroine to women all over America.
Critics and readers embraced the nationwide best seller "I Feel Bad About My Neck--""Marvelous" ("The Washington Post"); "Sparkling" ("Ladies' Home Journal"); "Delightful" ("The""New York Review of Books")--and applauded Ephron for "mak ing] the truth about life so funny" ("The""Sunday Times, "London). In "I Remember Nothing "the beloved humorist returns with more razor-sharp reflections on growing older in the twenty-first century, along with those stories from the past she hasn't (yet) forgotten.
I Feel Bad About My Neck
and Other Thoughts on Being a Woman
With her disarming, intimate, completely accessible voice and dry sense of humor, Ephron shares with us her ups and downs in this wise, wonderful look at women of a certain age who are dealing with the tribulations of maintenance, menopause, empty nests, and everything in between. Ephron chronicles her life as an obsessed cook, a passionate city dweller, and a hapless parent. But mostly she speaks frankly and uproariously about getting older. Utterly courageous, unexpectedly moving, and laugh-out-loud funny, "I Feel Bad About My Neck "is a scrumptious, irresistible treat of a book.
I Remember Nothing
and Other Reflections
Ephron takes a cool, hard, hilarious look at the past, the present, and the future, writing about falling hard for a way of life ("Journalism: A Love Story") and breaking up even harder with the men in her life ("The D Word"); revealing the alarming evolution, a decade after she wrote and directed "You've Got Mail, "of her relationship with her in-box ("The Six Stages of E-mail"); and asking the age-old question, which came first, the chicken soup or the cold? All the while, she gives voice to everything women have been thinking . . . but rarely acknowledging. Filled with insights and observations that instantly ring true--and could have come only from Nora Ephron--"I Remember Nothing" is pure joy.
" Ephron] retains an uncanny ability to sound like your best friend, whoever you are . . . Some things don't change. It's good to know that Ms. Ephron's wry, knowing X-ray vision is one of them." " --The New York Times"
"Nora Ephron has become timeless." --"Los Angeles Times Book Review
"
About the Author
Nora Ephron is the author of the huge best seller "I Feel Bad About My Neck "as well as" Heartburn, Crazy Salad, Wallflower at the Orgy, "and "Scribble Scribble. "She recently wrote and directed the hit movie "Julie & Julia "and has received Academy Award nominations for Best Original Screenplay for "When Harry Met Sally . . ., Silkwood, "and "Sleepless in Seattle, "which she also directed. Her other credits include the script for the current stage hit "Love, Loss, and What I Wore "with Delia Ephron.""She lives in New York City with her husband, writer Nicholas Pileggi.
Advertisement