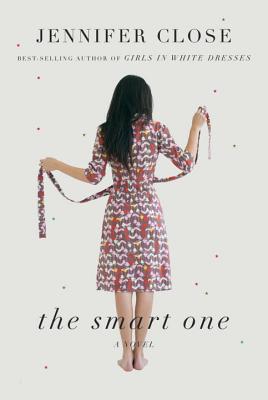 The Smart One
Hardcover

* Individual store prices may vary.
Other Editions of This Title:
Digital Audiobook (4/1/2013)
Paperback (7/16/2013)
Compact Disc (4/2/2013)
Description
With her best-selling debut, Girls in White Dresses (An "irresistible, pitch-perfect first novel" —Marie Claire), Jennifer Close captured friendship in those what-on-earth-am-I-going-to-do-with-my-life years of early adulthood. Now, with her sparkling new novel of parenthood and sibling rivalry, Close turns her gimlet eye to the only thing messier than friendship: family.

Weezy Coffey's parents had always told her she was the smart one, while her sister was the pretty one. "Maureen will marry well," their mother said, but instead it was Weezy who married well, to a kind man and good father. Weezy often wonders if she did this on purpose—thwarting expectations just to prove her parents wrong.

But now that Weezy's own children are adults, they haven't exactly been meeting her expectations either. Her oldest child, Martha, is thirty and living in her childhood bedroom after a spectacular career flameout. Martha now works at J.Crew, folding pants with whales embroidered on them and complaining bitterly about it. Weezy's middle child, Claire, has broken up with her fiancé, canceled her wedding, and locked herself in her New York apartment—leaving Weezy to deal with the caterer and florist. And her youngest, Max, is dating a college classmate named Cleo, a girl so beautiful and confident she wears her swimsuit to family dinner, leaving other members of the Coffey household blushing and stammering into their plates.

As the Coffey children's various missteps drive them back to their childhood home, Weezy suddenly finds her empty nest crowded and her children in full-scale regression. Martha is moping like a teenager, Claire is stumbling home drunk in the wee hours, and Max and Cleo are skulking around the basement, guarding a secret of their own. With radiant style and a generous spirit, The Smart One is a story about the ways in which we never really grow up, and the place where we return when things go drastically awry: home.
Praise For The Smart One…
"As in her previous novel Girls in White Dresses, Close nails the yearning, confusion, fear and bravado that characterize contemporary young adulthood. . . . Wit and vibrant characters make The Smart One an engaging exploration of a thoroughly modern family dynamic." —Robin Micheli, People
 
"The Smart One has such authentic, multifaceted characters. . . . Close does a great job of creating these protagonists. They had depth, they were distinct from each other, and their motivations were believable. . . . [Close] is a strong writer, and other people will connect with the well-drawn protagonists of this novel." —Marisa Atkinson and Casey Peterson, Book Riot

"If you're looking for the literary equivalent of HBO's Girls, then check out Jennifer Close's debut novel, Girls in White Dresses, which charts the travails of flailing twentysomethings. Her follow-up, The Smart One, feels the way Girls could circa season 6, when 'almost getting it kind of together' ceases to be cute. . . . This bighearted novel examines a generation of nonstarters with a mix of empathy and Close's signature deadpan, pathos-driven humor." —Stephan Lee, Entertainment Weekly

"Close's gift as a writer is her spare but delicious prose and unflinching way of describing her characters." —Marissa Stapley Ponikowski, The Globe and Mail
"A pleasure to read." —Sherryl Connelly, New York Daily News
 
"Close's sophomore effort (after her acclaimed and best-selling Girls in White Dresses) is a well-written family drama in which all the characters keep moving forward, but not all the loose ends are completely and neatly tied. . . . Sure to please." —Karen Core, Library Journal

"I want to be friends with all of the narrators of Jennifer Close's addictive novel." —Megan Angelo, Glamour

"While Claire, older sister Martha, younger brother Max, and the rest of the Coffey family try to navigate the logistics of having adult children return to the previously empty next, they realize that no right answers can be found in any parenting manual. The Smart One focuses on the intersections of self-discovery, independence, and reliance in the modern family, all enlivened by Close's signature wit and warmth. Close does an admirable job of equally voicing the Coffey children, straining to reevaluate their priorities under a shared roof, and the Coffey parents, aching to provide guidance without wanting to seem heavy-handed. A touchingly tender, emotionally honest novel about shifting priorities and the nontraditional career paths so many find themselves on." —Stephanie Turza, Booklist
 
"Close, whose first novel (Girls in White Dresses, 2011) romped with recent college grads newly on their own, focuses here on two sisters on the cusp of 30, both torn between independent womanhood and lingering dependence on parents. . . . Martha, who has always been needy and socially off-kilter, steals the novel . . . The friction between the sisters is palpable and real. . . . The novel sings in the small moments when its women express uncomfortable truths, undercurrents of sibling resentment and parental disappointment, which usually remain unspoken. . . . Perfect for the beach or a long plane trip." —Kirkus
 
"The Smart One is emotionally engaging and thoughtful; like Anne Tyler, Close goes straight into the heart of a group of people to show all its flawed, complicated members clearly and deftly and totally without judgment. There is not one dull moment—Close is a subtle and incisive writer who gets better with each new book." —Kate Christensen, author of The Astral
Knopf Publishing Group, 9780307596864, 339pp.
Publication Date: April 2, 2013
About the Author
Jennifer Close is the best-selling author of "Girls in White Dresses." Born and raised on the North Shore of Chicago, she is a graduate of Boston College and received her MFA in fiction writing from the New School in 2005. She worked in New York in magazines for many years. She now lives in Washington, DC, and teaches creative writing at George Washington University.
What do the descriptions of Claire's relationships with Doug [pp. 7–10], her friends [p. 5–6], and her boss [p. 11] establish about her? Are her reactions to the broken engagement and her financial situation typical? To what extent is her situation the result of own her choices?
Martha is initially presented through her perceptions and assessments both of herself and of the people with whom she interacts [pp. 21–37]. What particular observations undermine or belie Martha's general sense of self-satisfaction and self-approval?
"Why," the author says about Weezy, "did everyone act like it was so wrong of her to want her children to be happy and healthy and successful and settled?" [p. 47] What role do the notions of a child's failure, success, and personal happiness play in the way we evaluate ourselves (or others) as parents?
What is the significance of Weezy's secret meetings with wedding-service providers after Claire's engagement is called off? What needs does the admittedly embarrassing activity fulfill for her?
Is Will the more realistic parent? In what ways does he embody the traditional attributes of a husband and father? How does the relationship between husband and wife shape their attitudes about the children? Discuss, for example, the import of the author's statement about Weezy: "Of course she worried about them. That was what mothers did, wasn't it? Will had the luxury of knowing that she was taking care of the worrying and so he didn't have to." [p. 52]
"Elizabeth was different from other mothers—Cleo knew that from the time she was about four." [p. 55] Is Elizabeth a "bad mother"? Are there aspects of her parenting style you find acceptable and even admirable? How has her approach affected Cleo and her relationships with other people?
Why does Claire get involved with Fran? What impact do her memories of high school have on her behavior? Do Claire and Fran have similar motivations for embarking on an affair? Is their relationship understandable, or does it show a lack of judgment and maturity?
In discussing Claire with her therapist, Martha maintains "things come pretty easily for her" [p. 171]. What does this demonstrate about the way Martha chooses to present not only her sister but also herself? In what ways does Martha exploit and manipulate the personality traits and quirks the Coffeys ascribed to each child when they were growing up?
Is it common for families to assign roles to each person (i.e., the smart one, the sensitive one, the irresponsible one)? Why is it difficult for adults to escape these labels? Which character in the novel do you think the title refers to?
Cleo muses, "[Max's] whole life, people had been doing things for him, telling him how cute and funny he was . . ." [p. 67]. How has Max's position as the youngest child—and only son—in the family shaped the way he sees the world? What aspects of his personality help him cope with Cleo's pregnancy and its repercussions? Is he in some ways better prepared for parenthood than Cleo is?
What kind of mother do you think Cleo will be? Will she take after Elizabeth, or will Weezy become her model? Will she and Max stay together?
Discuss the concepts of independence and dependency within a family. How do Martha, Claire, and Max reflect or challenge your definitions? How do Cleo and Elizabeth fit into your understanding of the expectations of support and compassion among family members?
Weezy notes that there is an "epidemic" of children moving back home with their parents [p. 101]. Do you agree that both generations have accepted and even welcomed this trend? What are the practical, psychological, and cultural implications for both parents and adult children?
From Max and Cleo's life at college, to Martha's behavior at her jobs, to family interactions at the beach and at various gatherings, the author vividly portrays the small moments of daily life. Discuss the particular images, comic touches, and domestic and familial details that resonate with you and capture universal experiences and feelings.
or
Not Currently Available for Direct Purchase