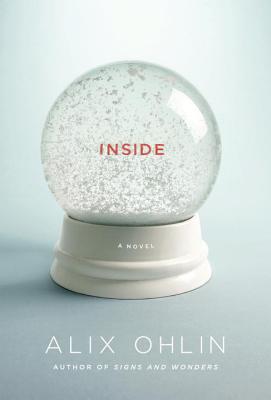 Inside
Hardcover

* Individual store prices may vary.
Other Editions of This Title:
Digital Audiobook (6/28/2012)
Paperback (3/26/2013)
Description
A skillful storyteller . . . attractively quick-witted and wry. J. M. Coetzee
Ohlin has a great eye, a great ear, and all the other equipment auguring a very successful future. Jay McInerney
Expect to hear her spoken of in the same reverent breath as Lorrie Moore and Joy Williams. Heidi Julavits
From the highly acclaimed author of "The Missing Person" and "Babylon and Other Stories," a resonant novel of entwined lives and a woman with an unsettling ability to broach the innermost dynamics of the people around her.
When Grace, an exceedingly competent and devoted therapist in Montreal, stumbles across a man who has just failed to hang himself, her instinct to help kicks in immediately. Before long, however, she realizes that her feelings for this charismatic, extremely guarded stranger are far from straightforward. In the meantime, her troubled teenage patient, Annie, runs away from home and soon will reinvent herself in New York as an aspiring and ruthless actress, as unencumbered as humanly possible by any personal attachments. And Mitch, Grace's ex-husband, who is a therapist as well, leaves the woman he's desperately in love with to attend to a struggling native community in the bleak Arctic. We follow these four compelling, complex characters from Montreal and New York to Hollywood and Rwanda, each of them with a consciousness that is utterly distinct and urgently convincing. With razor-sharp emotional intelligence, "Inside" poignantly explores the many dangers as well as the imperative of making ourselves available to and responsible for those dearest to us.
Praise For Inside…
"A woman mistakes a man for a log—and so starts Alix Ohlin's engrossing novel, Inside. The novel jumps between decades, locations and characters with a precision that makes Ohlin's hard work seem effortless. The novel is full of surprises and things to admire, but the writing is genuinely clever because it always serves the characters. Inside is a novel about people. It is beautifully crafted and beautifully told." —From the citation for the Scotiabank Giller Prize nomination

"Spanning a twelve-year period, the story moves briskly between New York, Los Angeles, Montreal, Kigali, and the Inuit community of Iqaluit. As the protagonists try, and fail, to establish connections with other human beings, Ohlin charts their small victories and larger disappointments. She is skilled at making her chilly cast of characters accessible, and even their most unlikely actions make sense, thanks to her tightly drawn portraits. And, while the novel's premise is hardly comic, its Hollywood scenes show off the author's satiric flair." —The New Yorker

"Alix Ohlin's wondrously engrossing Inside and Signs and Wonders display her characteristic strengths—dynamic plots, keenly observed settings, and characters so idiosyncratic, ambivalent, and contradictory they could be your family, your neighbors, people you work with… She has a rare gift for examining the confusions of the 21st century, exploring the ways in which addictions, afflictions, attractions, and random impulses shape our lives.  Her intense and beautifully shaped new novel and stories offer tentative yet illuminating answers." —Jane Ciabattari, The Boston Globe

"A writer who should be famous… Ohlin has as unsettling an old soul as Leonard Cohen's." —T.F. Rigelhof, The Globe and Mail (Toronto)

"Superb [and] captivating… Next to brilliant phrases and scenes of laugh-eliciting satiric jabs, there are brutal, heartbreaking circumstances." —Bret Josef Grubisic, National Post

"Ohlin's combination of smooth prose, thematic reach and structural ambition makes for a novel that is both easily accessible and demanding in the best of ways… What's true of all good fiction applies even more emphatically here: Inside, though fully satisfying the first time through, all but demands a second reading. It's something most readers will be more than happy to do." —Ian McGillis, Montreal Gazette

"An original novel about a timeless theme: the persistent difficulty of loving and well-meaning people to connect to one another.... Ohlin writes in elegant prose that is flush with wit and style, as clever and smooth as Lorrie Moore.... The closing lines of Inside are like a rose in winter bloom. Ohlin's novel runs with an undercurrent of hopelessness. Her characters have a hollow-ness inside. But Inside is, ultimately, a novel about hope. It begins with a gesture of despair and ends with one of promise. Who are these people? They are all of us." —Sean Carman, The Rumpus

"Twisty, clever, and captivating... Dynamic.... There's no fuss in Ohlin's pointed prose, but plenty of insight... the title also makes for an unintended endorsement of Ohlin's skills; this cunning writer yanks you inside her world." —Mary Pols, The Philadelphia Enquirer

"Can any of us really save another person?  Or is each of us solely responsible for his or her own life?  That's the question lurking behind [this] astute novel... Ohlin is a master short-story writer (see Signs and Wonders), and the early chapters may feel like discrete tales. Very soon, though, you'll see how they're all intertwined." —Leigh Newman, Oprah.com

"Twisty, clever, and captivating… this cunning writer yanks you inside her world." —Mary Pols, The San Francisco Chronicle
"Psychologically astute, emotionally resonant… Ohlin allows her readers to know her characters more fully than any of them will ever know each other… A quiet novel populated with beautifully drawn, complex characters that will get inside the heart as well as the head." —Florina Pendley Vasquez, Shelf Awareness

"You can't help but become invested in Inside. Ohlin displays a profound empathy for people at their least rational—and most human." —Entertainment Weekly

"A memorable read….consistently surprising, often devastating as the protagonists find themselves unable to share what's on the inside." —BookPage

"Alix Ohlin is a crazy talented writer, smart and soulful.  Inside is, in a word, stunning." —Beverly Lowry

"In her gripping novel, Alix Ohlin covers vast geographical and emotional territory.  With extraordinary power, she takes us inside the profound and fragile connections of her deeply human characters—each searching for salvation from the past while struggling to find forgiveness and redemption in the present.  This story of surprising turns, grace, and compassion left me feeling that my world and my heart had grown larger." —Keith Scribner
 
"We're lucky to live in a world with a writer as gifted and as graceful as Alix Ohlin. This book is instantly engrossing, engaging, and moving. I began to think I lived inside of this beautiful and absorbing novel, so real were her characters, so complicated and human their plights." —Robin Romm
 
Knopf Publishing Group, 9780307596925, 257pp.
Publication Date: June 5, 2012
About the Author
Alix Ohlin is the author of "The Missing Person," a novel; "Babylon and Other"

"Stories; "and "Signs and Wonders, "a new collection. Her work has appeared in "Best American Short Stories," "Best New American Voices," and on public radio s "Selected Shorts." She lives in Easton, Pennsylvania, where she teaches at Lafayette College."
Book Videos
or
Not Currently Available for Direct Purchase