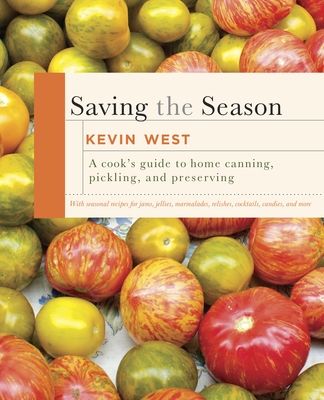 Saving the Season
A Cook's Guide to Home Canning, Pickling, and Preserving: A Cookbook
Hardcover

* Individual store prices may vary.
Description
The ultimate canning guide for cooks—from the novice to the professional—and the only book you need to save (and savor) the season throughout the entire year

"Gardening history, 18th-century American painters, poems, and practical information; it's a rich book. And unlike other books on preserving, West gives recipes that will goad you to make easy preserves." —The Atlantic

Strawberry jam. Pickled beets. Homegrown tomatoes. These are the tastes of Kevin West's Southern childhood, and they are the tastes that inspired him to "save the season," as he traveled from the citrus groves of Southern California to the cranberry bogs of Massachusetts and everywhere in between, chronicling America's rich preserving traditions.
 
Here, West presents his findings: 220 recipes for sweet and savory jams, pickles, cordials, cocktails, candies, and more—from Classic Apricot Jam to Green Tomato Chutney; from Pickled Asparagus with Tarragon and Green Garlic to Scotch Marmalade. Includes 300 full-color photographs.
Praise For Saving the Season: A Cook's Guide to Home Canning, Pickling, and Preserving: A Cookbook…
One of The Atlantic's Best Food Books of the Year • A Los Angeles Times Holiday Gift-Giving Pick

"Restaurants everywhere serve pickled everything even in the height of growing season, to show they've gotten with the grow-your-own program. This still seems to be a step farther than even diehard farmers-market shoppers are willing to take. But maybe they'll be convinced by Kevin West's Saving the Season—as much by its stylishness . . . and storytelling. . . . [West] brings in gardening history, 18th-century American painters, poems, and practical information; it's a rich book. And unlike other books on preserving, West gives recipes that will goad you to make easy preserves." —The Atlantic (One of "The Best Food Books of 2013")

"A pleasure to read. West includes short profiles of his favorite farmers and farm adventures, from Santa Monica market heroes such as Windrose Farms' Bill and Barbara Spencer, to a weekend-long ramp dig in West Virginia. . . . As pleasurable (and useful) for the somewhat experienced canner as it is for the novice. . . . West's instructions are clear and precise. . . . He's got a good cook's curiosity, always wondering why things work the way they do and constantly on the lookout for new ideas. . . . Just leafing through the book, I found myself thinking 'Hmmm, I've got all those strawberries in the refrigerator.'" 
—Los Angeles Times

"I've never had the subject [of pickling] so thoroughly explored as in Kevin West's Saving the Season, his deep dive into the world of pickling, preserving, and home canning. . . . The breadth and depth of his knowledge about preserving is impressive, and I began to feel like I was understanding some concepts for the first time. The difference between high-acid and low-acid foods, the way he goes into every permutation of tomato as a condiment (sauce, jam, paste, broth, ketchup, barbecue sauce, confit), and his long discourse on forgotten "antique" fruits that taste best in fall (damsons, medlar, pyracantha, and beach plums) was all information presented to me in a handier, more straight-forward way than I'd had before. None of it was brand new, but it was all so simple because it was structured by someone who had a grasp on it. . . . [An] excellent argument . . . that there are still some things books do better than the internet." —Amanda Cohen, chef/owner of Dirt Candy

"Kevin West possesses a poet's mastery of language, and uses it to create vignettes that capture the essence of a fruit or vegetable's brief peak season as effectively as his recipes do. . . . [His methods work] time and time again, with little hoopla and ideal economy. . . . Little harmonies loft this book from eccentric to essential, and from my kitchen to my nightstand."
—Kat Kinsman, Eatocracy

"I would be smitten with Kevin West's Saving the Season: A Cook's Guide to Home Canning, Pickling, and Preserving even without its delectable recipes for Blackberry Jam With Gin and Persimmon Butter. Even with no recipes. A Tennessee native and former W magazine editor, West writes about the art of preserving with the eye of a painter and the soul of a poet. . . . West is on a quest to capture the timeless beauty of putting up food in jars so that its bright fresh flavor can be enjoyed when the orchard is barren. . . . This spectacular, accessible, 534-page tome deserves a special place on my kitchen shelf. Hands down, it's my favorite food book of the year." —Wendell Brock, The Atlanta Journal-Consitution

"[West's] bio alone made me want Saving the Season, but now that I've got it I'm buying a copy for everyone I know. . . . There are many lovely preserving books out there, but this comprehensive compendium is a canning category killer."
—Edible Manhattan
 
"A terrific guide to home canning and preserving. . . . Happily for home cooks, West is a small-batch kind of guy. He rarely calls for more than 3 pounds of any fruit or vegetable, so if an experiment goes awry (as preserving experiments will, especially in the early stages), the damage isn't too severe. . . . Not that that's so much of a concern. West's instructions are clear and precise, and his explanations of what is going on are thorough. "
—Philly.com

"A colorful tome chock-full of enticing recipes, endearing stories and eye-candy photography. . . . Saving the Season is a celebration of food and extending the flavors of fresh fare throughout the year."
—Poughkeepsie Journal
 
"Contains both simple formulas and more sophisticated recipes like cocktail onions and peach-passionfruit jam. . . . Practical."
—Julia Moskin, The New York Times

"Pleasant surprises await, in the book's unusual recipes and in the author's pectinlike ability to find the right set for blending food lit, essays and smart seasonality."
—The Philadelphia Inquirer
 
"West offers ideas for using what you've canned, pickled and preserved in unusual ways. . . . [Saving the Season] contains recipes you won't come across in the traditional canning manuals: pickled green almonds, which West suggests to replace olives in a martini; your own capers made from nasturtium pods. . . . I can already see the jars lined up in my pantry."
—The Register-Guard
 
"Encyclopedic. . . . West charts a personal, literary and cultural history of 'putting up' over the course of more than 500 pages, 220 recipes, and numerous essays. Writing on everything from food safety to Adriaen Corrte's 1704 painting Wild Strawberries in a Wan Li Bowl. . . . [He] possesses a rare ability. He can make a damn good jar of spiced fig jam and writes beautifully. . . . [And] he initiates the culinary handshake, and knowingly sparks the conversation, putting all parties at ease—this canning thing can be easy, delicious and fun. . . . Organized according to the season, West's book can be pulled and put to use at any time of year."
—TakePart

"A very creative book for the summer canning season. . . . West is an excellent story teller. . . . [He] has written a book that goes beyond the usual fruits, vegetables and pickles. . . . There is enough on marmalades to fill three cookbooks. . . . [It's] a pleasure reading someone who writes so well and has such fun, interesting side stories to tell. I know I'll be turning to it quite a bit this summer."
—Narsai David, Food & Wine Editor, KCBS (San Francisco)

"This cookbook is unlike any other on my shelf. West approaches his topic—home canning and preserving—with a reporter's attention to detail and a poet's sensibility; it's less a canning tutorial and cookbook than it is a collection of absorbing personal essays, literary excerpts, explications of culinary history, and friendly advice, all of which happens to be punctuated by appealing, easy-to-follow recipes. . . . The text dances on, its cadence dictated by the season, and while there are more than enough spring and summer recipes to keep you busy every weekend from now through the end of August (I, for one, can't wait to make my own Maraschino cherries), West's engaging stories will probably have you reading ahead, looking forward to homemade pumpkin butter and blood orange marmalade." 
—Saveur.com

"I love Kevin West's beautiful new book about canning, pickling, and preserving."
—Alice Waters

"Part cookbook, part manifesto, and part crypto-memoir . . . literate and lyrical and fanatically well researched. . . . The kind of cookbook you can read for pleasure. . . . It has more than 200 recipes but is shot through with little essays, too—about preserving, food gathering, gardening, family." 
—John Jeremiah Sullivan, Lucky Peach

"When is the last time you wanted to read a cookbook, not just use its recipes? . . . There have been bushels of cookbooks published on home preserving in recent years, but this comprehensive collection of more than 200 recipes is an essential guide for accomplished canners . . . as well as novices. . . . Author Kevin West's writing is beautiful, revealing canning lessons learned from friends [and] the traditions behind American preserving. . . . Filled with personal stories that show the connection between the garden and the dinner table, and how that can be extended to offer tastes of summer in the middle of winter. . . . There's so much wisdom here it's hard to put down, and literary references to opera, poetry and great writers open up a deeper level of thinking than most cookbooks can conjure."
—The Oregonian

"If you're looking to perfect your marmalade technique or learn how to make 'canned' salmon . . . , West will show you how. More interested in scavenging for pyrachantha berries on common L.A. sidewalk ground to make a jelly? You'll find useful tips here, too. . . . Regardless of your homemade cornichon and peach jam making experience, it's the stories here that will make you want to try West's versions. . . . We love how genuine West's personal reflections feel in an age when recipe headers often read like they came straight out of a 'branding 101' blog convention seminar. . . . It's earned a permanent spot on our cookbook shelf."
—LA Weekly (blog)

"Saving the Season reminds us why we preserve, its pages rich with the cuisine and culture we are connected to any time we stir a pot of jam or put up a jar of pickles. . . . Transcends what you might normally think of when you imagine a preserving cookbook. Both academic and soulful, it's the sort of book that you can carry into the kitchen, curl up with on the couch, and rely on for reference. . . . [Perfect for] anyone who likes cooking and seasonal eating, including both new and experienced food preservers; appreciators of history, art, literature, science, and culture. . . . If you buy only one preserving cookbook this year, or perhaps even in your lifetime, promise me you'll make it this one."
—The Kitchn.com

"The secret corner where nostalgia meets innovation is where all food thinkers do their best work. Kevin West carves out that nook for you. . . . Traditional and quirky alike, Saving the Season is an endearing, romantic, and most of all practical resource for everyone — whether [you are] cleaning out the fridge, making the rounds at the greenmarket or just late to a strawberry picking date with Grandma. I, for one, am inspired and obsessed!" 
—Christina Tosi, author of Momofuku Milk Bar
 
"Kevin West's enthusiasm is infectious and his recipes seductive. Whether you are at work in the kitchen or savoring it in your armchair, great pleasures await within in the pages of Saving the Season."
—Scott Peacock, co-author of The Gift of Southern Cooking
 
"Saving the Season is smart, romantic, poetic, and practical. . . . A damned good read and gorgeous photos, too."
—David Tanis, author of A Platter of Figs and Other Recipes

"A bounty of jelly, marmalade and pickle recipes, timely and timeless for today's cult of domesticity." 
—C, California Style magazine
 
"[A] liberal arts approach to recipes and stories focusing on . . . cuisine and culture. . . . About the past as much as the present."
—Women's Wear Daily
 
"This cookbook by West, journalist and home-canning blogger, venerates the art of 'putting up' seasonal bounty of regional hillside orchards, forests, and gardens. Southern roots and childhood memories of home canning with grandparents inspire West's passion for capturing the taste of the seasons in a jar. In an impressive practical guide rich in storytelling and culinary information, this self-described urban dweller who doesn't garden provides a thorough compendium of essential techniques for preserving the harvest.. . . . Because 'nature's bounty is abundant but fleeting,' West shows home cooks how to save the season through the tradition of canning."
—Publishers Weekly

"West, who is certified as a master food preserver by the University of California Cooperative Extension, explores the various preserves available through the four seasons. Each base recipe includes variations to please any palate. . . . Appendixes of peak seasons by region and tables of fruit varieties provide extensive information for cooks in any region. More than just recipes, the book also contains stories of the author's travels throughout the States, as well as regional preserving traditions. . . . A lot of information is packed into [Saving the Season], covering the basics of preserving along with easy to advanced recipes. The combination of recipes and musings makes this a great read both in and out of the kitchen."
—Library Journal
 
"With the present obsession among consumers for locally grown fruits and vegetables, the practice of putting up foods has undergone a renaissance. As West points out, the real goal of home canning, pickling, and preserving is to retain for future enjoyment the special flavors of foods freshly plucked from the earth or snatched from trees and vines. West's recipes, clearly written, cover everything from dill pickles to complex marmalades. Antique fruits appear as well as fiery kimchi. In addition to his recipes, West has scattered through the text reminiscences, anecdotes, and reflections on personalities associated in some way to the world of canning and preserving. . . . West's guide will prove invaluable."
—Booklist
Knopf, 9780307599483, 544pp.
Publication Date: June 25, 2013
About the Author
KEVIN WEST is from rural Blount County in eastern Tennessee. He attended Deep Springs, an experimental college in the White Mountains of California, and Sewanee: The University of the South. For thirteen years he was on the staff at W magazine, with postings in New York, Paris, and Los Angeles, where he was West Coast editor and where he still lives. He runs the blog SavingtheSeason.com; writes about food, culture, and travel; and produces a retail collection of jams and marmalades. He is certified as a Master Food Preserver by the University of California Cooperative Extension.
Book Videos