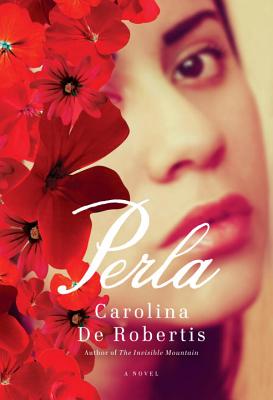 Perla (Hardcover)
Knopf, 9780307599599, 256pp.
Publication Date: March 27, 2012
* Individual store prices may vary.
or
Not Currently Available for Direct Purchase
Description
A coming-of-age story, based on a recent shocking chapter of Argentine history, about a young woman who makes a devastating discovery about her origins with the help of an enigmatic houseguest.
 
Perla Correa grew up a privileged only child in Buenos Aires, with a cold, polished mother and a straitlaced naval officer father, whose profession she learned early on not to disclose in a country still reeling from the abuses perpetrated by the deposed military dictatorship. Perla understands that her parents were on the wrong side of the conflict, but her love for her papá is unconditional. But when Perla is startled by an uninvited visitor, she begins a journey that will force her to confront the unease she has suppressed all her life, and to make a wrenching decision about who she is, and who she will become.
About the Author
CAROLINA DE ROBERTIS's debut novel, "The Invisible Mountain, "was an international best seller, translated into fifteen languages, and was an "O, The Oprah Magazine "2009 Terrific Read, a "San Francisco Chronicle "Best Book of the Year, and the recipient of the 2010 Rhegium Julii Debut Prize. Positive critical reception has amplified de Robertis's profile at the bookstores and online, and "Perla "will only increase the momentum.
Praise For Perla…
"This is one of those books that couldn't be timelier, more beautiful, or more wrenching. One young woman's journey into the dark heart of Argentina's Dirty War. De Robertis is an extraordinarily courageous writer who only gets better with every book." —Junot Díaz, Latina Magazine

"De Robertis brings the best of two cultures to bear in her work, melding the Latin literary tradition of magical realism with a thoroughly modern, politically charged North American sensibility. . . [her] extraordinary gift makes this brave, important book an object of beauty." —Meredith Maran, Chicago Tribune

"A gripping journey that's as heart-wrenching as it is healing; a reminder that the Disappeared must not be forgotten. . . . Both the story and prose flow like a glistening Rio de la Plata. . . De Robertis' writing from beginning to end hypnotizes with poetic, crushing beauty." —Cindy Wolfe Boynton, Minneapolis Star Tribune
 
"De Robertis holds the reader's attention with her entrancingly rhythmic and pulsating prose. . . [her] voice is distinctive and her novel vivid and memorable." —Sam Sacks, The Wall Street Journal

"In an artful blend of beauty and horror, De Robertis has made the disappeared visible once again. With that, she has done them—and us—a great service." —Marla Southgate, The San Francisco Chronicle
 
"Mesmerizing. . . a moving, poetic novel about the costs of revolution and the evolutionary process that is identity." —O, The Oprah Magazine

"It's no exaggeration to say I've rarely read a more poetic novel than Carolina De Robertis' Perla. What makes it doubly impressive is the subject matter that this author takes on. . . De Robertis is a new voice for Latin America, following in the footsteps of Isabel Allende, and dare I say it, Gabriel Garcia Marquez." —Herta B. Freely, Washington Independent Book Review

"De Robertis skillfully weaves a lyrical voice around her characters that treats victims, perpetrators, and bystanders with the same care and honesty. The result is a powerfully humanizing effort that examines a nation struggling with a very dark, recent past." —Library Journal (starred review)

"Lyrically combining into reality both the fantastic and the horrific, De Robertis weaves a beautiful and plain-faced tale about birth, rebirth, and the responsibility of inheritance from complex, startling history." —Annie Bostrom, Booklist (starred review)

"An elegantly written and affecting meditation on life in the wake of atrocity." —Kirkus Reviews
Why do you think the author paired a quote from Moby-Dick with one from the former commander of the Argentine army for her epigraph?
What do you think inspired twelve-year-old Perla to write a story that reflected badly on her own parents?
"I described my experience at Romina's bookshelves, opening volume after volume as if opening the gates to textual cities. In those cities, among those words and meanings, I said, the true trajectory of my life began" (page 77). How did Perla's experience with those books shape her future? What role do words and ideas play in her life, and in the novel?
Several times in the novel, the notion of "two Perlas" comes up. What did that mean to you initially, and how did your understanding change by the end of the story?
On page 64, Perla thinks, "This was how it worked, wasn't it? You don't walk in the truth, you walk in the reality you want to inhabit, you walk in the reality you can stand. This is how realities are made." What is the difference between truth and reality?
What did we learn from the story of the dead geraniums (chapter 5)?
On page 100, Héctor tells Perla, "It was war. It was a just war." How did he and Luisa justify their behavior? Do you think they were really as comfortable with it as they seemed?
Perla calls herself a coward more than once in the novel, until Gabriel finally insists she's brave. In what ways is each of them right?
"I did not want to erase the person that I'd been all these years when I did not know where I came from. However false my identity might be, it was the only one I had. Without it I was nothing" (page 201). Why does Perla feel this way? Ultimately, what changes her thinking?
Throughout the book, De Robertis uses water imagery. What is the significance when Perla drenches the home she grew up in (page 216)?
Why does the painting by Perla's aunt survive the destruction?
Most of the novel alternates between two points of view: Perla's and her birth father's. Why does De Robertis switch to Héctor's point of view for chapter 13, "Homecoming"?
Why do you think Héctor never comes after Perla? What do you think he would say to her if he did?
Why do you think the novel ends with Perla meeting her birth families?
Was the visitor real?
Advertisement