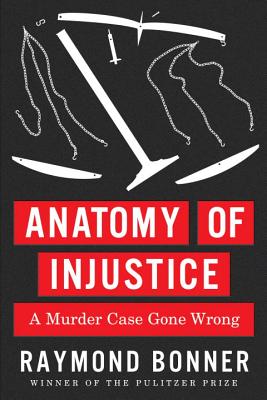 Anatomy of Injustice
A Murder Case Gone Wrong
Hardcover

* Individual store prices may vary.
Other Editions of This Title:
Digital Audiobook (2/20/2012)
Paperback (1/8/2013)
Hardcover, Large Print (7/26/2012)
MP3 CD (2/21/2012)
Compact Disc (2/21/2012)
Compact Disc (2/21/2012)
Description
Thebook that helped free an innocent man who had spent twenty-seven years on death row.
In January 1982, an elderly white widow was found brutally murdered in the small town of Greenwood, South Carolina. Police immediately arrested Edward Lee Elmore, a semiliterate, mentally retarded black man with no previous felony record. His only connection to the victim was having cleaned her gutters and windows, but barely ninety days after the victim's body was found, he was tried, convicted, and sentenced to death.
Elmore had been on death row for eleven years when a young attorney named Diana Holt first learned of his case. After attending the University of Texas School of Law, Holt was eager to help the disenfranchised and voiceless; she herself had been a childhood victim of abuse. It required little scrutiny for Holt to discern that Elmore's case plagued by incompetent court-appointed defense attorneys, a virulent prosecution, and both misplaced and contaminated evidence reeked of injustice. It was the cause of a lifetime for the spirited, hardworking lawyer. Holt would spend more than a decade fighting on Elmore's behalf.
With the exemplary moral commitment and tenacious investigation that have distinguished his reporting career, Bonner follows Holt's battle to save Elmore's life and shows us how his case is a textbook example of what can go wrong in the American justice system. He reviews police work, evidence gathering, jury selection, work of court-appointed lawyers, latitude of judges, iniquities in the law, prison informants, and the appeals process. Throughout, the actions and motivations of both unlikely heroes and shameful villains in our justice system are vividly revealed.
Moving, suspenseful, and enlightening, Anatomy of Injustice is a vital contribution to our nation's ongoing, increasingly important debate about inequality and the death penalty.
Praise For Anatomy of Injustice: A Murder Case Gone Wrong…
"Masterful . . . Eloquent, important, and accessible . . . The book of the century about the death penalty."
            -Andrew Cohen, The Atlantic
 
"Mesmerizing . . . Powerful . . . An utterly engrossing true-crime tale."
            -Kevin Boyle, The New York Times Book Review
 
"A genuine whodunit, a page-turner, and a tale of redemption. And it's all true. For all that, however, Anatomy of Injustice is also a blistering indictment of the death penalty . . . Bonner delivers a crackerjack feat of storytelling that steadily administers the truth about capital punishment like a slow, toxic IV drip . . . In his expert hands, the twists and turns of Elmore's appeals, and the gradual discovery of the travesties in the original investigation and trial by Holt's team, make for excruciatingly suspenseful reading."
            -Laura Miller, Salon.com
 
"Gripping and enraging . . . Bonner's book is not a treatise against the death penalty. Rather, it is a look at what happens in America's justice system when justice is absent."
            -The Economist
 
"Accomplished and meticulously researched . . . Convincing . . . As a piece of reporting, the book is masterful. Bonner builds the story, and his argument, carefully, rarely editorializing, mixing in a précis of capital punishment in the United States . . . Bonner's book is an important addition to the body of evidence against the death penalty."
            -Ethan Gilsdorf, The Boston Globe
 
"A revealing look at how police and courts grapple with death penalty cases . . . If you are a staunch advocate of the death penalty . . . you're precisely the person who should read Anatomy of Injustice."
            -Nicholas Varchaver, Fortune
 
"The investigation . . . makes for a gripping read, and exposes some outrageous failures of American justice."
            -"The Must List," Entertainment Weekly
 
"Compelling . . . Bonner makes us feel the frustration and inhumanity of a justice system gone awry."
            -Wilbert Rideau, Financial Times
 
"Fascinating . . . Anatomy of Injustice moves as swiftly as a great courtroom thriller, and Bonner's astutely observed characters are as memorable as any you're likely to encounter in a John Grisham-penned best seller."
            -Doug Childers, The Richmond Times-Dispatch
 
"One of the best books written about a dubious conviction . . . Bonner's volume is special for the way it entwines the lives of the principal characters with the nation's inglorious history of racial discrimination and capital punishment."
            -Rob Warden, Chicago Tribune
 
"Gripping, suspenseful, and electrifying . . . This should be required reading for anyone who believes in justice."
            -John J. Kelly, Cincinnati CityBeat
 
"A gifted storyteller, Bonner's prose is at once stately and matter-of-fact . . . In the context of true crime, of murder stories most especially, [Bonner's details] assume a captivating glow . . . As a portrait of contemporary American life, immersed in culture wars and classism, and clogged with the residues of racism, Anatomy of Injustice is authoritative and fascinating. As a study in how things can go from bad to worse, how entire lives can be crushed under the wheels of the justice system, it's also urgent and necessary."
            -José Teodoro, The Edmonton Journal
 
"A lucid, page-turning account . . . Elmore's defense winds through nearly three decades of legal maneuverings as suspenseful as the investigation of the mysterious crime itself. Painstakingly researched by Pulitzer Prize-winning journalist Bonner, the case illustrates in fascinating and wrenching specificity the widely acknowledged inequality and moral failings of the death penalty, while illuminating the less understood details of a criminal justice system deeply compromised by race and class. Indeed, Bonner's ability to succinctly and vividly incorporate the relevant case history and explain the operative legal procedures and principles at work—including the bizarre way in which court-acknowledged innocence is not necessarily enough to spare a life on death row—makes this not only a gripping human story but a first-rate introduction to the more problematic aspects of American criminal law."
            -Starred review, Publishers Weekly
 
"Fascinating . . . Dexterous . . . Well-researched . . . Bonner's description of decades of bungling is a reminder of the ways class and race can shape outcomes in the American legal system."
            -Margaret Quamme, The Columbus Dispatch
 
"Far-ranging in its implications, thoughtful, and utterly absorbing, this book is a fine example of involving narrative nonfiction."
            -Booklist
 
"Sharp . . . A powerfully intimate look at how the justice system works—or doesn't work—in capital cases."
            -Kirkus
 
"Those interested in human rights, issues of race, and inner workings of the U.S. legal system—not to mention true crime fans—will want to read this book."
            -Library Journal
 
"Bonner's gripping true-crime thriller shines a shocking light on American justice. I couldn't put it down."
            -Jane Mayer, author of The Dark Side
 
"Race, sex, and murder in a Southern town are the explosive core of Raymond Bonner's legal drama. Anatomy of Injustice is also a brave dispatch from the trenches of a forgotten war over capital punishment. Told with a reporter's tenacity, a lawyer's acumen, and an advocate's zeal, this book is both a gripping narrative and a chilling indictment of America's justice system."
            -Tony Horwitz, author of Confederates in the Attic
 
"Anatomy of Injustice demonstrates dramatically and shockingly what bad lawyers are capable of doing, and is an inspiring example of what a good one can do. For that alone, law schools should assign it to every entering student."
            -Stephen Engelberg, managing editor, ProPublica
 
"Raymond Bonner uses his skill as a lawyer and journalist to take us on a fascinating journey deep into the heart of the criminal justice system, where the stakes could not be higher or the failures more disturbing. Anatomy of Injustice reads like a novel, but it is, tragically, all too true."
            -Linda Greenhouse, author of Becoming Justice Blackmun
 
"Most of us Americans don't have a clue about how the criminal court system really operates and we need a good writer like Bonner to take us through, step by step. But be warned: If you have pressing duties waiting, don't begin reading this book. This is seductive storytelling at its best."
            -Sister Helen Prejean, author of Dead Man Walking
 
"Reading Raymond Bonner's compelling account of a grossly botched murder case, I was overcome by outrage at the state of our criminal justice system. Rigorously researched and powerfully told, Anatomy of Injustice could—and should—change the national debate on the death penalty."
-Michael Massing
 
"Raymond Bonner's Anatomy of Injustice is a powerful and poignant analysis of the case of Edward Lee Elmore. Bonner's voice is a profound force for truth and justice in our difficult times!"
            -Cornel West
 
Knopf Publishing Group, 9780307700216, 298pp.
Publication Date: February 21, 2012
About the Author
Raymond Bonner practiced law for a decade and taught at the University of California, Davis, School of Law. He later became an investigative reporter and foreign correspondent for The New York Times, where he was a member of a Pulitzer Prize winning team in 1999, and a staff writer at The New Yorker. He has also written for The Economist and The New York Review of Books, and blogs at the Daily Beast and theatlantic.com. He is the author of Weakness and Deceit: U.S. Policy and El Salvador, which received the Robert F. Kennedy Book Award; Waltzing with a Dictator: The Marcoses and the Making of American Policy, which received the Cornelius Ryan Award from the Overseas Press Club and the Hillman Prize for Book Journalism; and At the Hand of Man: Peril and Hope for Africa s Wildlife. He lives in London."
or
Not Currently Available for Direct Purchase