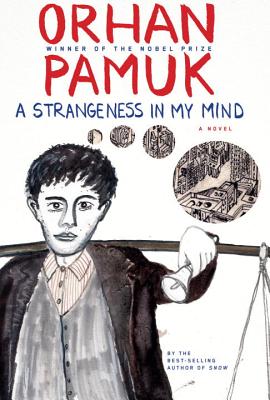 A Strangeness in My Mind
A novel
Hardcover

* Individual store prices may vary.
Other Editions of This Title:
Digital Audiobook (10/19/2015)
Digital Audiobook (9/5/2018)
Paperback (9/20/2016)
Paperback, Vietnamese (1/1/2022)
Description
From the Nobel Prize winner and best-selling author of Snow and My Name Is Red: a soaring, panoramic new novel—his first since The Museum of Innocence—telling the unforgettable tale of an Istanbul street vendor and the love of his life.

Since his boyhood in a poor village in Central Anatolia, Mevlut Karataş has fantasized about what his life would become. Not getting as far in school as he'd hoped, at the age of twelve he comes to Istanbul—"the center of the world"—and is immediately enthralled by both the old city that is disappearing and the new one that is fast being built. He follows his father's trade, selling boza (a traditional mildly alcoholic Turkish drink) on the street, and hoping to become rich, like other villagers who have settled the desolate hills outside the booming metropolis. But luck never seems to be on Mevlut's side. As he watches his relations settle down and make their fortunes, he spends three years writing love letters to a girl he saw just once at a wedding, only to elope by mistake with her sister. And though he grows to cherish his wife and the family they have, he stumbles toward middle age in a series of jobs leading nowhere. His sense of missing something leads him sometimes to the politics of his friends and intermittently to the teachings of a charismatic religious guide. But every evening, without fail, Mevlut still wanders the streets of Istanbul, selling boza and wondering at the "strangeness" in his mind, the sensation that makes him feel different from everyone else, until fortune conspires once more to let him understand at last what it is he has always yearned for.

Told from different perspectives by a host of beguiling characters, A Strangeness in My Mind is a modern epic of coming of age in a great city, a brilliant tableau of life among the newcomers who have changed the face of Istanbul over the past fifty years. Here is a mesmerizing story of human longing, sure to take its place among Pamuk's finest achievements.
Praise For A Strangeness in My Mind: A novel…
"Magnificent . . . a robust, affectionate chronicle . . . The book spills over with detail . . . [and] each of its sections . . . has the amplitude of most single novels . . . With the lightest of touches, [Pamuk] crosses his characters' everyday routines against large-scale social and political disturbances . . .  [Readers] won't forget Mevlut or Mr. Pamuk's Istanbul. Both seem too vital to exist only in the pages of a book."
—Sam Sacks, The Wall Street Journal

"A complex psychological drama . . . [and] a tremendous concatenation of voices and places and politics and culture, gathered around a melancholy hero . . . [written with] virtuosic craft, intellectual richness, emotional subtlety and a feeling of freedom that comes from a narrative that finds its most meaningful moments in the side streets of storytelling . . . [A Strangeness in My Mind] wrestles with the complexity of an ever-changing city . . . Most delightful are first-person monologues by the characters themselves . . . It's very funny, while also allowing into Mevlut's tale the colorful voices and contending perspectives of the world around him . . . For Pamuk the vision of life as a complex web of knowable things provides a terrifically interesting way to write a book."
—Martin Riker, The New York Times Book Review

"One of Pamuk's most enjoyable novels and an ideal place to begin for readers who want to get to know him . . . Pamuk does for Istanbul something like what James Joyce did for Dublin . . . He captures not just the look and feel of the city, but its culture, its beliefs and traditions, its people and their values . . . A love letter to modern Turkey."
—Adam Kirsch, The Washington Post
 
"Pamuk's boundless compassion . . . makes the life of a struggling street vendor become, on the page, as monumental and as worthy of our attention as a sultan's . . . [His] impulse to ennoble the most humble among us is perhaps the best reason to read Pamuk's work . . . Since becoming Turkey's first Nobel laureate for literature in 2006, [he] has written complex, ambitious books with the kind of energy one might expect from a young novelist."
—Anthony Marra, San Francisco Chronicle
 
"A textured and rewarding narrative . . . Some of the most memorable chapters are interior monologues from women who, every day, must negotiate defiance and deferral to their men and their in-laws . . . [Pamuk] chooses multiple perspectives over moral judgment, which allows him to focus on the inner lives of his characters as they shape the city that, in turn, shapes them."
—The Economist

"Filled with . . . rich specificity, creating for readers a world that feels, smells and tastes alive . . . Pamuk is such a skilled writer that he renders the most esoteric, seemingly banal topics fascinating . . . Strangeness is light and funny. Pamuk's perspective is generous. He takes a long view of history . . . a remarkable feat."
—Trine Tsouderos, Chicago Tribune
 
"The women in these pages are fabulous . . . In the midst of the massive sprawl that is Istanbul, at the juncture of West and East, Pamuk uses a bickering crowd of family and friends to tell the story of a factious, ever-changing culture and its many points of discord."
—Laura Collins-Hughes, The Boston Globe
 
"There's no finer novelist living today . . . With A Strangeness in My Mind the author has made Istanbul into one of the world's great literary cities . . . Reading Pamuk is like sipping a glass of fine wine or reading a late Dickens novel. Writers don't get any better."
—Charles R. Larson, Counterpunch

"Beautifully done, suffused with a nostalgic light . . . It is a big book, bristling with paraphernalia: indexes, character lists and epigraphs. But it is also an intimate one, contrasting 40 years of Istanbul's political and demographic upheaval with the quotidian experiences of some of its inhabitants . . . A study of urban modernisation and a lament for a time before the single-mindedness of reformers."
—Jon Day, Financial Times (UK)
 
"Magnificent . . . [a] sprawling story that Pamuk tells, and Ekin Oklap translates, with panache . . . At the same time as posing philosophical questions about the importance of intentions over outcomes, Pamuk celebrates marriage, parenthood and even quarrelsome extended family . . .
[He] is becoming that rare author who writes his best books after winning the Nobel Prize for Literature."
—Max Liu, The Independent (UK)
 
"Above all a love letter to the city in all its faded, messy, dusty glory . . . [A Strangeness in My Mind is] a vast collection of characters, events, houses, food, objects that, the reader realises at the end of 600 pages, are summed up in the name Istanbul."
—Alberto Manguel, The Guardian (UK)
 
"Warm and gently engrossing . . . the story of modern Istanbul, of how a decaying, mixed, cosmopolitan city has been massively expanded and transformed by poor migrants from Anatolia. It has a political dimension . . . but at its heart, this is a novel about work, love and family."
—Theo Tait, The Sunday Times (UK)
 
"[A] carefully detailed and compassionately told tale of life in Istanbul over the last 60 years . . . Pamuk has added another major work to his oeuvre . . . The novel's central concerns are human nature, communication, and interpersonal relationships, and this great writer explores these themes with a universal warmth, wit, and intelligence."
—James Coan, Library Journal

"Mesmerizing . . . A sweeping epic . . . The fable-like story's chief protagonist is the ruminative Mevlut Karatas . . . His walkabouts and skirmishes with his family are engrossing, but what really stands out is Pamuk's treatment of Istanbul's evolution into a noisy, corrupt, and modernized city . . . This is a thoroughly immersive journey through the arteries of Pamuk's culturally rich yet politically volatile and class- and gender-divided homeland."
—Publishers Weekly (starred review, Review of the Day, Pick of the Week)
 
"Rich, complex, and pulsing with urban life: one of this gifted writer's best . . . As Pamuk follows his believably flawed protagonist and a teeming cast of supporting players across five decades, Turkey's turbulent politics provide a thrumming undercurrent of unease . . . Pamuk celebrates the city's vibrant traditional culture—and mourns its passing—in wonderfully atmospheric passages . . . [and] recalls the great Victorian novelists as he ranges confidently from near-documentary passages on real estate machinations and the privatization of electrical service to pensive meditations on the gap between people's public posturing and private beliefs."
—Kirkus (starred review)
Knopf, 9780307700292, 624pp.
Publication Date: October 20, 2015
About the Author
ORHAN PAMUK won the Nobel Prize for Literature in 2006. His novel My Name Is Red won the 2003 IMPAC Dublin Literary Award. His work has been translated into more than sixty languages.
Coverage from NPR
or
Not Currently Available for Direct Purchase