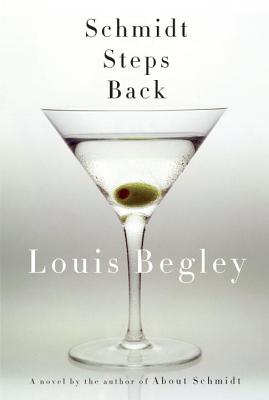 Schmidt Steps Back (Hardcover)
Knopf, 9780307700650, 384pp.
Publication Date: March 13, 2012
Other Editions of This Title:
Digital Audiobook (3/12/2012)
Paperback (5/21/2013)
* Individual store prices may vary.
Description
When we last saw Albert Schmidt Esq. ("Schmidtie" to all near and dear), he had been expelled from paradise: his love Carrie, the Puerto Rican waitress forty years his junior, had taken up with a blond giant nearer her age and possibly the father of her baby—assuming it isn't Schmidt. Meanwhile, his only confirmed child, Charlotte, had proposed a truce in their perennially strained relations, which Schmidt accepted, despite its obliging him to resume dealings with her repulsive husband and her mother-in-law-cum-psychiatrist, whose life's work has been turning Charlotte decisively against Schmidt.
 
The curtain rises on Schmidt Steps Back some thirteen years later: New Year's Eve 2008, the dawn of the age of Obama. Schmidt's affection for the young president-elect is boundless, and as he imagines a better day for his country, he dares to hope there's one for him too. It so happens Schmidtie is readying his Hamptons house for the visit of a lady from Paris: the irresistible Alice Verplanck, widow of his former law partner and surely a more appropriate prospect for a man now seventy-eight. But there's a history, and it's complicated. In fact, Schmidt hasn't seen Alice since the summer of 1995, when he behaved like a brute upon discovering a betrayal of sorts and pronounced her unworthy of his unstinting love and commitment. Alice is finally ready to forgive him, but she still doubts that Schmidtie can ever be content. She demands that he think long and hard about their past, and while he's at it Schmidtie finds himself also reviewing the reversals and tragedies that have brought him to an unimagined isolation and loneliness. With no family he can claim but Carrie, now married and expecting a second child, and only two real friends left—his college roommate Gil Blackman and the irrepressible billionaire Mike Mansour—Schmidt sees in Alice's impending visit his last chance, before the sun sets on the Hamptons, for a life that is more than merely staying alive.
 
At once darkly funny and deeply poignant, Schmidt Steps Back is the most emotionally nuanced installment of the drama that began with the acclaimed About Schmidt. Here is Louis Begley's finest novel yet.
About the Author
Louis Begley lives in New York City. His previous novels are "About Schmidt, As Max Saw It, The Man Who Was Late, Matters of Honor, Mistler's Exit, Schmidt Delivered, Shipwreck, "and" Wartime Lies."

www.louisbegley.com
Praise For Schmidt Steps Back…
"Schmidt, as he considers, worries, wonders, speculates, calculates, plans and reconsiders, is engaging company…One of the victories in this novel is how candid he is. Begley gets as close to Schmidt as a diarist, inhabiting this man who has been seasoned by a long life and yet somehow seems new this morning…Schmidt can cavil with the best of them, but he has a code. He's capable of a sobering empathy, has a withering understanding of the recent Bush regime, knows how to prepare a martini. We get so close to him in this intimately written book."
            —Ron Carlson, The New York Times Book Review
 
"A page-turner…While Schmidt is stepping back—onto the stage of life, rather than into the fray—he is also reflecting, often sharply and intelligently."
            —Claire Hopley, Washington Times
 
"Intelligent, literate and moving novel of late middle age…Begley has created complex human beings who have reached middle and late age with a full load of baggage, yet they are, on the whole, more good than bad, more giving than receiving."
            —Harriet Douty Dwinell, Washington Independent Review of Books
 
"Will he win Alice back? Well, we kind of know that he does, given how the story begins. But watching how he gets there, and how he also, often tenderly, attempts to mend his ever-strained relationship with pregnant daughter Charlotte, is the book's charm…If you're the sort who doesn't tire of listening to wealthy characters make reservations at restaurants in the block between rue de Grenelle and rue de Varenne, this old, crotchety lawyer will actually make quite exciting company."
            —Frank Nepa, Pittsburgh Post-Gazette

"One cannot read one of the Schmidt novels without laughing. Here, as the whole series is lifted up by the tragic masks, the author finds comedy irresistible."
            —Earl Shorris, San Francisco Chronicles
 
"With subtlety, intelligence, and wit, Begley gets inside Schmidt's fertile WASP brain…He's controlled, smart, sensitive, and sentimental."
            —Glenn C. Altschuler, Philadelphia Inquirer
 
"The enterprising and original Begley has given us…Schmidt's sardonic formulations [that] always have pertinent and pointed vigor…The most lively pages are ones where his animus against the trendy, the petty, and the self-righteous are given full rein. His irascibility, at times directed against himself, represents the other side of an embrace of positive things—like imagination, love, irony, the occasional double bourbon, and the novels of Trollope. One feels these are qualities and pleasures that, like his protagonist, Louis Begley finds sustaining and around which he has woven an appealing novel."
            —William Pritchard, The Boston Globe
 
 "Begley's dry-martini wit, peerless eye for social mores, and delectably complex hero Schmidt have a following, which will increase with this superb tragicomedy."
            —Donna Seaman, Booklist
 
"Updike has Rabbit, Roth has Zuckerman, Richard Ford has Bascombe and Begley has Schmidt…Artistically and thematically, the most ambitious novel in the Schmidt cycle."
            —Kirkus Reviews
 
"Accomplished, acerbic tale."
            —Publishers Weekly
or
Not Currently Available for Direct Purchase