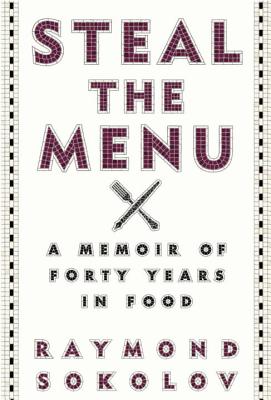 Steal the Menu (Hardcover)
A Memoir of Forty Years in Food
Knopf Publishing Group, 9780307700940, 242pp.
Publication Date: May 14, 2013
* Individual store prices may vary.
Description
Four decades of memories from a gastronome who witnessed the food revolution from the (well-provisioned) trenches—a delicious tour through contemporary food history.

When Raymond Sokolov became food editor of The New York Times in 1971, he began a long, memorable career as restaurant critic, food historian, and author. Here he traces the food scene he reported on in America and abroad, from his pathbreaking dispatches on nouvelle cuisine chefs like Paul Bocuse and Michel Guérard in France to the rise of contemporary American food stars like Thomas Keller and Grant Achatz, and the fruitful collision of science and cooking in the kitchens of El Bulli in Spain, the Fat Duck outside London, and Copenhagen's gnarly Noma.

Sokolov invites readers to join him as a privileged observer of the most transformative period in the history of cuisine with this personal narrative of the sensual education of an accidental gourmet. We dine out with him at temples of haute cuisine like New York's Lutèce but also at a pioneering outpost of  Sichuan food in a gas station in New Jersey, at a raunchy Texas chili cookoff, and at a backwoods barbecue shack in Alabama, as well as at three-star restaurants from Paris to Las Vegas.

Steal the Menu is, above all, an entertaining and engaging account of a tumultuous period of globalizing food ideas and frontier-crossing ingredients that produced the unprecedentedly rich and diverse way of eating we enjoy today.

About the Author
Raymond Sokolovate his first meal in Detroit in 1941 and dined with tenacious curiosity in France as a correspondent for "Newsweek." He went on to sustain himself writing about food at "The New York Times" and "Natural History" magazine, and, most recently, by covering restaurants worldwide for "The Wall Street Journal." He is the author of "The Saucier's Apprentice," the novel "Native Intelligence," and a biography of A. J. Liebling, "Wayward Reporter." He lives in New York's Hudson Valley.
Praise For Steal the Menu: A Memoir of Forty Years in Food…
"For forty years, [Sokolov] affirms, he has had 'a front seat' at the worldwide revolution in cooking and eating…Watching his formidable mind at work deconstructing nouvelle cuisine or creating a taxonomy of French sauces, it becomes clear just how he has kept that seat for so long."
—The New York Times Book Review


"This entertaining memoir…doubles as a breezy, ranging history of American food, and the sociopolitical events that shaped it."
—The New York Observer

"As gastronomic guides go, you can't do much better than former New York Times and Wall Street Journal restaurant critic Raymond Sokolov, whose jaunty prose in Steal the Menu gets you a tableside seat everywhere from Tennessee barbeque pits to French haute cuisine temples."
—Entertainment Weekly
           
"A knowledgeable look at the transformation of fine dining over the past half-century, viewed through the prism of the author's personal history…foodies will find this book refreshingly different."
—Kirkus Reviews

"Reading Raymond Sokolov's wonderful Steal the Menu is like having dinner with one's wittiest, most erudite and charming friend, someone who knows everything worth knowing about food, its history and culture, about chefs and restaurants, about how our cuisine and our kitchens have changed over forty years—and about how to tell an authentic key lime pie from an imitation. Bon appétit!" 
—Francine Prose

"Steal the Menu is a lively insider's account of goings-on in the American food scene over the last forty years. And who better to tell this story than Raymond Sokolov, one of America's best food writers? With his keen ear for language, Sokolov is by turns authoritative and funny, deeply informed and irreverent. This book offers up a feast for the senses as well as the mind!"
—Darra Goldstein, founding editor, Gastronomica: The Journal of Food and Culture
 
 "Ray Sokolov dines out delightfully on a life of dining out in the Western world's most ambitious restaurants. His wit seasons his learning, which is considerable on a vast array of subjects, from classical French cuisine, to where to find the best hamburger in the Midwest, to barbecue in Texas. The result is a zesty stew, a chronicle of movements in cuisine across the decades and oceans. As an entertainment, Steal the Menu rates a full complement of stars."
—Joseph Lelyveld, author of Great Soul
 
"Steal the Menu chronicles Sokolov's forty years as an observer of the American and international food scene with delicious wit and erudition. Peppered with reflections on culinary history and tales of extraordinary journalistic adventures, Steal the Menu is a thought-provoking and delightful read."
—Fuchsia Dunlop, author of Every Grain of Rice: Simple Chinese Home Cooking
 
"I read Steal the Menu straight through with pleasure. The writing is stylish, sometimes provocative, always informative, with a balanced perspective on the tumultuous changes at the table we've all lived through."
—Dr. Andrew Weil, coauthor of The Healthy Kitchen
 
"Raymond Sokolov is very good company on the page. Steal the Menu is proof of that. His writing is witty and engaging, but what sets this book apart is its appreciativeness: food is food for thought, something to be curious about, as well as a huge pleasure." 
—Naomi Duguid, author of Burma: Rivers of Flavor
 
 "This is an indispensable book for anyone and everyone who takes cooking seriously."
—Jason Epstein, author of Eating

"[Sokolov] is a good traveling companion. Reading his writing is like being driven in an old, comfortable roadster, top down, evening falling, balmy…with the promise—because Sokolov always does his homework—of something really good to eat just down the road."
—The Christian Science Monitor
Coverage from NPR