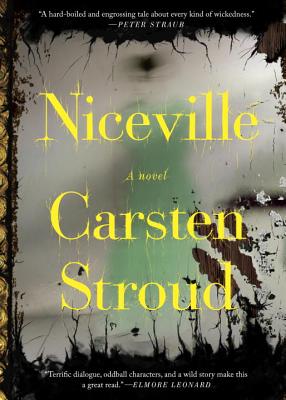 Niceville (Hardcover)
Knopf, 9780307700957, 400pp.
Publication Date: June 12, 2012
* Individual store prices may vary.
or
Not Currently Available for Direct Purchase
Description
Something is wrong in Niceville. . .  
A boy literally disappears from Main Street.  A security camera captures the moment of his instant, inexplicable vanishing. An audacious bank robbery goes seriously wrong: four cops are gunned down; a TV news helicopter is shot and spins crazily out of the sky, triggering a disastrous cascade of events that ricochet across twenty different lives over the course of just thirty-six hours.
Nick Kavanaugh, a cop with a dark side, investigates. Soon he and his wife, Kate, a distinguished lawyer from an old Niceville family, find themselves struggling to make sense not only of the disappearance and the robbery but also of a shadow world, where time has a different rhythm and where justice is elusive. 
. . .Something is wrong in Niceville, where evil lives far longer than men do.
Compulsively readable, and populated with characters who leap off the page, Niceville will draw you in, excite you, amaze you, horrify you, and, when it finally lets you go, make you sorry you have to leave.
Read the first thirty-five pages.  Find out why Harlan Coben calls Carsten Stroud the master of "the nerve-jangling thrill ride."
About the Author
CARSTEN STROUD is a "New York Times" best selling writer of fiction and nonfiction, including the true-crime account "Close Pursuit." His novels include "Sniper's Moon," "Lizardskin, Black Water Transit, Cuba Strait," and "Cobraville." He lives in Toronto and is currently working on his next novel.
Praise For Niceville…
"Strange, outrageous and wonderful… Offers surprises, shocks, moments of lyricism, explosions of humor and unrelenting suspense. It's superior storytelling. Call it the summer's darkest, most delicious guilty pleasure." —Patrick Anderson, The Washington Post Book World

"[An] A-ticket thrill-ride… As enthralling as a tale by the Brothers Grimm." —Tom Nolan, Wall Street Journal

"Take a pinch of brilliant characters. Stir in some snappy dialogue and a helping of high-octane plot. Blend with a fantastically spooky location and serve hot. Carsten Stroud's bouillabaisse of a new novel is a simmering read; one part thriller, one part suspense, and taken with a hefty sprinkling of supernatural hot spice, it's one of the most compulsive page-turners of the year." —A.J. Kirby, The New York Journal of Books

"A unique genre-bending novel that will haunt readers long after the last page… Niceville is a town readers have to visit for themselves in order to believe." —Elizabeth Rabin, Fredericksburg Free Lance Star

"A generous collection of memorable villains, tight action sequences, and an occasional bit of black humor." —Booklist

"Terrific dialogue, oddball characters, and a wild story make this a great read." —Elmore Leonard, author of Get Shorty and Out of Sight

"Carsten Stroud's hard-boiled and engrossing Niceville rockets around its deceptively staid southern town, pulling bad guys and worse guys and long-ago misdeeds into a widening and unfolding tale about every kind of wickedness. Somehow it manages to get tighter, nastier, and more delightful as it rolls along toward its lovely and completely black-hearted final pages." —Peter Straub

"A compelling work that grabs your attention from page one." —Karin Slaughter

A truly one-of-a-kind tour de force, Niceville may be hard to categorize by genre, but it's easy to describe as a reading experience – wildly, insanely entertaining!  —John Lescroart
 
Advertisement