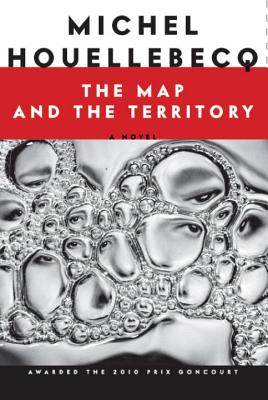 The Map and the Territory
Hardcover

* Individual store prices may vary.
Other Editions of This Title:
Paperback (11/13/2012)
Paperback (9/1/2011)
Hardcover (9/1/2011)
Description
The most celebrated and controversial French novelist of our time now delivers his magnum opus—about art and money, love and friendship and death, fathers and sons.
 
The Map and the Territory is the story of an artist, Jed Martin, and his family and lovers and friends, the arc of his entire history rendered with sharp humor and powerful compassion. His earliest photographs, of countless industrial objects, were followed by a surprisingly successful series featuring Michelin road maps, which also happened to bring him the love of his life, Olga, a beautiful Russian working—for a time—in Paris. But global fame and fortune arrive when he turns to painting and produces a host of portraits that capture a wide range of professions, from the commonplace (the owner of a local bar) to the autobiographical (his father, an accomplished architect) and from the celebrated (Bill Gates and Steve Jobs Discussing the Future of Information Technology) to the literary (a writer named Houellebecq, with whom he develops an unusually close relationship).
 
Then, while his aging father (his only living relative) flirts with oblivion, a police inspector seeks Martin's help in solving an unspeakably gruesome crime—events that prove profoundly unsettling. Even so, now growing old himself, Jed Martin somehow discovers serenity and manages to add another startling chapter to his artistic legacy, a deeply moving conclusion to this saga of hopes and losses and dreams.
Praise For The Map and the Territory…
"Archly sarcastic, cheerily pedantic, willfully brutal.... But what remained with me of this singular novel is a powerful sense of the Houllebecquian mood, which the critic Paul Berman once characterized as 'depressive lucidity,' and which here consists of a heightened awareness of the impoverishment of everyday life and its landscape, along with a dammed-up pool of heartbreak." —Judith Shulevitz, The New York Times Book Review

"Michel Houellebecq is the most interesting, provocative and important European novelist of my generation. Period. No one else comes close. He has written two or maybe three great books, and his latest, The Map and the Territory, is one of them." –Bret Easton Ellis

"A serious reflection on art, death, and contemporary society, The Map and the Territory is a tour de force….It is part crafty page-turner, part sociological inquiry, part satire, part mystery novel, part artist's biography.  In its seamless collage of artful pastiche, the novel captures with perfect irony the tone and texture of twenty-first-century discourses, from Wikipedia articles to operating instructions, from tacky pop songs to pompous art reviews in Le Monde. In the process, it offers original insights into the museumification of contemporary France, the eerie coincidence between art and death, an exegesis of socialist writer William Morris, and meditation on art as a practice, a produce, and a business." – Cecile Alduy, The Los Angeles Review of Books 

"Deeply amusing… A book of supreme importance, this is not to be missed." —Library Journal

"Deadpan funny... A brilliantly astute work of social critique." —Publishers Weekly

"A revelation for all who follow the controversial French novelist, whether they love him or loathe him.... Here he achieves a richness and resonance beyond his previous work ... a tender romance, a meditation of the function and value of art and a police procedural.... Very smart, very moving and occasionally very funny." —Kirkus (starred review)

"A trenchant, sharp-tongued social commentator.... What kept me reading is Houellebecq'a scratchy, uncomfortable mind, his catalogue of hatreds and aversions, and the flurries of inventiveness and invective they inspire." – Laura Kipnes, Bookforum

Praise from the UK:

"Beautifully, accurately translated.... Accessible and highly enjoyable. If ever there was a novelist for our globally dysfunctional times it's Michel Houellebecq.... Long cast aside as the bad boy of books, [his] latest novel has seen him brought in from the cold, and embraced by the literary establishment for what he's always been – not much short of a genius." —The Mirror (4-star book of the week)

"One of the most important facts about Michel Houellebecq...is that he is a first-rate prose stylist….This novel was awarded the Prix Goncourt in 2010 and now, as it finally arrives in English in a finely nuanced translation by Gavin Bowd, it does not disappoint....Teasing and entertaining.... A page turner." —Literary Review

"Very likely his best [book] ever, a serious novel about aging and death that also employs its author's trademark lugubrious wit towards some delicious exercises in satire and self-parody.... A challenging, mature and highly intelligent book." —The Daily Telegraph

"This is the brilliant and controversial French writer's most intellectually ambitious book.... Funny, astonishing and authoritative." —The Guardian

"A dark master of invention.... In a world of copycatting and fakery, Michel Houellebecq is an exceptional writer and a stand-out original." —Evening Standard

"An astonishing writer.... The Map and the Territory is funny, shocking, brutal and unbearably poignant.... Sublime." —Scotland on Sunday

"All novelists everywhere have benefited from [Houellebecq's] audacity. Like Flaubert with Madame Bovary, Lawrence with Lady Chatterley's Lover or William Burroughs with Naked Lunch, his temerity has recharged the form and reminded people what the novel can do and what latent, incendiary power it has at its disposal." —The Sunday Times

"A great read.... A wonderfully strange and subversive enterprise." —The Guardian
Knopf Publishing Group, 9780307701558, 288pp.
Publication Date: January 3, 2012
About the Author
Already honored with the Prix Novembre and the International IMPAC Dublin Literary Award, Michel Houellebecq won the Prix Goncourt for "The Map and the Territory" in 2010.
or
Not Currently Available for Direct Purchase