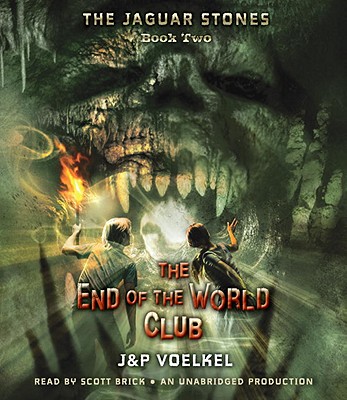 The Jaguar Stones, Book Two: The End of the World Club (Compact Disc)
The End of the World Club
Listening Library (Audio), 9780307712028
Publication Date: December 28, 2010
* Individual store prices may vary.
or
Not Currently Available for Direct Purchase
Description
While everyone else is panicking about the so-called end of the Maya calendar, fourteen-year-old Max Murphy has his own problems. He owes a favor to the ancient Maya Lords of Death and now they've called it in. Max has just seven days to bring the long-lost Yellow Jaguar to Xibalba, the cold and watery Maya underworld.

Accompanied by his Maya friend Lola, and Lord 6-Dog and Lady Coco—currently inhabiting the bodies of two howler monkeys—Max travels to Spain, where he gets arrested for murder, battles an army of headless phantoms, wakes up in his own coffin, and gate-crashes the wedding of the century . . . which features human sacrifice instead of the usual disco.

When his friends go missing in action, Max must run for his life with a pack of hellhounds on his heels. But can Max and Lola deliver the missing Jaguar Stone before the sun sets on their world one last time?
About the Author
Jon Voelkel grew up in Peru, Costa Rica, and Colombia. Eventually, having survived monkey stew, an attack by giant rats, and a plane crash in the jungle, he decamped to Europe. Meanwhile, growing up in northern England, Pamela Craik Voelkel was dreaming of travel and adventure. The pair met in London where they both worked in advertising. Look for the authors' first book in the Jaguar Stones Trilogy, "Middleworld," on audio from Listening Library. You can visit them online at www.jaguarstones.com.
Advertisement