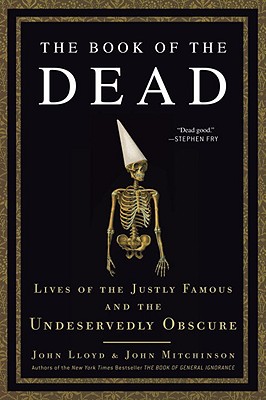 The Book of the Dead: Lives of the Justly Famous and the Undeservedly Obscure (Hardcover)
Lives of the Justly Famous and the Undeservedly Obscure
Crown, 9780307716408, 448pp.
Publication Date: September 7, 2010
* Individual store prices may vary.
or
Not Currently Available for Direct Purchase
Description
The team behind the New York Times bestseller The Book of General Ignorance turns conventional biography on its head—and shakes out the good stuff.
 
Following their Herculean—or is it Sisyphean?—efforts to save the living from ignorance, the two wittiest Johns in the English language turn their attention to the dead.
 
As the authors themselves say, "The first thing that strikes you about the Dead is just how many of them there are." Helpfully, Lloyd and Mitchinson have employed a simple—but ruthless—criterion for inclusion: the dead person has to be interesting.
 
Here, then, is a dictionary of the dead, an encyclopedia of the embalmed. Ludicrous in scope, whimsical in its arrangement, this wildly entertaining tome presents pithy and provocative biographies of the no-longer-living from the famous to the undeservedly and—until now—permanently obscure. Spades in hand, Lloyd and Mitchinson have dug up everything embarrassing, fascinating, and downright weird about their subjects' lives and added their own uniquely irreverent observations.
 
Organized by capricious categories—such as dead people who died virgins, who kept pet monkeys, who lost limbs, whose corpses refused to stay put—the dearly departed, from the inventor of the stove to a cross-dressing, bear-baiting female gangster finally receive the epitaphs they truly deserve.
 
Discover:

* Why Freud had a lifelong fear of trains
* The one thing that really made Isaac Newton laugh
* How Catherine the Great really died (no horse was involved)
 
Much like the country doctor who cured smallpox (he's in here), Lloyd and Mitchinson have the perfect antidote for anyone out there dying of boredom. The Book of the Dead—like life itself—is hilarious, tragic, bizarre, and amazing. You may never pass a graveyard again without chuckling.
About the Author
JOHN LLOYD has a broadcasting background. As a radio producer he devised "The News Quiz" and "To the Manor Born "before moving to television to start "Not the Nine O'Clock News," "Spitting Image," and "Blackadder." Like the philosopher William James, he thinks there are only three important things in life: "The first is to be kind. The second is to be kind. And the third is to be kind."

JOHN MITCHINSON is from the world of books. The original marketing director of Waterstone's, he became managing director of Cassell, where he published The Beatles, Michael Palin and "Brewer's Dictionary of Phrase and Fable." He's with Einstein: "There are only two ways to live your life. One is as though nothing is a miracle. The other is as though everything is a miracle."

The cult TV panel show "QI" first aired on the BBC in September 2003 with John Lloyd producing and John Mitchinson in charge of the research.
Praise For The Book of the Dead: Lives of the Justly Famous and the Undeservedly Obscure…
"Trivia buffs and know-it-alls alike will exult to find so much repeatable wisdom gathered in one place."
—New York Times
 
"Eye-watering, eyebrow-raising, terrific . . . moving slightly faster than your brain does, so that you haven't quite absorbed the full import of one blissful item of trivial information before two or three more come along."
—Daily Mail (UK)
 
"Lloyd and Mitchinson dare to ask questions I stopped asking when I supposedly learned to know better."
—Associated Press
 
"Dead Good."
—Stephen Fry
Coverage from NPR
Advertisement