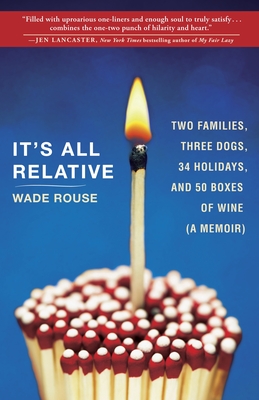 It's All Relative (Paperback)
2 Families, 3 Dogs, 34 Holidays, and 50 Boxes of Wine (A Memoir)
Broadway Books, 9780307716637, 304pp.
Publication Date: February 1, 2011
* Individual store prices may vary.
Description
How come the only thing my family tree ever grows is nuts?"


   Wade Rouse attempts to answer that question in his blisteringly funny new memoir by looking at the yearly celebrations that unite us all and bring out the very best and worst in our nearest and dearest.
   Family is truly the only gift that keeps on giving—namely, the gifts of dysfunction and eccentricity—
and Wade Rouse's family has been especially charitable: His chatty yet loving mother dresses her son
as a Ubangi tribesman, in blackface, for Halloween in the rural Ozarks; his unconventional engineer of
a father buries his children's Easter eggs; his marvelously
Martha Stewart–esque partner believes Barbie is his baby; his garage-sale obsessed set of in-laws are
convinced they can earn more than Warren Buffett by selling their broken lamps and Nehru jackets; his
mutt Marge speaks her own language; and his oddball collection of relatives includes a tipsy Santa Claus
with an affinity for showing off his jingle balls. In the end, though, the Rouse House gifted Wade with love,
laughter, understanding, superb comic timing, and a humbling appreciation for humiliation. 
   Whether Wade dates a mime on his birthday to overcome his phobia of clowns or outruns a chubchasing boss on Secretary's Day, he captures our holidays with his trademark self-deprecating humor and acerbic wit. He paints a funny, sad, poignant, and
outlandish portrait of an an all-too-typical family that will have you appreciating—or bemoaning—your
own and shrieking in laughter.


From the Hardcover edition.
About the Author
WADE ROUSE is the critically acclaimed author ofthe memoirs America's Boy, Confessions of a Prep School Mommy Handler, and At Least in the City Someone Would Hear Me Scream and editor of the upcoming humorous dog anthology I'm Not the Biggest Bitch in This Relationship! He is a humor columnist for Metrosource magazine. Rouse lives outside Saugatuck, Michigan, with his partner, Gary, and their mutts, Marge and Mabel. He is available for select readings
and lectures. To inquire about a possible appearance, please contact the Random House Speakers Bureau at
www.rhspeakers.com.

www.WadeRouse.com


From the Hardcover edition.
Praise For It's All Relative: 2 Families, 3 Dogs, 34 Holidays, and 50 Boxes of Wine (A Memoir)…
"Damn you, Wade!! Damn you! I missed two ebay auctions and delayed taking my Ambien every night for a week so I could finish It's All Relative, but it was so worth it. This book rocks! Charming, funny and saucy enough to make me blush. Wade's family makes mine look like the Kennedys (the ones not driving around on sleeping pills or the ones charged with felonies)."—Laurie Notaro, bestselling author of We Thought You Would be Prettier

"Wade Rouse is back and better than ever in his new memoir It's All Relative. Rouse's books combine the one-two punch of hilarity and heart and never cease to delight.  Filled with uproarious one liners and enough soul to truly satisfy, readers are going to clamor for a seat at Rouse's holiday table! I can't tell you how much I loved this book."—Jen Lancaster, New York Times bestselling author of My Fair Lazy

"Wade Rouse has officially become the laugh assassin. And with his holiday masterpiece, It's All Relative, he's getting downright dangerous, delivering even more laughs than usual. Rouse's remembrances of his family holidays are masterfully gift-wrapped in delightful dysfunction and topped with a bow of laser-sharp sentimental insight designed to help you not only laugh at but also fall in love again with your own jacked-up gene pool. This book is the gift that keeps on giving."—Josh Kilmer-Purcell, star of the hit reality series, The Fabulous Beekman Boys and New York Times bestselling author of The Bucolic Plague and I Am Not Myself These Days



From the Hardcover edition.